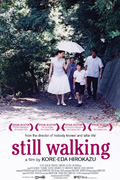 (Still Walking is distributed by IFC Films and is now available on DVD
and Blu-ray. It opened theatrically in New York City on August 28, 2009. Visit the film's official page at IFC Films to learn more.)
According to Hirokazu Kore-eda, whose films are currently playing in a retrospective at BAM accompanying the US theatrical release of Still Walking, the Japanese are not prone to belief in the existence of an omnipotent God who looks down upon us in judgment; they have their ancestors, their family, their dearly departed, to pick up the slack. Still Walking, for him, stands as evidence of the hold that the dead have on the Japanese living—especially the old, the family driven, the people for whom the past is as alive as the present. A post mortem gift to his mother, it is a relentless and emotionally brutal film, containing as well executed an ensemble of performances as I'll likely see all year, observed with the keen eye of a burgeoning master reaching full maturity.
A young, failed painter has taken a wife. It's a second marriage for her. She has a child from the previous relationship. The young man takes her and the child to his out of the way seaside hometown to visit his parents on the thirteenth anniversary of his older, more adored brother's heroic death trying to save a young, overweight child who couldn't swim. His passing hangs over the family like a never-ending rain cloud.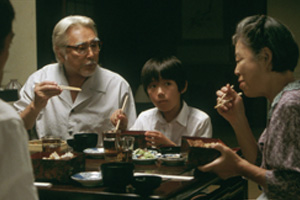 The patriarch, a physician whose practice was naturally to be handed down to his deceased son, lives on in quiet, angry scrutiny of nearly every thing and one around him, including his barely breadwinning, aspirant artist son. The matriarch, an amiable, forever cooking mystic, always meddling in everyone else's affairs, contains her anger in more cruel and devastating ways. She refuses to let her sole daughter move back into the house with her dimwit husband and young children, even as infirmity approaches; they must keep their oldest son's room intact, as a shrine of sorts to him, but perhaps also to their youth that will never return.
Beaconing a past that can never to be regained and picturing a future that is without promise in the late autumn of life is dealt with in such exacting and concise detail, but it never becomes the raison d'etre—the film has just as much to say about the alienation of the young man and his wife, or about the way in which his relatively happy go lucky sister and her doofus husband keep smiling. This is a film that speaks volumes without putting up much of a fuss. It's quiet, effective filmmaking that deals with the most essential of themes: how do we find some existential solace in family or community?
Still Walking reminds me most of Phil Morrison's masterful Junebug, a film that also involves a young man bringing home his new bride for the first time. The cultural differences between child and family hang on the fringes of both narratives, although they become more central to Morrison's film. Unfolding in long, but not overly patient, takes over the course of a single melancholy day, Still Walking contains passages that can't help but evoke Ozu's Tokyo Story and oeuvre in general, but it has an expansive tenderness and eloquent sadness all its own. Kore-eda is clearly in thrall at the essential frailty of human beings, our natural entropy toward bitterness, hysteria, sadism, but also to the smaller emotions that fill us during the dead times, feelings that might be called boredom by the lazy, but are surely a mix of the much harder to describe factors that make up a life in full. This is my favorite film of the year.
— Brandon Harris