(Sleep Dealer opens on Friday, May 15th in Cambridge and Amherst, MA, before expanding in the coming weeks and months. Visit the film's official website to learn more.)
One is typically taught in film school that when writing a low-budget screenplay, it's best to avoid scenes involving rainstorms, large crowds, or animals and children. When it comes to creating technologically futuristic worlds, don't even think about it. Watching Sleep Dealer, it's clear that Alex Rivera either missed class that day or simply shrugged off that last bit of advice. While Rivera has more resources at his disposal than most debut feature filmmakers—producer Anthony Bregman, director of photography Lisa Rinzler, visual effects supervisor Mark Russell, and composers Tomandandy—he has nonetheless pulled off a rather remarkable feat. Sleep Dealer is a captivating thriller that transcends its budgetary limitations to create a wholly convincing vision of the future.
Memo Cruz (the understated Luis Fernando Pena) lives in a tiny, isolated community in Mexico. While literal border walls now separate countries from one another, the internet has allowed the world to connect in a more immediate, albeit physically disassociated, manner. With this cozy set-up, America doesn't need to worry about problems of border crossing and immigration, yet the advancements in technology enable it to continue to exploit poorer countries by hiring underprivileged laborers to work from warehouses in their own communities, where they literally plug their bodies into computers and perform their duties virtually. Unfortunately, Memo hasn't been installed with the arm and shoulder nodes that would allow him to land one of these jobs.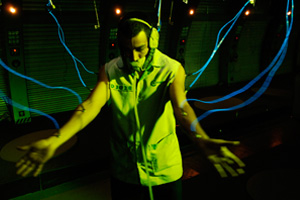 Memo's hobby is tapping into the outside world with a homemade radio, yet when an American government agency mistakes him for a spy, he and his family become the targets of a vicious attack. Grieving and displaced, Memo heads to the bustling border city of Tijuana, where he meets and falls under the spell of a beautiful young woman, Luz (Leonor Varela). An aspiring writer, Luz means well, but she also exploits Memo, sharing his stories online with an individual who pays to hear her tales. It turns out Luz's customer is grappling with his own inner demons, which are directly related to Memo's own paranoid, troubled state.
With Sleep Dealer, Rivera has gone to great lengths to create a thoroughly realized vision that doesn't just cleverly imagine what a "cool" futuristic world would look like. He has drawn from many of our current society's most complicated issues—immigration, third world exploitation, virtual contact vs. actual human contact, globalization vs. localization—to inject his film with a greater sense of import and purpose. Yes, Sleep Dealer is an exhilarating and entertaining work of science fiction (a genre that I'm not particularly drawn to), but it is also trying to say something about where we're heading and why we need to keep things in check.
Removing Rivera and David Riker's intelligent script from the equation, Sleep Dealer remains an invigorating example of small-scale moviemaking at its largest. In Rinzler and Russell, Rivera has united two of today's most talented visual artists. Meshing Rinzler's good old-fashioned live-action cinematography with Russell's good new-fashioned post-production trickery, Rivera's dystopian landscape comes to hauntingly plausible life. Musically, composers Tomandandy (Alexandre Aja's The Hills Have Eyes) have always been good at creating aural landscapes that resonate with a strange sense of futuristic nostalgia; here, they deliver once again.
Part of the reason science fiction leaves me so cold and ambivalent is that it often seems like all stylistic imagination without any substance that relates to our actual present-day lives (whether or not it needs to is a question I will save for my Cinematherapist). On the other end of the spectrum, there are those snoozers that unfold like the slowly turning pages of a stiff textbook. Perhaps that's why Sleep Dealer impressed me so much. Rivera proves himself to be not just a gifted and thoughtful storyteller, but a director who understands the possibilities cinema has to offer. Most importantly, while he goes to great lengths to create an atmosphere seeped in loss and dread, he ends his film on a cautiously hopeful note. It makes a fresh movie even fresher.
— Michael Tully