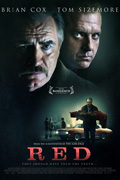 (Red is now available on DVD
through Magnolia Pictures.)
There's a strange sub-genre in American cinema that doesn't occur very often, but when it does, it almost always results in a fascinating work. The general concept is to make a distinctly American genre movie using a completely European/non-American crew for the production's key roles (director, editor, cinematographer, composer). Preferably, these individuals will have never actually spent time in America. They will have simply watched an obscene amount of American cinema and television, and based the reality of their movie on that. The resulting film will feel familiar, but will be somehow slightly off, like watching a Canadian soap opera. My favorite examples of this are Bruno Dumont's Twentynine Palms and Claudio Fragasso's Troll 2 (Lars Von Trier doesn't count, since he shoots his various Americas in his Danish backyard). Red is a worthy addition to this strangely alluring sub-genre.
This time, the non-Americans are from Norway—led by director Trygve Diesen—and from the first frame, it appears that their American movie education was relegated to made-for-television movies-of-the-week (Lucky McKee is credited as a co-director, though apparently he was unjustly fired at some point during the production—for these purposes, let us play the all-Norwegian game). Based on a novel by Jack Ketchum, Red watches the slow, painful journey of Avery Ludlow (Brian Cox), a decent, ethical man who is struggling to avenge the cruel murder of his beloved dog. The guilty party is the teenage son of Tom Sizemore (oops, I mean "Michael McCormack"), a wealthy, well-connected man who sides with his son and shows Ludlow no sympathy (Sizemore appears disappointingly sober throughout the film—I wonder if his character would have been even more terrifying if they'd let him go on yet another raucous bender prior to shooting). As is the case with the revenge movie genre, the odds stack up into a big, heavy pile against Ludlow, but that only makes him even more determined to redeem Red's death.
Whereas many people might watch Red and dismiss it as a third-rate television movie, I find it to be an unexpected ante-upping of the revenge movie genre. The elements that make it feel like a third-rate television movie cannot be denied—classical camera set-ups, two-dimensional supporting characters, obvious dialogue, a Hallmarkian score—but in the case of Red, the Norwegian offness adds an unsettling dimension to the proceedings. Not to mention the added cursing and gory climax, which no movie-of-the-week ever delivered. The result is a work that seems familiar upon the surface, but is much more subversive and daring upon deeper reflection.
While Brian Cox is always fascinating to watch, his performance in Red could very well be one of his finest yet. Cox is an actor who has a special knack for seeming to really know what kind of movie he's in. This is a particularly difficult role to play, but he wears the moustache of Avery Ludlow with alarming genuineness. Even as his character is bruised, battered, and driven to commit acts that we never imagined were in this nice old man's repertoire, Cox never crosses over into caricature. It is his solid grounding that adds yet another solid layer to the film, making it even harder to dismiss.
— Michael Tully