(Ciao is now available on DVD through Regent Releasing. Visit the film's official website for more information.)
I saw Yen Tan's Ciao at this year's NewFest. By the time I got into the theater, it was pretty crowded. I took a seat in one of the two-chair handicap spots on the floor, just in front of the stadium seating. After a while, an extremely large man waddled up and asked if he could sit beside me. He was very outgoing and expressive—borderline wacky—yet his banter was otherwise harmless. Still, I confess to thinking that I had lost the lottery again. I was sitting next to the crazy guy. And then the movie began.
Ciao tells the story of a Texas man, Jeff (Adam Neal Smith), who learns of his recently deceased friend Mark's long distance relationship with Andrea (co-writer Alessandro Calza), an Italian who was planning on visiting Mark in the States. The problem is that Jeff wasn't just friends with Mark; he was in love with him. In a haze of mourning and confusion, he contacts Andrea and convinces him to visit anyway. Andrea does. What emerges is a somber connection between two lost souls who are trying to cling to the fragments of a love for the same man that, in each case, had never been fully realized.
This is an important distinction to make. Typically, this premise—whether executed on a big budget or small—would lead to dramatic showdowns infused with bitterness and jealousy. In this case, however, that cheap hyper-drama doesn't make sense. Tan makes sure that his characters realize this. While Jeff clearly wants to get close to Andrea to find out what this man might have had that he didn't, the fact remains that Mark's connection with Andrea was in no way a betrayal. A surprise? Yes. Disappointing? Of course. But to attack Andrea, who knew nothing of Jeff's inner desires, would be wholly inappropriate. As for Andrea, he admits to having had online relationships before, so while he may have forged a permanent connection with Mark when they finally met in the flesh, there's no way to know for sure. These suppressed emotions help to keep Jeff and Andrea in check, and they make their eventual union all the more personal (in a stroke of good fortune, the sometimes awkward performances contribute to this tension).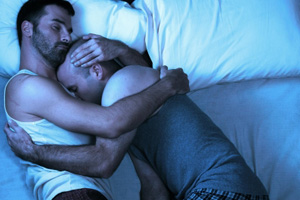 As for the union itself, it isn't what you might be expecting. Yes, there is physicality involved, but it is treated with a shocking measure of intimacy that one rarely encounters on screen. In an unflinching unbroken take, Jeff and Andrea express their mourning for Mark by connecting with one other. It's as happy an ending as Tan can provide, yet that sense of loss is never extinguished; most mercifully, it doesn't lead to bigger and better things. We're not in Hollywood here. But we aren't in morose Indieville, either. This film is the very expression of the term bittersweet: pleasure, alloyed with pain. This long weekend won't make the hurt go away. But the memory of it will alleviate some of the sorrow.
There is a strong Asian sensibility in Ciao, from the static, symmetrical imagery to the suppressed emotions hiding just beneath the surface. While Tan is Malaysian, the film is a predominantly English-language drama starring Caucasian men. This tone might be too jarring for some viewers, who will find the dialogue and delivery to be stilted and artificial. While I can see where they're coming from, I also can't deny the genuine emotion I felt as the film unfolded. By the end, I had succumbed to it completely.
I wasn't the only one. The kooky man beside me had been reacting strongly throughout. And when the lights came up, he turned to me and said that he had just been separated from his boyfriend, who was forced to leave the country with citizenship issues. They didn't want to play the long distance game, so they decided to end it at the airport once and for all. The more he said, the less he was able to maintain his composure. Tears began to stream down his cheeks. At this moment, my opinion of him changed completely, and I realized that his previously cheerful disposition was just a front. He shook my hand, thanked me for allowing him to sit beside him, and lumbered out of his seat to the exit. As I watched him struggle to the door, I felt a flood of sadness. This was the exact feeling Tan was trying to achieve with Ciao. He did.
— Michael Tully