(Canary recently screened at Cinequest and Migrating Forms. Visit the film's official website, as well as www.AlejandroAdams.com, to learn much, much more.)
Sometimes a filmmaker manages to slip his or her psyche into a film with an unsettling measure of insidiousness. It's like a cloud that creeps into a viewer's brain and warps their perception. In American independent cinema, the finest practitioner of this brand of psycho-cinema is Lodge Kerrigan. While Kerrigan is in clear command of the technical elements at his disposal, there also exists a more underlying air of menace to his work. It's as if he is somehow staring you into a state of discomfort. After watching Alejandro Adams' Canary for a second time, I'd like to place Adams in that camp.
To be honest, I have no idea what Canary is "really" about. I'm also not sure if Adams is making his point so forcibly that it has side-swiped me into thinking its message isn't, in fact, a bluntly literal one. But I also feel like Canary deserves more serious thought than most of the other mini-budget American narratives I've seen in 2009. Adams has made a film that is jam-packed with ideas and is thus defiantly open to interpretation, yet not frustratingly so. The mere fact that he had the audacity to make a science fiction film and set it in a slightly skewered present day or a familiar near future—again, not sure which—with non-professionals and a visual aesthetic that recalls the recent wave of SXSW-approved sorta-cinema, establishes Adams as a filmmaker of either outright pompousness or brave ambition. Or both. A literal litmus test of this is in his decision to present full scenes spoken in foreign languages without supplying subtitles. A horrendously pretentious idea in theory, but in this context, it adds to the dissociative atmosphere.
Canary is a cautionary tale about the increasingly numb and sterile—not to mention corporate—country that we continue to become. A company called Canary Industries is in the business of leasing human organs. Organ Redistribution Specialists go out into the field to acquire body parts and return them to a doctor's office, where these parts are installed and monitored. The company is emphatic about one's compliance with the Conscientious Usage contract. If a person doesn't take the appropriate care of their temporary organ, an ORS will be called in to forcibly remove said organ. Throughout Canary, we follow one of these employees, a quietly lurking young female who, with seeming invisibility, infiltrates homes, apartments, and public spaces, to recall various bodily products.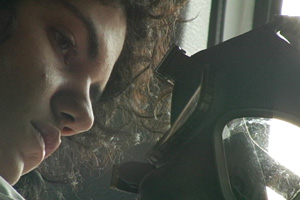 Here's where I get confused, though. In several scenes at the doctor's office, another ORS, an affable dude named Justin, sweetly commingles with both patients and staffers. Yet when the unnamed female ORS—for these purposes, we will call her The Lurking Girl—arrives, she's completely ignored. It's as if she isn't there. Is this a statement on sexism in the work force, how a charming man gets ahead every time? Is she, in fact, a rogue ORS who isn't really a member of the Canary Industries team? Is she a metaphor for the creeping, subliminal presence of corporations in the most private, isolated moments of our everyday lives? More importantly, is the fact that I'm asking these questions a compliment to, or a criticism of, Adams as a filmmaker? Usually when this happens, I dismiss it as the latter. Here, for reasons that I can't readily explain, I'm calling it the former.
In only ninety minutes, Adams sets his sights on anything and everything that is wrong with our society. The film is built as an accumulation of individual scenes, linked together by the looming presence of The Lurking Girl in the background. Each of these scenes has a specific target: wasteful water cooler jibber-jabbering in the workplace; media arrogance, distortion, and suppression; the frightening intensity of conspiracy theorists; our newly acquired hyper-critical and quickly dismissive personalities (expressed in a hilariously cruel exchange between two women who are sitting on a couch watching television); and, perhaps most effectively, the complicated issue of "proper" parenting, as a young mother is confronted by her daughter's teacher, who politely hints that her scattered, manic energy might be having a negative impact on the little girl's behavior. In the next scene, as the mother has lunch with a friend, a palpable tension arises when that friend becomes preoccupied with the daughter's well-being and her friend's seeming motherly ambivalence.
Adams sticks rigidly to a handheld, voyeuristic camera style throughout, which adds a subliminal threat to the proceedings. He also constantly manipulates his characters' placement within the frame. At times, the main subjects are hidden by the blurry, close-up presence of a peripheral figure in the foreground; at others, those main subjects are those blurry, peripheral figures as our eyes are drawn to The Lurking Girl in the background. Again, I'm not sure if this is a heavy-handed commentary on the hovering presence of corporations in our daily lives. All I know is that by the film's climax, a scene made all the more unnerving by its quiet intensity, Adams' vision had crawled under my skin.
It's tempting to call Canary a satire, but it isn't that exactly. It also isn't outright science fiction. I'm really not sure what it is. A philosophical experiment on videotape? A bitter treatise on our ever-increasing soullessness? A blackly comic spoof of our modern lives? Or, more nerdily, a reaction to the more literal-minded consumer-cam narrative cinema that permeates the film festival circuit? All of the above? You got me. All I know is that I have seen Canary twice and it has made my brain spin in uncomfortable new directions. Not to belittle Adams' vision, but Southland Tales wishes it were this smart. I am intrigued to see where he goes next.
— Michael Tully