(A Prophet (Un prophète) is being distributed by Sony Pictures Classics. It opens on Friday, February 26, 2010, in New York and Los Angeles. Visit the film's official website here.)
How good is Jacques Audiard's new prison thriller A Prophet (Un prophète)? (Yes, that's the full, official title.) Let me backtrack. I'd heard the hype from Cannes, where the film won the Grand Prix, and friends who saw it in Toronto came home slack-jawed and raving about it. But I was skeptical. I missed Audiard's first three features, but saw his fourth, the widely acclaimed The Beat That My Heart Skipped (2005), a remake of James Toback's Fingers. The Beat That My Heart Skipped boasted a terrific lead performance from Romain Duris and was clearly the work of a director with style and energy to burn, but I found it fake, hollow, and sentimental at its core. It did to Toback's unruly '70s cult classic what American filmmakers are usually accused of doing to European movies they remake: planed down its rough edges, gutted it of personality, and sprinkled it with happy-ending air freshener.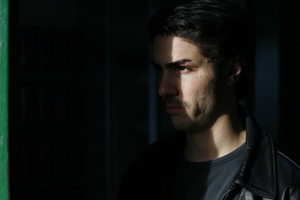 But the new film is a knockout. The American influence is no less pronounced than it was on Audiard's previous opus; A Prophet is steeped in the U.S. crime-movie canon, from the old-school classics up to and including the moderns—the Godfather trilogy, GoodFellas, and Casino as well as contemporary TV dramas like The Wire and Oz, all of which it recalls in its epic sweep, ethnic specificity, and hardcore violence. (Audiard told the New York Times that he was also inspired by recent European crime films, citing Gomorrah and the Pusher trilogy in particular.) But A Prophet is no mere footnote; it stands on its own as a strong contribution to the genre tradition.
Audiard doesn't waste any time getting down to business. The film puts us in a state of buzzing alertness from its first few minutes, and never releases us until the end. Nineteen-year-old Malik El Djebena (Tahar Rahim) arrives at the prison where he's to serve a six-year sentence for assaulting a cop—his first time in adult lockup, following a series of stretches in juvenile facilities. Malik is the mixed-race son of a white woman and an Arab man, but he's cut off from his family and has no close friends. He speaks both French and Arabic but can't read or write either; he's too uneducated and untrained for mainstream society but not yet hardened enough for criminal life. However, he's exceptionally smart and resourceful, and from the moment he lands behind bars he begins to piece together not only what it will take for him to survive from moment to moment, but what he'll need to learn in order to prosper over the long haul.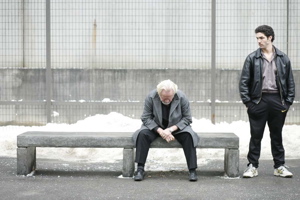 And so A Prophet becomes the story of Malik's education, in several senses. A gang of Corsican convicts dominates the prison hierarchy, and they recruit Malik to do some of their dirty work—granting him status and protection, but also alienating him from the burgeoning population of Arab prisoners. Gradually Malik comes into his own, setting up money-making operations inside and outside the prison walls, making himself indispensible to the Corsicans even as he schemes to play one side against the other. Before our eyes, he grows into a criminal mastermind. Newcomer Rahim achieves something remarkable, bringing us inside Malik's head for every stage in his evolution (always followed by Stéphane Fontaine's restless, darting handheld camera). Even his physiognomy seems to alter—his body language gains in power and focus, and his features sharpen; by the end, the shivering, soft-faced adolescent of the early scenes has taken on something of the cool command and daggerlike handsomeness of the young Alain Delon.
So how good is A Prophet, finally? Perhaps one measure of its ultimate limitations is that, unlike the truly great works, it doesn't grow in stature with repeated viewings. I can state this with some confidence, because I saw it three times. After the first NYC press screening ended, and I unscrewed myself from my chair, I knew I had to watch it again. No, it didn't get deeper the second and third time—it didn't expand in the mind, didn't take on new emotional textures, didn't provide any fresh illuminations. And the thriller aspects of the story can't carry the same high-wire tension once you know how the plot plays out. But at all three screenings, I was royally entertained for every minute of the movie's two and a half hours. Audiard has hinted in interviews that he's open to making a sequel someday, a possibility that fills me with greedy anticipation. In the meantime, I'll just have to content myself with watching A Prophet again.
— Nelson Kim