PRAY THE DEVIL BACK TO HELL
(Pray the Devil Back to Hell won Best Documentary at the 2008 Tribeca Film Festival and is now available on DVD
. Check the film's official website for more theatrical listings.)
It sounds like an all too common story to us privileged outsiders: a destitute faraway nation where gun-toting child soldiers have been raping, pillaging, and brutalizing innocent families and children for decades in a lawless civil war. Out of fear, many have fled to an impromptu refugee camp, where water is scarce and food is scarcer. The corrupt leadership has done nothing to quell this deadly turmoil. In a world on the brink of economic collapse, who wants to watch a documentary about that? Thankfully, not director Gini Reticker. With Pray the Devil Back to Hell, Reticker shows us how a group of heroic women used their hearts and minds as weapons for positive, peaceful change, turning a horrific negative into a life-saving positive.
This time, the setting is the Republic of Liberia on the coast of West Africa. Long before warlord Charles Taylor terrorized citizens into voting him into office in 1997, a fierce civil war reigned. An already poor community was now fighting for its life amidst complete and total chaos. Reticker sets up her story with stock footage of some of these battles and, most effectively, by allowing her eloquent female subjects to share stories that are too awful to imagine. Wisely, she doesn't overdo this. Rather than bombarding us with tale after tale, numbing us to the gravity of the situation, she shares a few pointed, particularly evil atrocities, and then moves on. In this case, less is already almost more than one can bear.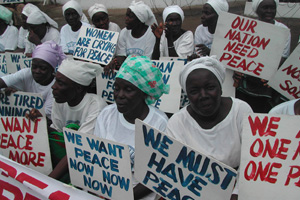 Leymah Gbowee is a young woman who didn't just become angry with all of the violence and bloodshed; she became fed up with it. Thanks to her and several others, religious boundaries were crossed so that all women—Christian and Muslim—could come together to demand peace in their battered nation. In Ghana, at a session between Taylor's army and rebel warlords that began to feel more like a Club Med vacation, Gbowee and her partners found yet another way to raise the stakes for the corrupt participants, sparking them into action. These infuriated women realized they were dealing with men who had the minds of immature little boys. In turn, they treated them as such and whipped them into shape.
At seventy-two minutes, Reticker's film moves briskly, yet this respectfully restrained approach does nothing to diminish the film's power. While Pray the Devil Back to Hell is certainly a celebration of women, first and foremost, it also works on a more universal level, proving that a strong enough display of love and hope, no matter the race or sex, can get guns to lie down and die.
— Michael Tully