In less artistic hands, Our City Dreams might come off as meandering and unfocused. But director Chiara Clemente casts an impressionistic spell with her documentary portrait of five female artists who have learned to call New York City home. While the film addresses multiple themes—what it means to be a female artist, what it means to be an artist period, how one's artistic vision changes with time—it almost always comes back to these women's personal relationships with NYC. Clemente takes a lyrical approach to her material by letting her narrative threads unspool loosely, as well as by employing many different film and video stocks. This enables her to float more dreamily through space and time than if she were abiding by a more traditional structure. In this way, Our City Dreams becomes its own illuminating work of New York City art.
The film's main subjects have three obvious things in common: they are all female, they are all artists, and, most importantly for this film, they are all New York City transplants. But that is where the similarities end. Each woman has painted, carved, sculpted, and performed her own path to success: Swoon takes her plywood cutouts into the streets; Ghada Amer mixes painting and embroidery to challenge cultural taboos; Kiki Smith's sculptures retain a philosophical and spiritual bent; performance artist Marina Abramovic uses her own body as a canvas; and Nancy Spero challenges herself and her audience by combining painting and activism. Rather than forcing unnecessary connections between these defiantly individual artists by weaving their stories together, Clemente instead concentrates on one at a time. This episodic approach—five subjects in ninety minutes—makes it virtually impossible to get all the way under their skin. But that isn't the film's point. By giving us just a taste of these unique individuals making their way through New York City, Clemente hints at the countless other artists that provide the city with its undeniable creative spark.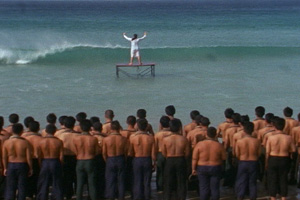 One perhaps strange diversion Clemente takes is in allowing her characters to re-enter the world at large and leave NYC behind, oftentimes without providing a thematic sense of closure. For a film called Our City Dreams, it seems like the main point is to retain some semblance of a connection to New York, even if the subjects' artwork and attitudes continue to change as the city changes. Abramovic's thread is the most jarring example of this. First of all, she only moved to New York City in 2004, and this was for a major exhibition at the Guggenheim. But after that, Clemente heads with her to Thailand as she organizes her latest performance piece, "God Punishing." In this multi-bodied spectacle, Abramovic leads an army of individuals who crack whips into the sea as a challenge to Nature for unleashing the deadly Tsunami upon those very shores. But Clemente doesn't return to New York City before leaving Abramovic behind to move onto her next subject. While the impressionistic style doesn't create a demand for this resolution, it nonetheless feels, in this case, that we've drifted too far away from home. (A wholly inappropriate and irrelevant aside, if I may: I find the type of body art performed by Abramovic to be positively Christopher Guest-ian. I can't watch it and not be filled with a burning, childish urge to giggle. My apologies to serious performance artists everywhere.)
Another way in which the film ebbs and flows thematically—in this case for the much, much better—is in Clemente's casual approach to the issue of femininity. She isn't here to beat viewers over the head with a pro-female agenda, and because of this, her celebration of these women becomes all the more inspiring. Early on, Swoon addresses this very question by saying that the current climate is more than receptive to women artists. None of these women appear to be constricted by that label in a way that they might have been in the past (and, in many cases, were). By remaining passive and letting them stand firmly as individuals and artists, first and foremost, Clemente has paid even more respect to them as women.
I have a feeling that Our City Dreams might feel unfocused to some viewers, who will wish Clemente had delved further into New York City itself, how its relationship to the art world has changed over the course of the past fifty years, or yearn for even deeper insights into the lives of these women. That's one way of looking at it. To me, it's a pleasant, multi-layered, creative work of non-fiction.
— Michael Tully
(Our City Dreams gets a two-week run at the Film Forum beginning Wednesday, February 4th. Visit the film's official website for more details.)