(Old Partner opened theatrically at the Film Forum on December 30, 2009. It is distributed by Shcalo Media Group and is now available on DVD through YA Entertainment. Go here to learn more.)
The saying goes that a dog is man's best friend, but in the case of the elderly Mr. Lee, a South Korean farmer with a back hunched from a life of punishing manual labor, that best friend is actually his trusted 40-year-old ox. For Mr. Lee's frustrated wife, that old ox is nothing of the sort; in fact, he's her archrival. Mrs. Lee can't fathom her husband's stubborn devotion to such a decrepit beast. She's been begging him for years to get rid of it once and for all. While this bizarre love triangle is the comic seed of Chung Ryoul-Lee's Old Partner, it blossoms into something altogether more heartwarming, an ode to the bond between man and animal and a kind-hearted elegy for a dying way of life.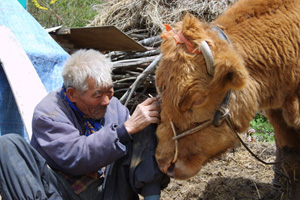 Ryoul-Lee tells his tale with an appropriately restrained, unadorned elegance. At a few moments, he throws in some emotional enhancers—slow-motion, a saccharine score—which come off as unnecessary at best and overkill at worst, but thankfully these moments are fleeting. The rest of the time, he lets his story unfold with a slow, natural rhythm that respects his rural surroundings. One wouldn't be surprised if he comes from this particular community, or another one very like it.
As an experience, Old Partner conjures the feeling of reading a work of classic literature, ala The Old Man And The Sea. It is cinematic, to be sure, with striking digital photography that captures every wrinkle in its humans' leathery faces, the sad eyes of the farm animals, and the shifting colors of the seasons, and it's edited with the eye of a narrative filmmaker. But there is an overriding grace that transforms an otherwise simple tale into something much more metaphorically profound. As the story reaches its inevitable conclusion, Old Partner has spoken volumes about our need for companionship to help us get through our loneliest days and make our lives feel complete. It is one of the year's most touching films.
— Michael Tully