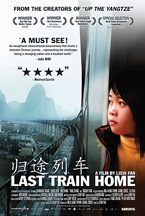 (Last Train Home was picked up for distribution by Zeitgeist Films and is now available on DVD
. It opened theatrically on Friday, September 3, 2010, in New York City, before expanding in the coming weeks and months. Visit the film's official website and the its Zeitgeist page to learn more.)
If you want to fully grasp the impact of globalization on scales both large and small, look no further than Lixin Fan's Last Train Home. An indirect companion piece to Yung Chang's toweringly great Up the Yangtze (which was also produced by the Montreal production company EyeSteelFilm), Last Train Home is a visually breathtaking, emotionally devastating achievement that humanizes the massively complex issue of globalization by focusing on one Chinese family as they struggle to make ends meet.
Hope for a brighter future has led to the separation of the Zhang family. Changhua, the father, and Suqin, the mother, fled their home in the Huiling village in Sichuan Province to work in a factory thousands of miles away in the city of Guangzhou, leaving their two young children behind to live with the children's grandmother. While the son, Yang, is too young to understand the complicated dynamics at play, teenaged daughter Qin is furious at her parents for abandoning her. Of course, Changhua and Suqin see Qin's behavior as selfish and naïve, since they are working so far away in a factory under such grueling conditions to make money that will enable her and Yang to get an education and hopefully escape their migrant worker shackles. Yet as is the case with the universal battle between parents-and-teenagers, this miscommunication only adds fuel to the fire.
The film's early footage is quite shocking, as we witness thousands of factory workers amass at a train station to wait desperately for a spot on a car that will return them to their far-reaching home villages for Chinese New Year (text informs us that over 130 million migrant workers perform this annual act, making for the world's largest human migration). Not to belittle the situation, but it's virtually impossible not to be humbled by these scenes on a personal level. Next time you feel like complaining about traffic or a particularly annoying commute, thinking about Last Train Home will stop you dead in your tracks (and if it doesn't, you should probably be run over on those tracks).
Acting as cinematographer, Fan uses his camera to further acknowledge both the broad and specific ends of the spectrum. His wide frames and slow pans remind us that there are 130 million stories like this one, yet his intimate camerawork draws us more deeply into the personal story of the Zhangs. Music is used sparingly, but effectively, in the form of a sparse piano lament by composer Olivier Alary that only adds to the overall feeling of sadness and loss. Fan shows great restraint in making his point, which only adds to the film's crushing power.
Though the scenes at the train station are the most viscerally stirring, there is an unexpected encounter towards the end that is best left discovered for oneself. Suffice to say, it is one of those electrifying moments that distinguish the best nonfiction from fiction, and in this particular case, it makes a great film even greater. With Last Train Home, Lixin Fan has accomplished something very major. It is a special, heartbreaking, unforgettable film. See it immediately.
— Michael Tully