LA DANSE: THE PARIS OPERA BALLET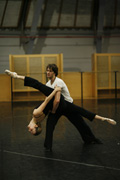 (La Danse: Le Ballet de l'Opera de Paris will have a two-week engagement November 4-17, 2009, at Film Forum. Go here for details on the Film Forum run, and visit Wiseman's official website to learn more.)
La Danse: The Paris Opera Ballet is 79-year-old American filmmaker Frederick Wiseman's 38th film and one of the very few to have received some form of a theatrical release in the United States. As in his previous thirty-seven pieces of work, the viewer is, unceremoniously, ensconced in a world that Wiseman has chosen to profile. He's chosen it because it interests him and because he wants to learn something about this world, however seemingly circumscribed it may appear to be. Wiseman's special gift is to turn circumscription into common human experience, and in the case of his latest opus (at 158 minutes, it qualifies as a "short" in Wiseman's oeuvre), he spent seven weeks filming the renowned Paris dance company at work—and how hard they do work!
There is probably nothing more circumscribed than the world of ballet, an art form created, performed and appreciated with a profound, almost religious, devotion amongst both its practitioners and its acolytes. As the formidable Brigitte Lefevre, artistic director of the Paris Opera Ballet, says to a colleague, the definition of the dancer by Maurice Béjart, "half nun, half boxer," means that these artists are "capable of great dedication, endowed with physical strength and energy; they are both. A dancer is both the racehorse and its jockey, the race car and its driver."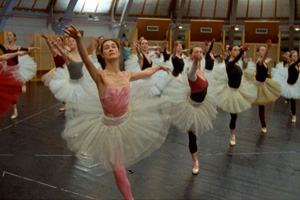 Wiseman, too, is both the physical conveyance and ideological conductor of his work, along with his long-time director of photography, John Davey, his cinematographer for over twenty years, beginning in 1978 with their collaboration on Manoeuvre. In an interview with Gerald Peary, Wiseman chalks up their successful collaboration to a similar "obsessed and slightly crazed" way of working. Like their rapport, one can't put words on each movement, each nuance of what plays out on the screen in La Danse. And Wiseman doesn't. In fact, he's never found the need to in any of his films.
But the evolution of story, of structure, of narrative, is clear. It is clear in the way he captures the language of the choreographer to the principal dancer, of the ballet masters and mistresses to the corps de ballet, tasking them, individually and as a group, to embody the unrelenting drive to achieve a perfection that transcends the human form. Over the course of two-and-a-half hours, we watch pieces move from rehearsal studio to luxurious theater, replete with 2,200 scarlet velvet seats and Marc Chagall ceiling, all lovingly and meticulously vacuumed, scrubbed, and kept in pristine condition by a silent army of maintenance workers.
Interstitially, Wiseman inserts static portraits of the institution of the Palais Garnier, the 19th-century building that houses the company—cold, opulent, and solid like an ancient netherworld, almost ominous in its stillness and emptiness—and the city of Paris, shot aerially for the most part—staid, stony and gray—a bustling place seemingly oblivious to the microcosmic realm where the dancers, the choreographers, the administrative staff, the seamstresses, the food service workers, the cleaners and painters and musicians, live out their days working hard to keep a cultural institution alive and flourishing. These stills flesh out geography and story, and act as counterpoint to the sweating bodies, stretched tendons, pounding feet and corporeal sensuality of dancers entwined in impossible positions to illustrate the lust, vengeance and celestial love of these choreographed dramas. They all make it look "indecently easy," as one ballet master describes the leaps and pirouettes of one male dancer who can suspend himself in mid-air with powerful lift and grace. Wiseman subtly, slyly, interjects snippets of a larger drama that is, at once, astonishing and exhilarating, routine and mundane, a hallmark of his and something that makes watching his films such a full and satisfying experience. This technique enables a viewer to, as Wiseman says, "think through their own relationship to what they are seeing and hearing." As one fellow film lover put it to me after watching La Danse, "For the first time, I finally got ballet."
The seven dances featured in the film, both in rehearsal and in performance, by a slate of the most exciting international choreographers, are: Pierre Lacotte's Paquita, Rudolf Nureyev's Casse-Noisette (The Nutcracker), Wayne McGregor's Genus, Angelin Preljocaj's powerful and bloody Medea, Mats Ek's The House of Bernarda Alba, Sasha Waltz' Romeo and Juliet, and Pina Bausch's exquisite Orpheus and Eurydyce.
It is a joy and a rare privilege—and not just for balletomanes—to watch these artists perform at the highest level of their craft, all captured in sound and motion by an artist working at the highest level of his.
— Pamela Cohn