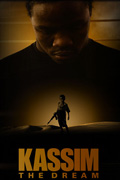 (Kassim the Dream is now available for viewing through IFC's Sundance Selects, a video on-demand transactional platform carried by Bright House, Cablevision, Comcast, Cox, and Time Warner cable systems. Visit the film's official website to learn more.)
Kief Davidson's Kassim the Dream delivers two powerful documentaries for the price of one. Had Davidson chosen to concentrate exclusively on Kassim Ouma's unspeakably brutal upbringing as a child soldier in Uganda, the film might have been too difficult to swallow. Had he focused solely on Ouma's present position as one of professional boxing's rising stars, non sports inclined viewers might have lost interest. But by combining these disparate genres into one powerful tale, Davidson has achieved something much more dynamic, a death-to-riches lesson in human perseverance.
As a six-year-old child in Uganda, Kassim Ouma was kidnapped by a vicious rebel army, which forced him to kill innocent civilians in order to save his own life. The mere idea of child soldiers never fails to infuriate, and here, Ouma adds an honest dose of gravity by reflecting on his past with sobering detachment. He learned to like killing. He was a kid. He felt powerful. It was fun. But after twelve years of vicious warfare, Ouma finally saw the light, broke free, and defected to the United States. His reward for escaping that cruel life? The rebel army murdered his father. In front of his family.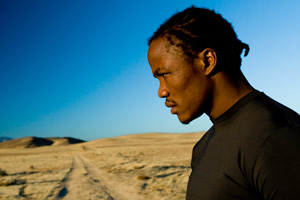 What happens to a teenager who has been living amidst so much poverty, slaughter, and bloodshed, only to find himself all alone in a prosperous country whose language he does not know? If this were any other person, the odds might be stacked too high against them. But for Kassim Ouma, America was a land of opportunity where he could fully pursue his passion for boxing and test himself to the fullest. In Virginia, Ouma found a gym and a manager in Tom Moran, who welcomed the determined, charismatic teenager into his home. After working as hard on the English language as his skills in the ring, Kassim "The Dream" Ouma was born.
From a filmmaking standpoint, Davidson's most impressive storytelling feat is how he manages to balance these two major narratives without losing momentum for each. In the first half, he cuts between the past and present to raise the stakes for Ouma's upcoming Middleweight title fight against the imposing Jermain Taylor. But after that, he leaves athletics behind to focus on the true heart of the film: Ouma's emotional return to Uganda to reunite with his grandmother and visit his father's grave. On paper, it sounds risky to tip the scales too far in one direction at this stage—wouldn't it have been better to lead up to the Taylor fight all along?—but once in Uganda, Davidson's decision makes complete sense. In that environment, boxing and America both seem utterly distant and irrelevant.
From the outset, Ouma exudes a carefree charm that might fool you. As the film develops, however, Davidson uncovers the tears beneath those smiles, the sorrow beneath that playfulness, to present an honest, three-dimensional portrait of a brave, determined young man. It takes a very special person to be the star of a film that is equal parts War/Dance and Pop Star on Ice. Kassim "The Dream," indeed.
— Michael Tully