JONESTOWN: THE LIFE AND DEATH OF PEOPLES TEMPLE
I first saw Stanley Nelson's Jonestown: The Life and Death of Peoples Temple almost exactly one year ago to the day. And while I personally make it a point to re-watch films before writing about them in a format such as this, I didn't want to do that with this particular film. This is due to several reasons. Firstly, I wanted to preserve the memory of my initial viewing. Secondly, I felt it was unnecessary, since not a week has gone by when I haven't thought about Nelson's film, to the extent that it feels like I watched it more recently than I did. Thirdly, and perhaps most honestly, I simply didn't want to watch it again. Which leads to the shameful-to-admit fourthly reason why I wanted to avoid sitting through it a second time: I was too scared. Yet, being the determined professional that I am, I swallowed my fear, grabbed my store-bought DVD off the shelf (why did I buy it if I never planned on watching it again?), turned off the lights, pressed play, and entered into the horrific, waking nightmare that was Jim Jones and the eventual Jonestown massacre of 1978.
Stanley Nelson didn't win a MacArthur Fellowship "genius grant" for nothing. The way he crafts Jonestown, from the bottom to the top, is exemplary. His first wise decision of many was to allow survivors and family members to tell the story, as opposed to more detached historians or sociologists (or, God forbid, a celebrity narrator). This provides the film with an intimacy that it otherwise might have lacked. It also helps that his interviewees are all thoughtful, well spoken, and balanced in sharing their own stories. Of course, by the time we get to that tragic, fateful day, emotions burst forth, but that is inevitable, and it also helps to add greater emotional impact to a climax that would already been devastating.
Nelson also wisely realizes that his film shouldn't only be about the catastrophic event itself. Without going overboard, he provides a solid biography of Jones, who was raised without much money in Indiana and appeared to be obsessed with religion and death from an early age (Nelson does this using interviews with childhood friends and his surviving children, as well as presenting haunting photos from Jones's family scrapbook). Jones's rise to prominence as a preacher and his creating of the Peoples Temple were initially thought to be positive things. Jones was a charismatic, commanding presence whose intentions appeared to be noble. But gradually, the power rushed to his head and he began to wield a dysfunctional command over his followers, which was never brought out into the open until it was far too late. How this philandering and sexual abuse managed to stay relatively under-the-radar is just one of the many questions that makes Jonestown so disturbing and difficult to explain.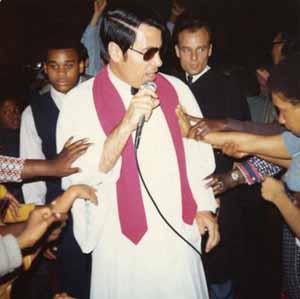 While Nelson goes to great lengths to establish what made Peoples Temple so appealing to its congregation, it is impossible to forget where all of this is going to lead (he even opens the film on that fateful day before pulling back to tell the story from the very beginning). With the knowledge that this man is pure evil, it's hard for us to understand how so many people would not only flee their families and country for life on a commune ruled by a paranoid, controlling maniac, but that they would willingly drink themselves to death at his request. Many viewers will simply not be able to grasp how something like this could happen, but that is what makes Jim Jones such a mesmerizing and terrifying figure. To execute something on this grand a scale seems incomprehensible, but he did it. Again, viewer temperament will determine where the blame is placed–whether this is, in fact, suicide or murder (unequivocal answer: murder)—but the fact remains that Jones was masterful in his ability to coerce, finagle, and lie to these innocent victims who wanted to believe in a better way of life. Jonestown itself was a physical manifestation of the late-'60s vision for a colorblind, peaceful world. Its crushing dissolution provided the final nail in the coffin of that hopeful, idealistic dream.
To read about Jonestown is unsettling enough, but where Nelson's documentary becomes an incredibly unforgettable and immersive experience is in the staggering amount of stock footage he has assembled. Through newsreel footage, photographs, and actual audio recordings of the last hours, viewers are placed inside that compound on that terrible day. While the survivors knew that something incomprehensibly horrendous was happening, they were unable to stop it. Jonestown: The Life and Death of Peoples Temple recreates, with frightening immediacy, a moment in history when evil arrived on Earth to destroy the hopes and dreams of so many well-intentioned, decent individuals.
— Michael Tully
(Jonestown: The Life and Death of Peoples Temple is playing on Friday July 4th and Monday July 7th at BAM as part of the Afro-Punk Festival. Series information can be found here. Or better yet, buy it at Amazon
.)