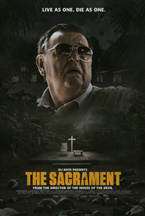 (The Sacrament world premiered at the 2013 Venice Film Festival. It is now available on VOD at iTunes and Amazon Instant
and opens theatrically on June 6th through Magnolia Pictures. Visit the film's official website for more information.)
If things in a Ti West movie seem too good to be true, they probably are not good. In fact, they are probably really, really bad. His segment in V/H/S, "Second Honeymoon," told the short story of a young couple on a boring road trip. The plot slowly dissolves—little fights, odd visitors at the hotel room door—taking the cleanliness of trust and revealing the dark, creepy interiors that trust can breed. His 2009 '80s horror homage, The House of the Devil, presented an innocent babysitter out for a night's work. Sure, nothing is wrong if someone offers you $300 for an hour or two of babysitting. No way Satan is coming over or anything. West's latest feature, The Sacrament, once again builds his signature façade of American normalcy, pushing the metaphor to the limit with a Jim Jones-esque utopia, which he then scrapes away until there is no sense of what was there before. And the bare world West continually leaves us with is one of terror, failure, and an all-too-gruesome reality.
The actors and production team of The Sacrament are a recurring ensemble of filmmakers, a talented American counter culture-brat pack of sorts seen together most recently in the tense and bloody You're Next. Caroline (Amy Seimetz) channels an eerie, cheery Manson Family girl/recovering drug addict who lures her clueless blue-eyed, fashion photographer brother Patrick (Kentucker Audley, swoon) to her new home, a lush remote colony called "Eden Parrish"; Sam (AJ Bowen), a journalist for the renegade publication Vice complete with the perfect swinging bravado of skepticism, condescension and fear; and Jake (Joe Swanberg) a reasonable bandana-clad cameraman, do as Vice does in real life: place themselves in a precarious position in the name of shock value and truth.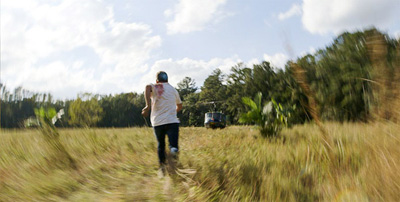 Sam and Jake, uninvited by the colony and with cameras in hand, join their friend Patrick on his visit to the mysterious cult-like community, arriving at an undisclosed location accessible only by helicopter. The cynical trio is slowly wooed by the breezy freedom of this place, and mostly by its charismatic leader, "Father" (Gene Jones). Father is the rarely seen overlord, preaching his socialist messages of equality and work, accepting anyone and everyone… for a price, of course. Father is wary of the outsiders. He sees them as a threat to his way of life, slyly trying to ease the visitor's cynicism while being sure his followers are aware of the possible negative repercussions of these intruders ("You're not going to make fun of us, are you?" a shrewd, flat toned Caroline coos). A few peculiar interactions shake Sam and Jake's growing trust but soon these oddities become the norm, ballooning into a full-on tornado of crazy that no one is safe from. I don't want to give anything away, so let's just say there is an onslaught of complete insanity that includes but is not limited to fire, needles, guns and blood.
The Sacrament expertly rolls around in crowd-pleasing horror genres: the cult/coven film, the horror mock-doc, the straight-up thriller. The sound of the film is classic horror movie perfection, pulsing along, inching the audience into a corner along with the characters. The foley is as grotesque and as thick as the blood. "Eden Parrish" is shot through a soft, gauze-y haze like a '60s horror throwback. The extras give blown out, wide-eyed performances that add to the brainwashed effect (think Stepford Wives). The Sacrament was mostly shot in a handheld camera style, a form reminiscent of the found footage genre of horror, a genre whose shakiness has translated so well to VOD. The best new filmmakers (especially in the horror realm) are taking into account the changing platforms of their work, expertly editing between the cropped, small screen experience of VOD while keeping in mind the expansiveness of a huge, screaming screen of tension. Ti West, along with his collaborative cast & crew, are most definitely the cult leaders of this new school of filmmaking, managing to elevate and adapt cinematic storytelling in this growing digital era of film.
Horror movies, both in content and in filmmaking, are often progressive in their transgression, acting as expressions of collective fear or unrest, omens of a much needed change. West's film echoes the Jonestown Massacre, a strange, nearly forgotten tragedy that took place during a time of American inequality and instability that is very similar to the current national condition. The Sacrament, through quickened pulse and even quicker editing, is a masterful horror-thriller, but more importantly, it left me wondering about the original, real life cult and the parallels in today's forms of extremism: whose Kool Aid are we choosing to drink from now?
-Donna K.