(GasLand is now available on DVD
through New Video. It world premiered at the 2010 Sundance Film Festival, where it won the Documentary Special Jury Prize. It premiered on HBO Monday, June 21, 2010, at 9pm. Go here for a screening schedule and visit the film's official website to learn how to participate in the discussion. NOTE: I have only seen the Sundance version of the film, which has apparently been re-edited since then.)
As oil spews into the Gulf of Mexico at an alarming and seemingly endless rate, Josh Fox's GasLand has unwittingly become an even more timely and terrifyingly vital document. When Fox's own Pennsylvania land became a potential target for the fracking (hydraulic fracturing) process associated with natural gas drilling, Fox grabbed his camera and traveled to over 20 states, visiting many communities who had already leased their precious land for these purposes. What he uncovered is more disturbing than you could possibly imagine. Before you dismiss Fox as yet another liberal, hippy-dippy whiner, shut up and watch this:
Now are you paying attention? While that might be the most viscerally shocking example of the fracking dangers Fox encounters on his journey, it is by no means the only one (I could list them but it makes me too angry). GasLand isn't just a wake-up call. It's a screaming wake-up siren in the middle of a pitch-black night.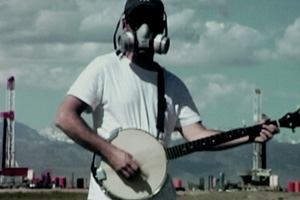 This past January, on my Jet Blue flight out to Park City for the 2010 Sundance Film Festival, I caught a snippet of the CNBC show Mad Money w/ Jim Cramer, on which gazillionaire T. Boone Pickens stated his case for natural gas drilling on American soil. In the long run, Pickens argued, it was a cheaper, safer way to control our own resources without depending on other countries. Pickens bet Cramer one hundred dollars that within months, Congress would pass a bill supporting his mission as well. As described by Pickens, I confess that this natural gas business sounded promising to me. Then, just a few days later, I watched GasLand, at which point my naïve support turned to informed, stomach-churning fury. I'd love to hear Pickens—or any supporter of natural gas drilling—respond to the arguments Fox presents so convincingly in his film. At the very least, I hope GasLand's airing on television (pay cable, but still) will expose this potential nightmare to as wide an audience as possible.
As an example of first person, call-to-arms nonfiction cinema, GasLand should immediately enter curricula everywhere (Michael Moore and others, please take note). When I moderated the Q&A for one of its screenings at the Sarasota Film Festival, it got a standing ovation—as it did when I saw it at Sundance. This is achieved through Fox's use of humor, music, and a casual, everyman approach that helps to temper the otherwise infuriating onslaught of revelations on display. By taking this more humble approach, Fox adds immeasurable power and conviction to his case. By the end of the film, it doesn't even feel like a case. It feels like a presentation of indisputable facts.
In addition to Fox's engaging persona, what ultimately makes GasLand so effective and convincing is that he hasn't made this film to brashly declare that natural gas drilling is 100% evil. All he's asking is that the powers-that-be proceed with caution—led by legitimate government regulation, first and foremost—in order to make sure that fracking isn't going to ruin our precious watersheds in our rush to become as self-sufficient as possible (and to make a handful of rich people even richer). It's bad enough for our oceans to become contaminated on however large or small a scale, but if the ground beneath our feet and the water streaming out of our sinks becomes poisoned, that makes for a deadly scenario from which we will never recover. Seek out GasLand, then get involved.
— Michael Tully