Note: This month, in addition to returning contributor John Lichman, we welcome Lauren Kinsler into the fold—hooray!—to bring even more linguistic variety to the table.

KEY:
— A three-star marking (***) equals a very high recommendation.
— A two-star marking (**) equals a high recommendation.
— A one-star marking (*) equals a recommendation.
— A no-star marking is reserved for those titles that are worth mentioning in some way, shape, or form.
— [Have Not Seen Yet But…] is self explanatory.
VIDEO ON DEMAND – OCTOBER 2010
** 11/4/08 — In the weeks leading up to the 2008 Presidential election, I received an email from Jeff Deutchman, who I first got to know through his job working in acquisitions at IFC Films. Sensing history was about to be made in a major way, Deutchman was sending out a plea to friends and filmmakers asking them to document the day of 11/4/08 in whatever way they deemed fit. Sixteen months later, the results of that call—labeled in the film's opening title card as an act of "Consensual Cinema"—an 80-minute documentary, 11/4/08, was world premiering at the 2010 SXSW Film Festival. 11/4/08 is a truly provocative cinematic experiment, which promises to stir up conflicting emotions from one day to the next, depending on which way our government is currently blowing. Read my HTN conversation with Deutchman. (Available on iTunes, Playstation and Amazon VOD beginning October 22)
* Haynesville: A Nation's Relentless Hunt For Energy — Movies always come in twos, but in this case, Gregory Kallenberg is facing an uphill battle against Josh Fox's throbbingly vital GasLand. That said, I actually think Haynesville makes for a valuable companion piece to Fox's more incendiary film, if only to see just how complicated the developing natural gas situation in our country actually is. Removing people who light the water streaming out of their kitchen sinks on fire just by putting a match up to it! from the equation, Kallenberg's film examines the situation from many sides, showing those who are benefiting from this modern day gold rush yet not in an exploitative way. I've been thinking about which film would be better to watch first, and right now I'm leaning towards Haynesville. One thing I will say: just because you've seen one of them doesn't mean you shouldn't see the other. (Available on iTunes now)
Floored [Have Not Seen Yet But Kinda Wanna] (Available on iTunes, Sony Playstation, and Amazon VOD now)
Also, be sure to visit the FilmBuff website for a full listing of available titles, as there are many for the taking.
The following titles are available on Movies on Demand on Comcast, Time Warner, Cox, Bresnan, RCN, and Brighthouse:
New:
*** XXY — Adolescence is a problematic enough time for females, whose bodies and attitudes are in a state of constant flux. In Lucia Puenzo's XXY, the stakes are even higher, for fifteen-year-old Alex (Ines Efron) is facing a major dilemma: she was born intersex and needs to decide if she wants to undergo surgery to simplify her condition. At an age where life feels particularly complicated and dramatic, Alex is extraordinarily burdened. What makes XXY such an impressive debut is that, considering its subject matter, it can never be mistaken for a work of exploitation. It's a tenderly wrought drama that uses an abnormal situation to explore the universal, end-of-the-world emotions spawned by adolescence. Read the rest of my review here.
** Wolves in the Snow — First time Director Michael Welterlin starts Wolves in the Snow with a literal bang. Lucie finds out her husband Antoine has been cheating on her for years and in a fit of rage kills him. While trying to cover up Antoine's absence, Lucie falls into a dangerous world revealing her husband's involvement with violent gangsters and money laundering. While the noir influenced drama kept my attention, Welterlin tries to accomplish a little too much at times. What he does do awesomely is create three-dimensional characters; the gangsters are emotional and flawed and the acting is superb. For a debut feature, Wolves in the Snow is quite impressive. (Lauren Kinsler)
All My Friends Are Funeral Singers [Have Not Seen Yet But Really, Really Wanna]
Still Showing:
* Ben X — This Belgian film follows a critical point in the life of Ben, an autistic high school student who battles bullying and intolerance by immersing himself in role-playing video games. Adapted from his own novel, director Nic Balthazar utilizes techniques such as documentary style interviews and video game sequences that often detract from the beautifully simple storyline. Although the first half of the movie moves slowly, it does allow us to experience Ben's life from his quiet point-of-view; one bullying scene at his high school drags on so long I became extremely uncomfortable—not unlike what I imagine Ben feels most of his life. The latter half of the film is where the drama rises, when Ben decides to take the bullying into his own hands. If you can make it through the slow pacing of the first half, the ending of Ben X will come as a nice surprise. (Lauren Kinsler)
** Morlang — Morlang the movie is a Dutch psychological thriller that slowly unravels to the backdrop of gorgeous landscapes and grey skies. Morlang the man is an accomplished artist who appears in almost every frame but has little to say. His late wife was his muse and ghostly reminders of her have started to appear in his life. These intrusions make him question his own sanity and prompt us to question how she died. The film spastically jumps around in time, letting us catch glimpses into Morlang's life while making sure we are never too comfortable about where we are. It is quickly revealed that there is a lot more to him than his art and quiet sensibility. Director Tjebbo Penning builds trust with his audience by letting us become intimate with his characters. But just like a good psychological thriller should, by the end, this visually stunning and complex film makes you question what you thought you knew. It's definitely worth a watch. (Lauren Kinsler)
The following titles are available on Movies on Demand on Verizon Fios & Charter Cable systems nationwide:
New:
** The Hebrew Hammer — After a childhood of being bullied because of his religion, Mordechai Jefferson Carver (played by the brave Adam Goldberg) dedicates his life to defending his Jewish people. Imagine a Blaxploitation film but instead of the Shaft-esque main character you have a scrawny Hassidic Jew. Mordechai—aka, The Hebrew Hammer—is on a special mission to save Hanukkah from the evil and homicidal son of Santa Claus, Damian (played by Andy Dick). The Hebrew Hammer is worth watching alone for its complete disregard for political correctness and the guest appearance by Mario Van Peebles, son of Blaxploitation hero Melvin Van Peebles. While the explicit stereotyping and over-the-top parody of The Hebrew Hammer has offended more than one group of people (they got sued but won!), I got a kick out of the fantastical plot and incessantly offensive jokes. (Lauren Kinsler)
Pulling John [Have Not Seen Yet But Wanna]
Still Showing:
** Alamar — This breathtaking little gem of a movie is executed with such seeming effortlessness, I was fully convinced I was watching a documentary the whole way through. While it might be lazy—and not entirely accurate—to call it Malickian, Pedro Gonzalez-Rubio shows a similar reverence for nature that isn't overly simplistic and hippified. It's a touching story of a young boy and his father spending time in Mexico's Banco Chinchorro coral reef, fishing and existing meal-to-meal, day-to-day, with their father/grandfather, before the child leaves his father behind once and for all to go live with his mother in Italy. This magical world is a pleasant reminder that industrialization hasn't steamrolled its way into every corner of the world (not yet, at least). And when it's time for the little one to leave that paradise behind, Gonzalez-Rubio doesn't provide an obnoxiously loud contrast between the sea and the city. Back on land, in this more developed Italian setting, the beautiful memories of that quiet life linger. To paraphrase my smarter-than-I girlfriend, Alamar isn't just a profoundly touching metaphor for parenthood in general; it's like watching a father's gorgeous dream in which he basks fully in the love of his child. It would have to be a seriously triumphant year if, at the end of 2010, Alamar doesn't make my overall Top 10 list.
*** Children Of Invention — Tze Chun's finely crafted drama deals with familial bonds and how outside circumstances can weigh so heavily on certain situations it's a wonder they don't snap in half. Children of Invention is an accomplished feature-length debut that deserves to be reach as wide an audience as possible. Hopefully now it will. (Read my full review and visit the film's official website to purchase a DVD.)
* Hell On Wheels — I haven't seen Drew Barrymore's Whip It, but I have seen Bob Ray's documentary about a group of bad-ass Texas women who set out to revive the spirit of the 1970s roller derby phenomenon. If you are in any way squeamish, be prepared to cover your face for one particularly disgusting ankle break. Otherwise, kick back and be glad you aren't forced to battle these ladies on the track.
Toward Zero [Have Not Seen Yet But Wanna]
Also, don't forget to check out Film Movement's Film Festival On Demand channel for more options.
New:
*** Helen — The first feature from Christine Molloy and Joe Lawlor plays like a master class in Gus Van Sant. After Joy, a young girl in yellow, disappears, the police decide to stage a re-enactment. They go to the school for casting; Helen (Annie Townsend) is picked for her resemblance to Joy. From there it's near-constant tracking shots and slow zooms that turn parks and hotel rooms into ominous caverns, and silent dining rooms speak volumes about a family. Molloy and Lawlor have a few subtle twists when getting inside of Helen's head, not to mention a very dark cackle involving a teacher promising clear blue skies to his students. It's hard not to be sucked into Helen once you hear Townsend's first monologue and it's worth it, if purely for the visuals. (John Lichman)
** Assault Girls — Mamoru Oshii's Avalon pre-dates the same themes in Neveldine/Taylor's Gamer with a far more existential (and fatalist) take on simulacra, simulation and role-playing games. Assault Girls takes the entire premise of Avalon, condenses it into a four-minute monologue rich with Oshii's themes of master-slave relationships with technology, and then brings on the CGI whale-beasts being blown up into pixels. Despite advertising itself as a game, Assault Girls is an intentionally slow trek through an in-game world that owes more to World Of Warcraft than Halo—aside from, you know, massive land worm-whale things. It's a hard sell if you're not a die-hard member of Oshii's cult, but think about this: Rinko Kikuchi basically reprises The Brothers Bloom Bang Bang; that sells at least a thousand fanboys and girls. (John Lichman)
** Rock Prophecies — Shutterbugs are a tough sell, unless there's a twist (i.e., Teenage Paparazzo) or they're a jerk (i.e., Smash His Camera). Robert Knight is extremely endearing as the guy whose claim to fame is having photos of the last Stevie Ray Vaughn show, which he refuses to sell. Prophecies' focus is that Knight, going off Vaughn's cryptic words ("You'll know me when you find me"), is off to find the next Stevie Ray. The buried lede, however, comes from Knight's passing remark that he became a photographer to feel artistic when a musician said he had no passion. The doc's age shows a bit (Panic at the Disco? Yikes.) but it's a glossy look at the other side of the music industry—especially since it answers the burning question: who does shoot all those Guitar Center photos anyway? (John Lichman)
** Screwball: The Ted Whitefield Story — The faux-trementry works as well as it sounds: sometimes it just rolls its way into your heart. Other times it's not even worth getting past the "fa." Continuing the fake sport docs trend pioneered by Blackballed: The Bobby Dukes Story, this time our focus is wiffleball and its meteoric rise as our national past-time in 1994. Of course, the Adam McKay influence is strong in this from "I have the legs of a cheetah, the body of a minotaur" and quite the inspired "Harry Caray" caricature from John DiMaggio. Is it so wrong if sex, drugs and mocking SoCal is inherently funny? If so, take a "Jesus breath" and realize the subtle joy that digging Screwball can bring. (John Lichman)
* Brothel — Deep breath. Julianne runs a restaurant/flamenco space/something and has a lover who looks a lot of Aidan Quinn that kills himself but not before revealing that he bought an abandoned brothel in some podunk town in Texas so Julianne goes to the brothel to make it into a bed-and-breakfast the next day and finds out it's haunted from her new neighbor who makes kaleidoscopes all day; the ghosts of the whores appear and try to get Julianne to lighten up and Julianne learns to love again thanks to her ghost whore friends that make her get over her lover but then she notices her lover is a ghost and he's been a ghost the entire time through some weird contract with the devil but it isn't the devil and her ghost lover killed everyone in the brothel before and then the ghost whores take her over to save another ghost whore from the devil or something and that lets the ghost whores and her lover go to heaven. The end. Also, there are a shockingly small number of breasts in a film that's setting is a haunted brothel. (John Lichman)
* Black & Blue — When her crackhead mother ODs, young and fragile Amber travels to the dingy dirty streets of Los Angeles from Tuscon to meet her uncle and his junkie-esque girlfriend. Young Amber then watches quietly as the junkie-esque girlfriend is suffocated (er, implied to be) in front of her, so she escapes and becomes yet another homeless kid with a guitar in California. It's easy to be cynical about Black & Blue if you've spent time in Los Angeles (not only does she walk from Downtown to Venice in the time it takes to eat a slice of pizza, but she found a pizza place in LA that sells by the slice!). Of course, Amber will learn to play the guitar from a kindly old store owner with an ear for the blues and she will date the adorably scruffy drummer. We understand this. But there's an endearing quality here that's charming for what this represents. And that's very simple: California is good to the homeless since the homeless are made up of crazy drug addicts with hearts of gold and innate musical prowess. (John Lichman)
* Listen To Your Heart — "Who wants crap to last forever?" And so the tragic love story of Danny and Ariana itself is meta-presented. Danny's an aspiring musician who waits tables and pines for a $500 sound board to record his demo; Ariana's the deaf daughter of an especially pissy Cybil Shepherd who's operating on half power. What starts out as a genuinely cute courtship turns into a strangely dead-on remake of Love Story complete with Matt Pinfield cameo. There's nothing against a little tragedy in a rom-com, but The Big C acts like a swift gutpunch to Heart's sweet pacing at the halfway point—though the songs are certainly catchy in that "I-will-never-admit-to-humming-Bad-Romance-when-alone" way. (John Lichman)
Night of the Sinner — An inspiring opening kill that involves a scalping is the high point that is never brought back, even with Robert Englund creeping around with a cigarette between his lips. A buxom insurance agent is sent to a reclusive prince's villa to catalog a collection of rare books. The prince's mute son kind of wants to kill her at first, but then does not. The Governess—basically Frau Blücher with a better wig—is drugging the agent so she can't properly catalog the books. Then the Prince wants to build a wax museum but kill the agent and by this point even Brothel is better. We're left in the dark as to the "why" of the Prince wanting to murder people, aside from it being implied he's a crazed inbred like his son. Nor is "the sin" ever explained except for once when Robert Englund claims to know sin and this being the night to commit it. It's good to see Englund stretch his creep out in roles that likely provided him a month vacation in Italy, but this veers very quickly into The Room territory with dropped plots and unexplained moments. (John Lichman)
New:
*** Carlos — Olivier Assayas's sprawling new French television miniseries observes a man who could both be easily vilified and mythologized and ultimately does neither. Villainy and mythology are the stock and trade of contemporary political discourse, perhaps dangerously so. In this mostly brilliant five-and-a-half-hour film, Assayas uses his signature loose, sensual style to represent the life of Illych Ramirez Sanchez, the Venezuelan born left-wing mercenary who was behind some of the most daring acts of political terrorism of the 1970s. Reunited with Demonlover DP Denis Lenoir, who bathes scenes in golden light to contrast a palette heavy on deep blues, browns and pale greens, the 50-something director has the opportunity to create an immaculately complex tapestry of European, Middle-Eastern, Asian and Latin American activists, freedom fighters, terrorists, government intelligence agents, Oil ministers, most of whom maintain their fair share of secrets and double agendas. Yet he never loses touch with the intimate portrait of a womanizing ideologue at the center, one whom the audience will be hard pressed to pass swift judgment upon, whose longings to fulfill the need for human intimacy and love come smack up against his own deep moral failings, his womanizing and grandstanding, and the system of international terrorist networks and their sponsor states that uses and ultimately discards him. (Brandon Harris)(Available starting October 20)
Inhale [Have Not Seen Yet But Wanna] (Available from October 6 through January 6)
Inspector Bellamy [Have Not Seen Yet But Wanna] (Available from October 29 through December 31)
Still Showing:
*** Enter the Void — Gaspar Noé's first two features, I Stand Alone and Irreversible, combined transgressive shock tactics with tricky narrative structures and aggressively baroque (and highly accomplished) technique. Enter the Void scales back somewhat on the sex and violence, but in all other respects it's Noé's boldest movie yet. He goes for maximum sensory overload in every moment of every scene, bombarding the viewer with lens-and-light effects, swirling CGI psychedelia, swamp-dense sound design, and above all, stunningly virtuosic camerawork. Read the full review here. (Nelson Kim) (Available until December 17)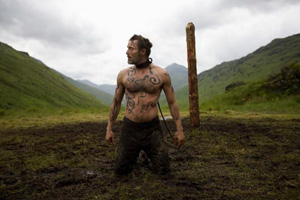 ** Valhalla Rising — Walking out of Valhalla Rising, it struck me: Nicolas Winding Refn, Lars von Trier, and Gaspar Noe really need to get it over with and start their own European Auteurs Fight Club. While I knew full well what I was getting into with this thing, Refn still managed to outdo himself. Which is to say that he almost went too bloody far. While Refn's Nordic death march starts with a genuine bang—and by "bang" I mean a huge title card reading "NICOLAS WINDING REFN PRESENTS"—by the time the third act rolls around and he starts resorting almost exclusively to super-slow-motion, it borders on self-parody (I've heard that if you play Valhalla Rising on 45rpm, it's actually only eleven minutes long). Midway through the film, I started jotting down a list of my own alternate titles: Severed Bronson, Lord of the Nords, Legends of the Fjord, and my own personal favorite: Heart (Pulled Out of Chest) Of Darkness. To be honest, I still think Melissa Auf der Mar and Tony Stone's Out of Our Minds is a more genuinely butt-kicking experience, but that film doesn't have the commanding presence of Mads Mikkelsen. (Note: this is a slightly reworked version of my initial reaction to this film when I saw it at the 2009 Toronto International Film Festival.) (Available until October 16)
Cairo Time [Have Not Seen Yet But Wanna] (Available until November 6)
Making Plans For Lena [Have Not Seen Yet But Wanna] (Available until November 13)
Soul Kitchen [Have Not Seen Yet But Really, Really Wanna] (Available until November 18)
Change of Plans [Have Not Seen Yet But Wanna] (Available until November 27)
New:
Room In Rome [Have Not Seen Yet But Wanna] (Available from October 6 through January 6)
Shadow [Have Not Seen Yet But Wanna] (Available From October 13 through January 13)
Still Showing: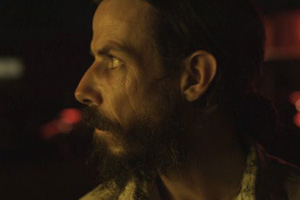 ** Red White & Blue — Seven months after having seen it, I'm still not sure how I feel about Simon Rumley's punishing Red, White & Blue, although another month has somehow made me upgrade one-star rating to two. File this under "non-American director puts his own warped spin on what life is like in the good ol' US of A." One thing's for sure. Though Red, White & Blue gets shockingly twisted, this isn't mere torture porn. Rumley uses an elliptical editing style that keeps viewers off-balance throughout and makes his film feel artful even when everything else about it screams schlock genre. Rumley definitely drills his casting—at least with regards to his two main leads. Noah Taylor and Amanda Fuller don't just look the part. They are the part. Though I am still scratching my head about Marc Senter, whose own performance is so campy that I can't tell if this was intentional (good David Lynch) or unintentional (bad David Lynch). Even if you like it, Red, White & Blue will make you feel gross. And if you don't, it'll make you feel really gross. (Available until December 22)
Heartless [Have Not Seen Yet But Wanna] (Available until ???)
High Lane [Have Not Seen Yet But Wanna] (Available until January 22)
Primal [Have Not Seen Yet But Wanna] (Available until December 22)
Map of the Sounds of Tokyo [Have Not Seen Yet But Wanna] (Available until November 25)
Macho [Have Not Seen Yet But Wanna] (Available until December 15)
New:
Client 9: The Rise and Fall of Eliot Spitzer [Have Not Seen Yet But Really Wanna] (Available On Demand Everywhere)
Still Showing:
Freakonomics — [Have Not Seen Yet But Really Wanna] (Available On Demand starting September 3)
***Note: I am still having problems figuring out the VOD holdover situation for recently released Magnolia titles, but until I do that, just visit their site (link above), spot a film you wanna watch, and see if it's available for download at Amazon or iTunes or Direct TV or Playstation or Xbox Live or Vudu or etc.***
New:
Leaving [Have Not Seen Yet But Wanna] (Available October 27 through January 21)
Still Showing:
*** Johnny Mad Dog — This disturbingly visceral movie recreates, with terrifying immediacy, the Liberian war in which child soldiers wreaked havoc on citizens everywhere. Director Jean-Stephane Sauvaire, who must be borderline insane, cast actual former child soldiers to reenact their country's darkest days. Not for the faint of heart, but an undeniably striking work nonetheless. (Available until October 21)
Colin Fitz Lives! [Have Not Seen Yet But Wanna] (Available until November 6)
Happy Ever Afters — [Have Not Seen Yet But Wanna] (Available until December 1)
Cole — [Have Not Seen Yet But Wanna] (Available until December 15)
Other Recommended Titles:
The Overbrook Brothers
Night And Day
I'm Gonna Explode
Medicine For Melancholy
Goliath
*** A Serious Man (September 30-October 27)
*** Fantastic Mr. Fox (October 14-November 10)
** Gentlemen Broncos (October 14-November 10)
*** Milk (October 14-November 10)
* Orphan (October 7-October 27)
** Pootie Tang (September 30-October 27)
** The Kid Stays in the Picture (October 21-November 17)
*** Screw movies. When it comes to HBO, original content is where it's at, with shows like Boardwalk Empire, Eastbound and Down, Bored to Death, and more. Look over this schedule to find out what's available and when.
— Michael Tully