MATT DELMAN'S 2017 TIFF WRAP-UP
Although no single film jumped out as much as Moonlight did last year, A24 continues to be the top dog at the moment, having 5 films play the 2017 Toronto International Film Festival. Greta Gerwig's Lady Bird, which is destined for multiple Oscar nominations, stole the show. The fast-paced high school coming of age tale is set in Sacramento, and serves as a fresh take on working-class suburbia and Catholic school. The story tracks various romantic plotlines, but it's really about the relationship between Christine (Saorsie Ronan) and her mother (Laurie Metcalf). I'm not sure if Ronan, playing a version of Greta Gerwig, is destined for a nod, but I wouldn't be surprised if Metcalf gets in, especially with the machinery of Scott Rudin behind her.
The Florida Project also wowed audiences when it premiered at the Ryerson Theater. The impending doom of Hurricane Irma made for a more affecting viewing experience. Director Sean Baker (Tangerine) likened the film to Little Rascals, which some forget was set against the backdrop of the depression era. The lead girl, Brooklynn Prince, is a sparkplug, but the strongest turn came from Willem Dafoe, whose watchful manager character made you want to vote him into office. He could get a supporting actor nomination.
Neon dropped $5 million for I, Tanya — angling for their first Oscar nomination for Margot Robbie or Allison Janney or, both. Voters tend to go for performances where an actress plays against type, a la Charlize Theron in Monster, and this could be Robbie's year. I also caught Neon's Racer and the Jailbird, an over-long slog through predictable clichés, but the lead actors are nonetheless compelling and the French film should find an American audience on VOD.
Netflix is trying to revitalize the buzz around Mudbound by bringing it to Toronto after premiering back in January at Sundance. It's an emotional, epic, period film, but Netflix has still yet to breakthrough with the Academy and this doesn't seem like the one that will. They'll have more luck with One of Us, the documentary from Jesus Camp directors Heidi Ewing and Rachel Grady about life in New York's Hasidic community. I've yet to see the doc, but initial reactions have been strong and it certainly doesn't hurt their chances that a large chunk of the Academy is Jewish.
Other strong films still looking for distribution, though perhaps not for long, were the explosive rap-battle rollercoaster, Bodied, and the immensely powerful psychological thriller, First Reformed. For Bodied, witty wordplay and visual flair may not be enough to sell big without star power. But if positioned correctly, this could be a huge hit with younger audiences in a way that Patti Cake$ wasn't. For one, it's more inventive and stylistically slick. And more importantly, it carries the authenticity of casting real underground rappers whose performances are invigoratingly boundary pushing.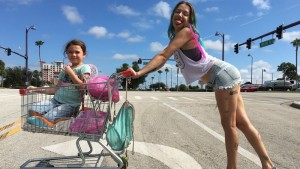 Paul Schrader is back at the top of his game with First Reformed. A disturbing window into the life of a priest who gets wrapped up in a series of events that lead to his mental breakdown. Things take a surprisingly dark turn in the second act, and from then on I couldn't peel my eyes off the screen. Ethan Hawke is terrific, but the tough subject matter may be too challenging for Academy voters. Still, not since The Exorcist have I been so gripped by a religious allegory. As with The Florida Project, the feeling in the theater was heightened by the current monstrous impacts of global warming weighing on the collective conscious.
A similar dystopian theme pervaded Alexander Payne's Downsizing, in which people 'get small' (about 5 inches to be exact) to help save the planet. Paramount adventures outside of the box with this sci-fi comedy that amounts to a fun ride, but likely little traction in awards season beyond screenplay. Other notable films I saw included Yorgos Lanthimos' follow up to The Lobster, Killing of a Sacred Deer, which was less inventive but creepy as hell and gorgeously shot. Lean On Pete, Andrew Haigh's take on Willy Vlautin Americana, is quietly moving. Each shot is graced with horses and horizons, and you can feel the speed of the racetrack as 18 year-old lead, Charlie Plummer, moves wide-eyed towards the action. Plummer's performance won him an award at Venice, and his steady perseverance reminded me of a young Emile Hirsch in Into The Wild.
What became clear during the fest is how many great independent films can now be shot in 20 days with some semblance of financial responsibility. For those that can't adapt, like Scott Cooper whose Hostiles starring Christian Bale was purportedly budgeted at around $35 million, they may languish in purgatory without a proper home and miss awards season.