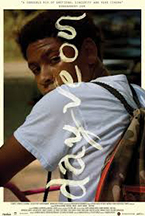 (Filmmaker Amman Abbasi's Dayveon was a hit on the festival circuit and we ran an interview with him last April. The film opens today in New York and Los Angeles and we will keep you posted where you can see it in the weeks ahead.)
A rough coming-of-age tale set in a poor, rural area of Arkansas, Dayveon follows its titular 13-year-old protagonist through the rundown streets of his hometown as he navigates the perils of drugs, guns and crime. Surrounded by aimless young adults, whose own lives have been curtailed by lack of opportunity, Dayveon also rejects the more positive role models of his older sister and her boyfriend, with whom he lives, the latter trying on a tough-love act that repels its primary object. We learn that Dayveon's older brother died after facing similar choices and choosing the wrong path, and it seems that Dayveon may soon follow suit.
Writer/director/composer Amman Abbasi, whose first feature this is, pulls no punches in his evocation of hopelessness and despair amongst this particular African-American community in the Deep South. He and cinematographer Dustin Lane (also making his feature debut) shoot the film in the old "Academy ratio" of 4:3 (that almost-square composition that used to be standard for all movies before 1953, and on all TVs before the advent of high-definition monitors). According to the movie's press notes, they did this in part to invoke the feeling of looking through a cell-phone image in vertical mode. They also did not want the sensation of freedom associated with widescreen vistas, preferring to imprison their characters in the confines of the isolated locale. It works. A claustrophobia of desolation reigns throughout.
Devin Blackmon, as Dayveon, making his first appearance on camera, brings reservoirs of pain, anger and vulnerability to his role. When he reaches his eventual moment of catharsis, we believe his transformation, so invested are we in the arc of his growth. He is ably supported by the rest of the cast, but it's really his movie. Abbasi and Lane surround him with Terrence Malick-like cutaways to the natural world just out of reach, creating a beautiful contrast to his harrowing experiences, and that context certainly informs the way we view his performance. But Blackmon would still still shine even without that cinematic touch. His raw energy drives the story. "Stupid, stupid, stupid," we hear him say in voiceover, berating himself. That may be true for Dayveon, but Devin Blackmon is all brilliance.
– Christopher Llewellyn Reed (@ChrisReedFilm)