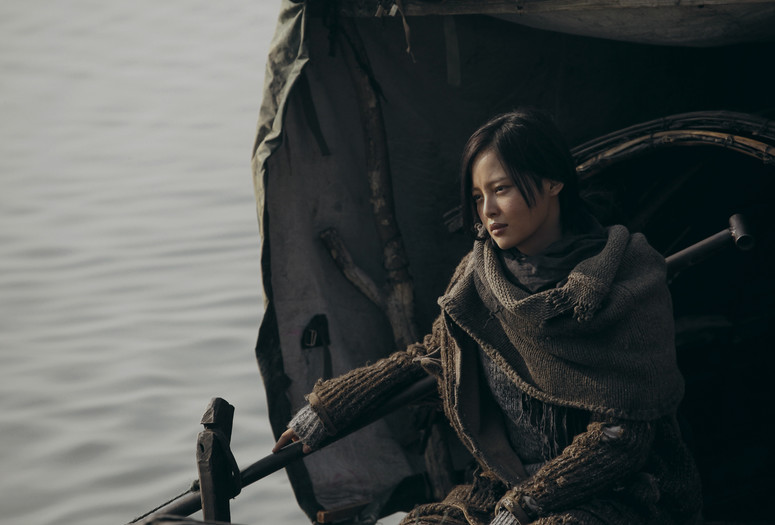 (Crosscurrent premiered at the 2016 Berlin Film Festival and began streaming on MUBI on April 3. Like what you see here on Hammer to Nail? Why not give just $1.00 per month via Patreon to help keep us going?)
A lyrical journey through time and space, Yang Chao's Crosscurrent combines sublime cinematography with narrative ellipsis in a sometimes overly abstruse mix that is nevertheless always visually engaging. Director of photography Lee Ping-Bin (The Assassin), shooting on 35mm film, brings us China's Yangtze River in every glorious shade of the color spectrum, night and day. And though Chao (Passages) may be more interested in aesthetics than dramatic cohesion, the beauty on display carries the viewer through the film from stunning start to evocative ending.
Water – the alternately vast and narrow Yangtze – is the medium on which floats the narrative, the protagonist, Gao Chun (Hao Qin), navigating a cargo ship from the coast to the interior, an overt metaphor for his own introspection. As he goes, he reads from a book of verse, each labeled after the port cities through which he travels, his uncle and cousin on board as crew. One load in particular weighs more heavily than the others: a black fish that, as per the traditional custom in Chun's home village, is meant to be captured, placed in a jar, made to die and then discarded to allow the spirit of a recently dead relative, in this case Chun's father, to be set free. Except that Chun can't relieve himself of the fish, and so is haunted by his father's ghost.
He's also pursued by visions of a young woman, An Lu (Xin Zhi Lei), who appears at dockside one day and then reappears as he wanders a different port city, looking for her. They make love, though they barely speak, and then she materializes at intervals, though it's never clear if the encounters are flashbacks, fantasies, some combination of both, or heightened realities. We sometimes see her without Chun, acting with independent agency, and at other times with an additional man as companion. "There must be many who love you," says Chun after their first bout of physical intimacy. "I love many, too," she replies. Perhaps she's the Yangtze in physical form, the crosscurrent of the title pulling Chun back and forth twixt dream and awakedness. He rides the river and she is the river, their spirits intertwined.
Or not, and theirs is but a love affair remembered on a long, monotonous voyage. Chao throws in additional elements, as well, including gangsters delivering illicit merchandise via Chun's ship, a transaction that eventually goes fatally awry. Ultimately, the plot is almost an encumbrance to the fundamental charm of the experience, which is the lilting meditation engendered by the gentle roll of the waterway. Do we know where we're going? Do we know where we've been? Maybe not, but at least we know where we are, which is the realm of cinematic poetry.
– Christopher Llewellyn Reed (@ChrisReedFilm)