THE CURBSIDE CRITERION: LINKLATER'S "BEFORE" TRILOGY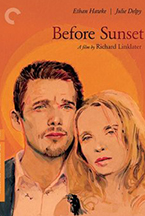 (We here at Hammer to Nail are all about true independent cinema. But we also have to tip our hat to the great films of yesteryear that continue to inspire filmmakers and cinephiles alike. This week, our "The Curbside Criterion" continues where HtN staff can trot out thoughts on the finest films ever made. Today Brad Cook explores the new Blu-Ray release of  Richard Linklater's indispensable "Before Trilogy.")
Richard Linklater's Boyhood (I reviewed the Criterion edition last December) was an epic tale of childhood that the director filmed over a 12-year period, which was, as far as I know, an unprecedented feat. However, you could make the argument that his Before trilogy, which he made over the course of nearly two decades, is just as impressive a feat.
Where Boyhood charted the arc of a kid who bounced around middle class strata before heading off to college to fulfill his destiny, the three Before movies follow the course of an adult relationship that begins with idealistic young love and ends with the couple at a crossroads. Whether or not Jesse (Ethan Hawke) and Céline (Julie Delpy) will stay together isn't the point – their goal, if you will, is to reach common ground on which they can build further discussion of their relationship.
If that's at odds with what you want out of movies, then I suppose you're not in Linklater's target demo, as they say. I'm a middle-aged guy with a family who has been married for nearly 20 years, so the Before movies hit me between the eyes.
Even though young, idealistic love has long since receded in my rearview mirror, I can still appreciate the thrill the two main characters feel as they initiate a romance in Before Sunrise. I understand the "it's complicated" nature of Before Sunset, as Jesse and Céline reconnect and see if the passage of time has dulled how they feel about each other. And I know what the pair are going through as they wrestle with the notion of idealistic love versus messy reality in Before Midnight.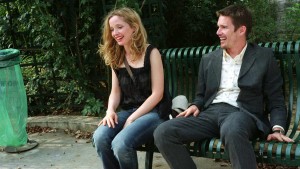 If you're a fan of these films too, you'll appreciate the care that Criterion put into this three-disc Blu-ray release. In addition to restored 2K transfers of the movies, the discs offer a nice complement of bonus features:
The Space In Between: A 44-minute group conversion with Linklater, Delpy, and Hawke, moderated by critic Kent Jones. They discuss the Before Sunrise casting and the writing process, among other things, and touch on the other films in the trilogy too.
32X: A Conversation: A 40-minute discussion between film critics Dave Johnson and Rob Stone about the themes Linklater used in the movies.
Richard Linklater: Dream is Destiny: A 90-minute 2016 PBS documentary by Louis Black, who appeared in Slacker, and Karen Bernstein that runs 86 minutes and covers Linklater's career. Fans will appreciate the rare footage of a young Linklater and Ben Affleck auditioning for Dazed and Confused, among other things. Kevin Smith, Matthew McConaughey, and others from outside Linklater's realm offer their thoughts too.
After Before: Another new documentary by Athina Rachel Tsangari about the making of Before Midnight, with interviews with Linklater, Hawke, and Delpy filmed on the last day of shooting. It runs 30 minutes.
Linklater II On Cinema & Time: A nine-minute video essay by filmmaker ::kogonada that explores Linklater's use of time in his movies. It's something that has run through most of his work, in ways large and small.
Ten minutes of behind-the-scenes footage and interviews from Before Sunrise and Before Sunset
"Love Darkens and Deepens," a 40-minute 2013 episode of NPR's Fresh Air featuring host Terry Gross talking to Linklater, Delpy, and Hawke.
A Before Midnight commentary track with Linklater, Delpy, and Hawke that manages to be serious about the making of the film while mixing in some jokes too. It's the same track that was on the 2013 Sony Blu-ray disc, if you're keeping score at home.
The obligatory booklet, with an essay by film critic Dennis Lim, is included too.
– Brad Cook (@BradCWriter)