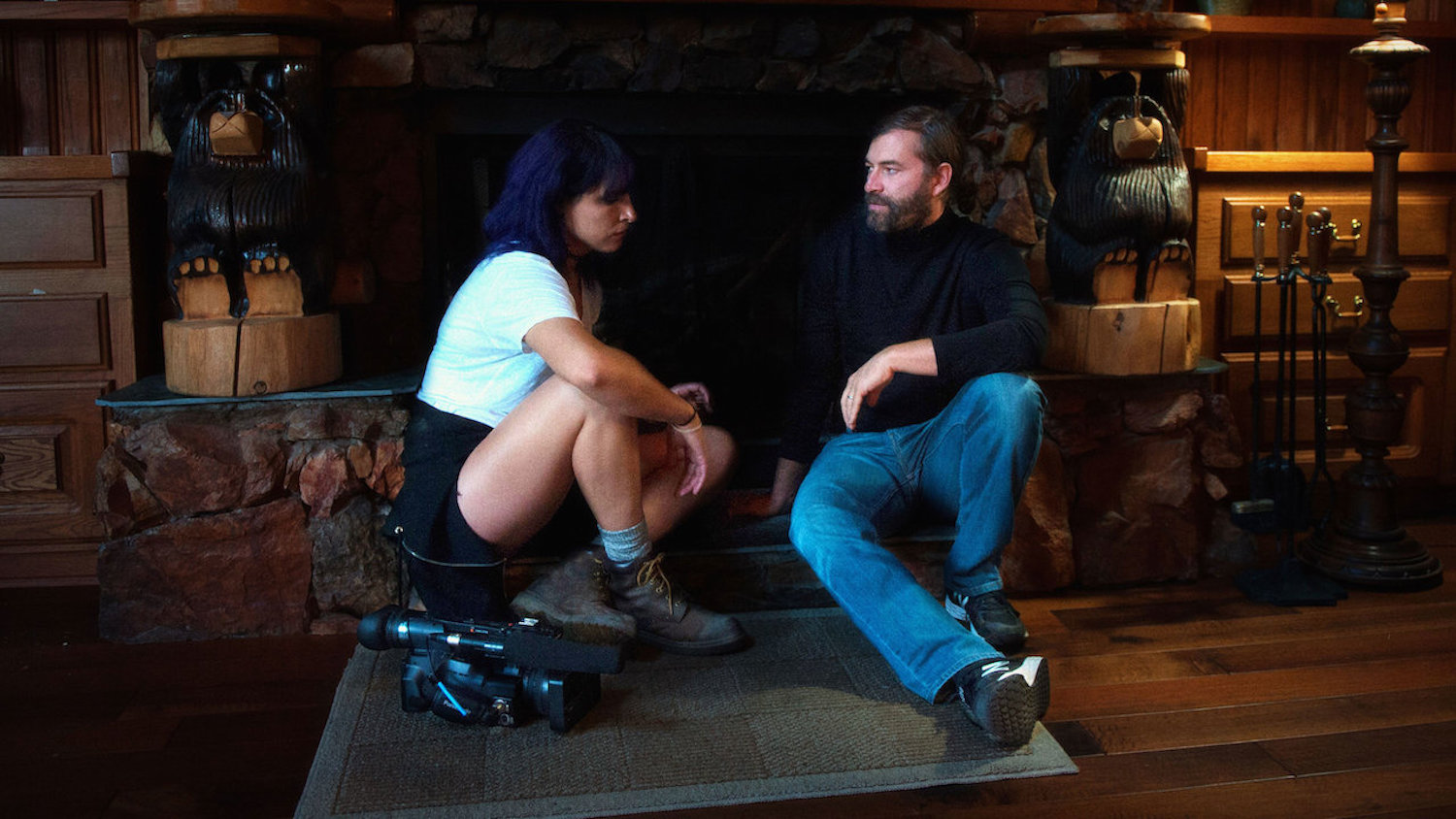 (Writer-director (and HtN short film juror!) Patrick Brice returns to the creepy zone with the follow-up to his microbudget horror hit Creep with Creep 2. The Mark Duplass starring film is available in wide release now via The Orchard.)
A sequel to Patrick Brice's 2015 found-footage gem Creep, Creep 2 picks up our anti-hero Aaron as he offs another victim for the benefit of his ever-present camera. As incarnated by the charismatic Mark Duplass (Blue Jay), Aaron once more poses a problem for the viewer: we recognize his evil, yet can't help liking him (or, at least, watching him). He lures his prey through a seductive mix of honesty and neediness that belies the threat he poses, making even his straightforward confessions of "I'm a serial killer" come off like a joke. Until he strikes. In Creep 2, however, Aaron may have met his match.
After the brutal murder that kicks off the story, the movie pivots to Sarah, a young woman who produces a little-seen web series she calls "Encounters," in which she visits the homes of men who post strange Craigslist requests, and then documents, on video, the results. Eager for a larger audience, she jumps at the chance to film Aaron, ever more interested as his revelations grow stranger and more grandiose. Desiree Akhavan (Appropriate Behaviour) plays Sarah with a compelling, paradoxical mix of voyeuristic insouciance and directorial passion. She doesn't believe Aaron, but finds him increasingly fascinating, the perfect subject for her next episode.
Indeed, both Aaron and Sarah view their encounter as fodder for their art, each one seeing the other as muse. Who stalks whom? Aaron claims that, approaching the age of 40, with 39 kills to his name, he is ready to hang up his axe (the weapon with which he killed the ostensible protagonist of the first film); he's lost the drive to kill again. But something in Sarah's interest in him awakens the old bloodlust. The dramatic question of the film then becomes a matter of who will survive the night.
Written by Brice and Duplass, Creep 2 is clever, but far from perfect, its POV-camera device long a cliché. But the characters more than hold our interest, and their ghoulish pas-de-deux makes good viewing. It was smart to bring a woman in as Aaron's antagonist this time, as the new dynamic shakes up the formula. I wrote about the director last year, celebrating his simple, yet effective mise-en-scène in both Creep and The Overnight, and I continue to be impressed with how much he accomplishes with so very little. Creeper? He's a keeper!
– Christopher Llewellyn Reed (@ChrisReedFilm)