Celebrated short filmmaker Emily Hubley doesn't view the world through normal eyes. Her debut feature, The Toe Tactic, is a very pleasant reminder of this. By inserting her vibrant animated vision into a much more somber and grounded live-action story, Hubley produces a quiet breath of a treat. No one else on Earth could have made this movie, and for that reason alone, The Toe Tactic deserves your attention. But that's not the only thing that makes it special. Hubley balances many different and seemingly contradictory elements with such unassuming ease that one might not fully appreciate her effort if they aren't paying close attention. For the truth is that The Toe Tactic is not nearly as light as it seems.
Hubley's bittersweet fairytale focuses primarily on Mona Peek (Lily Rabe), a woman who begins to finally react to the death of her father when her childhood home is sold. Mona's in a fragile place, something we understand immediately, as she gets into an argument with an animated reflection of herself in a train window just as the film begins. Not the most grounded and stable behavior, to be sure, but before we can jump to conclusions, Hubley introduces a few more characters that help fill us in on Mona's back story. Of course, since this is an Emily Hubley film, that Greek chorus is a Cartoon chorus instead. These bickering animated animals—voiced by David Cross, Eli Wallach, Don Byron, Marian Seldes, and Andrea Martin—both comment on the story and directly impact the plot's progression. Hubley doesn't appear too concerned with the reality of their imposition on the three-dimensional world, and in this way, they become creative manifestations of fate itself. A lofty idea, perhaps, but under Hubley's supervision, it doesn't feel pretentious.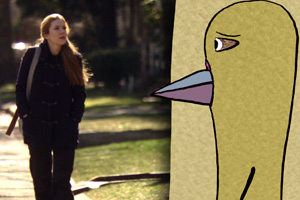 While Mona's path to acceptance drives the film, Hubley spreads her net wide by introducing us to several other individuals in this universe, including a mother and her son (Sakina Jaffrey and Sean Moran), the son's piano teacher (Kevin Corrigan at his funniest, which is saying something), an elevator guy (Daniel London), a celebrated writer (Novella Nelson), a landlord (yes, that John Sayles), a cranky open mic night host named Honey Strumpet (Jane Lynch), and Mona's mom (Mary Kay Place). Mona is also haunted by the presence of her father (Xander Berkeley), who gives her advice as she struggles to cling to his memory. Hubley brings these characters together at various moments throughout the film, further establishing an air of connectedness in a world that seems disinterested in that very notion.
This type of contradiction is where Hubley's refreshing vision becomes tricky to explain, and, in some cases, difficult to appreciate. It's a strange, magical world she has created, where otherworldly cartoon characters have the ability to poke their noses into reality and change the course of the story (by stealing Mona's wallet, getting hit by a car, etc.). At the same time, she constructs moments of genuine coincidence, such as when Corrigan's character comes into contact with Jaffrey for a second time, or when Honey Strumpet douses Mona with beer. As the film wears on, Hubley's embracing of many different forms of coincidence—rational, irrational, logical, magical—helps to blur that normally rigid line between fantasy and reality. In this way, everything becomes as guided by chance as it is guided by fate. Seems implausible, but there you have it. Just like life. Funny. Sad. Funny and sad at the exact same time.
Speaking of funny and sad, the film's tone is another way in which Hubley unites two seeming contradictions. The Toe Tactic is cloaked in Mona's sadness, yet at the same time, it feels light and breezy. Not to mention funny. Again, here is where looks can be deceiving. Too much recognition of the airiness and the film might seem frivolous to a certain viewer. Too much recognition of the sadness and it might feel too morose. Not to discredit Hubley's skill as a director, but I'd like to think this was born out of something more magical than mere intellectual consideration. With this graduation into the world of long-form storytelling, Emily Hubley has lost none of the personal touch that has made her art so distinct all along.
— Michael Tully
(The Toe Tactic screens at MoMA for one week—January 28th through February 2nd. Visit the film's official website for more details.)