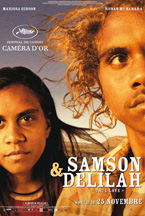 (Winner of the Camera d'Or at the 2009 Cannes Film Festival, Samson & Delilah was picked up for distribution by Indiepix and is now available on DVD. It opened theatrically on October 15, 2010, in NYC, DC, and LA. Go here to learn more.)
From the opening strains of Charley Pride's "Sunshiny Day," set to a slow-motion shot of an Aboriginal teenager waking up in bed only to immediately begin huffing gas out of a can, Samson & Delilah lets you know that it's going to be different. It is. Written, directed, and photographed by Warwick Thornton on 35mm, this exhilarating feature-length debut isn't just an assured, touching, and original tale of young love in the Central Australian desert. It's a very precious reminder of the transportive power of cinema. Samson & Delilah will make you fall in love with movies all over again.
For whatever reason, I have struggled for almost a week to write a more traditional review of this film, but since I can't get over the hump, I wanted to at least post something to let you know how much I love this movie. I'm quite confident that you'll love it too. See it!
— Michael Tully