First off, let me state this very clearly: I have not seen New York, I Love You. Had I been in the city the other night, I would have gladly attended the film's premiere at the Ziegfeld, as I was invited by a friend who played a creative role in one of the segments and I wanted to support him, not to mention the fact that I hoped to give the movie a fair shake and not simply dismiss it like a stubborn undergrad. While it would be far too easy to blow off this type of globetrotting project, a pre-packaged sure-shot concept if ever there was one, I've worked hard in my life to not be that way, and we have also worked hard to keep this site from devolving into that type of snarkiness.
That said, there are some inherently, unavoidably foul odors rising from this second installment in the ongoing project that producer Emmanuel Benbihy hopes will be trotting the globe for many years to come (the first being Paris, je t'aime), odors that cannot in good faith be ignored. Such as: 1) Out of eleven segments, apparently only one takes place in a borough other than Manhattan? 2) They are largely consumed with affairs of the heterosexual Caucasian variety? 3) Many of them were directed by non-New Yorkers?
Perhaps if the movie had been called Manhattan, I Love You, these nagging frustrations wouldn't emerge (though that still doesn't take Harlem or Washington Heights into account). Or if one considers that maybe this film was made for viewers who don't actually live, work, and frolic in and around the five boroughs, then it might seem less offensive?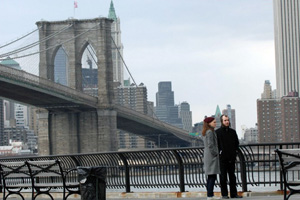 Whatever the case, the main point is that I haven't seen this film so I can't comment on it. But what I can do is assume that eighty percent of these reviews are correct in their factual reportage, and use that information to point you in the direction of some accomplished recent New York City-based cinema that genuinely captures what it feels like to live in this current New York City era (if that idea appeals to you, that is). Though this list might also lean towards the Caucazoidal and heterosexual, the fact remains that most of these features were probably made for less money than the individual shorts in New York, I Love You. More importantly, they have a connection to the worlds in which they're set that is more firmly rooted in reality than "movie land."
The main point here is that while I'm not necessarily suggesting everyone boycotts New York, I Love You, I personally feel like your body, mind, and soul might be more enriched if you made your own omnibus marathon out of the following features. Many of these are available on home video, while others are still making the festival rounds. Be sure to track them down if you haven't already (click on each applicable title to read the full HTN review). While compiling this list, I had the flash of organizing my own low-budget omnibus project with a selection of the following directors, which we could call New York, You Are An Extremely Difficult Place To Live, but I would rather see the next feature from these talented filmmakers instead of having them play the compilation game:
Don't Let Me Drown (Cruz Angeles)
Entre Nos (Paola Mendoza and Gloria La Morte)
Frownland (Ronald Bronstein)
Keane (Lodge Kerrigan)
Manito (Eric Eason)
Momma's Man (Azazel Jacobs)
Mutual Appreciation (Andrew Bujalski)
The Pleasure of Being Robbed (Josh Safdie)
Prince of Broadway (Sean Baker)
Raising Victor Vargas (Peter Sollett)
Quiet City (Aaron Katz)
Shortbus (John Cameron Mitchell)
Take Out (Sean Baker and Shih-Ching Tsou)
Washington Heights (Alfredo De Villa)
Wild Combination: A Portrait of Arthur Russell (Matt Wolf)
You Won't Miss Me (Ry Russo-Young)
BONUS:
Two Lovers (James Gray) — I understand why the above filmmakers might be too "low profile" to contribute to this project, but why in the hell wasn't James Gray a participant? Maybe he was offered a slot and turned it down? Either way, he's the perfect director for this type of job. With one foot firmly set in the real world and one foot deeply entrenched in movie land, Gray's work—and especially Two Lovers—never sacrifices one for the other. He has that rare ability to exist in both worlds at the very same time. I am hoping that some, if not many, of the segments in New York, I Love You, manage to land in this special place in between.
— Michael Tully