In the spring of 2003, Jeff Krulik brought a friend of his by the building where I was working in Silver Spring, Maryland. His friend was Ray Wallace, a strolling troubadour who sings songs like "Hitler's Gone Surfin' With Your Mother," "Pam's Perfect Body," and "Leni Riefenstahl," a catchy ballad to the German filmmaker. Ray was really funny, and sang me a selection of tunes in the hallway. He came back again the next day, without Jeff. And then he came again the day after that. He came three times a week and asked me to help him get a job. Then he got my phone number and called me every day… for three years.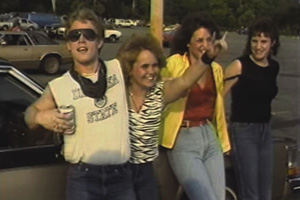 Jeff Krulik's films are filled with people like Ray Wallace, the kind of people you might not want to give your home phone number to, but who are insanely entertaining and endearing in the strangest ways. Jeff has been called a "Nut Magnet," as he's somehow been given the gift (like Ross McElwee) for people to unwittingly find him and get themselves into his movies. Look at Heavy Metal Parking Lot. That movie is barely edited. It's twenty minutes long and I think Jeff and John Heyn shot a total of thirty-five minutes of footage. He's not seeking this stuff out—this is Jeff's world. His short film Pancake begins with Jeff turning on his camera at an IHOP and ends with it mistakenly being shut off by a line cook in the back of the restaurant six minutes later.
Jeff's collection of movies is too overwhelming to list, so if you don't yet know him or his films, look him up and get to work. Most importantly, don't miss whatever it is he's going to be showing tonight at Light Industry in Brooklyn. For all you know it'll disappear and never be seen again… or, it may follow you home and continue to call you for three years.
— Todd Rohal
(Jeff Krulik: Nuggets is screening at Light Industry at 7:30pm on Tuesday, January 6th, 2009. Visit Krulik's official website, or you can buy the special edition of Heavy Metal Parking Lot at Amazon
.)