It's Time for Sound Unseen '23 (Minneapolis)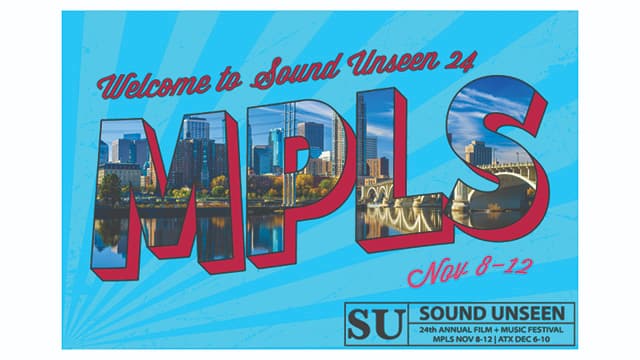 Disclosure: Melanie is serving as a juror and so can not address some films until after jury deliberation. Below are highlights outside of the competition. 
Heading into their 24th festival the Sound Unseen Film + Music Festival kicks off its Minneapolis tour Nov. 8 – 12 before heading to Rochester Nov. 17-19 and Austin Dec. 6-10. With a whirlwind weekend of films and performances scheduled, this year's highlights include the festival darling Let the Canary Sing, directed by Allison Ellwood about Cyndi Lauper's career as well as the world premiere of Runaway Radio and multiple other Minnesota and Midwest premieres. The festival explores music and its impact on film with documentary and narrative as well as short films and live performances. With an emphasis on D.I.Y and strong female voices, this year's festival lineup promises to be revolutionary.
Opening the festival this Wednesday is Let The Canary Sing which follows Lauper's rise to stardom, her impact on multiple generations, and weaves in her impact on scores and music video history as well as LGBTQ history. The film interviews Boy George, Billy Porter, Patti LaBelle and more. A touching film that hits the highlights and some of her struggles, the overall story captures her feminist punk style in a nutshell.
Having its midwest premiere is Cypher directed by Chris Moukarbel who will be in attendance. An award winner at Tribeca this summer, the film follows Tierra Whack who started as a teen on Youtube and has since grown into fame. The film explores fame and on-screen recognition and what it means to be watched.
Captivated only by its logline but one I plan to see at the festival is Geoff McFetridge: Drawing a Life directed by Dan Covert. The designers' art has been seen in title designs for films, on Apple Watch, Vans, Warpy Parker and so many more. The film looks at the question of what makes a fulfilling life and how to live with intention.
The world premiere of Runaway Radio follows Houston, TX radio station 101 KLOL which developed the rock sound for much of the nation, and how the government changed it all. Director Mike McGuff and Producer Jeffery Brown will be in attendance at the festival. On-screen are interviews from Lyle Lovett, Melissa Etheridge, Sammy Hagar, and more.
Fugazi played over 1000 live shows in five years and then stopped suddenly in 2003. Rumors have swirled for 20 years that they would have a reunion. In the midwest premiere of We Are Fugazi from Washington D.C., the found-footage film explores the post-hardcore band and explores archival footage that is primarily crowd-sourced. The film is also co-directed by Joe Gross, Jeff Krulik and Joseph Pattisall.
Some other favorites (full disclosure, we programmed them at Tallgrass Film Festival also) include Karen Carpenter: Starving for Perfection about the legacy and anorexia of the musical wonder directed by Randy Martin; Lost Soulz directed by Katherine Propper including all-new music in this narrative feature out of Austin and The People's Joker directed by Vera Drew, about an aspiring clown struggling with first love, gender identity and an illegal comedy theater in Gotham City. The parody is completely unlicensed by DC and Warner Brothers and is a great use of parody law as well as a creative use of COVID-19 filmmaking. Another fest favorite is With Peter Bradley directed by Alex Rappoport. A portrait of abstract artist Peter Bradley, an 80-year-old artist who has had no major show in over four decades but still paints every day.
Anniversary films include Todd Haynes' Velvet Goldmine and Danny Boyle's Trainspotting. The North American premiere of Choose Irvine Welsh, a documentary about the Trainspotting author will also be shown. Plus, The Punk Singer's 10th anniversary with Siri Anderson in attendance.
In Velvet Goldmine, Glam rock star Brian Slade, played pitch perfect by Jonathan Rhys Myers predicts his death on stage and then fakes it. A reporter tracks him down to write an article on the fraud and interviews his peer (Ewan McGregor) to attempt to understand Slade's motivations.
Also starring Ewan McGregor is Trainspotting directed by Danny Boyle. McGregor is Mark Renton, who tells the story of his friends – a bunch of junkies in the underbelly of Edinburgh. As they destroy themselves, we watch the disintegration of their friendship set to an iconic soundtrack. The documentary Choose Irvine Welsh is directed by Ian Jeffries who will be in attendance at the festival. From his early days in Leith to his times in London, San Francisco, and Miami, iconoclast author Irvine Welsh (Trainspotting, Filth, Porno) has always had a restless mind and a particular genius for capturing the dynamics, language, and sheer buzzing energy of life. In a documentary rich with personal archive material, Welsh relays his own story and philosophy with characteristic wit. At the same time, a roll call of admirers including Iggy Pop, Martin Compston, Danny Boyle, Bobbie Gillespie, Gail Porter, Rowetta, and Andrew Macdonald share their passion for the books and subsequent film adaptations.
A film I missed when it was released in 2013 but have heard great things is The Punk Singer about Kathleen Hanna, lead singer of the punk band Bikini Kill and dance-punk trip Le Tigre. As the tenth anniversary, director Sini Anderson will attend to talk about the impact of the film.
But the festival is as much about the music as it is the documentaries. With music such as Little Man before the screening of Velvet Goldmine, Low Cut Connie after Art Dealers, local Minneapolis bands SCRUNCHIES + BLACK WIDOWS + THEYSELF performances, and a live score by Katie Condon for Berlin: Symphony of a Metropolis.
Sound Unseen LLC, founded in Minneapolis in 1999 and expanded to Austin, TX in 2020, is a cultural organization dedicated to the role of film and music as a conduit of powerful ideas and diverse viewpoints. Tickets for SOUND UNSEEN are available at soundunseen.com.
– Melanie Addington