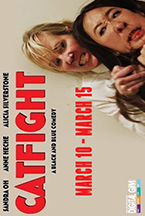 (Hammer to Nail fave Onur Tukel continues to trot out hilarious, oddball films. His latest, Catfight, starring Anne Heche and Sandra Oh is in theaters and on-demand now.)
Watching Catfight, the new movie from veteran indie filmmaker Onur Tukel (Applesauce), one could imagine the director's impish joy in conjuring a story in which two established actresses – Anne Heche (Cedar Rapids) and Sandra Oh (Grey's Anatomy) – are required to beat each other senseless, many times over. As violent as is our culture, the sight of two women engaged in savage punch-fests, blood pouring from their mangled faces, still seems taboo. But the film is more than just an exercise in outrageous excess. Rather, Tukel uses the shocking battles – three of them – as a device to tell a larger tale of alienation born from a financial caste system run amok. When all that counts is winning, there is no room for compassion and understanding, and subsequently we all lose.
When first the film begins, Veronica (Oh) is happily married to a military contractor, and the United States, with a duly elected new President, is on the verge of war in the Middle East. Consequently, Veronica's fortunes, already high, are poised to skyrocket. She cannot understand why her teenage son seems more interested in making art than money, but that is the only cloud on her otherwise bright horizon, as she sees it. True, she drinks too much, but she has yet to realize how much a problem that poses. One night at a party, however, she runs across her college roommate, Ashley (Heche), whom she had earlier disparaged to her son as example of someone too obsessed with art to matter, and discovers that, indeed, Ashley's dark and twisted paintings have not proved successful, since she is merely a caterer at that party. One thing leads to another, fueled by Veronica's alcoholism, and soon the two old friends are brawling, the result of which leaves one unconscious and the other shaken.
What follows is a reversal of circumstances for both, and then another meeting once their new trajectories are firmly in place, and another brutal fistfight. Rinse and repeat. All the while, the nation is at war, and children are sent off to battle as cannon fodder. In each of the three acts, first one character loses everything, then the other, until they reunite as equally wounded creatures at the end. Though at times a little too on-the-nose in its societal critique, Catfight mostly works – and works brilliantly– as a vicious combination of humor and tragedy, the one fueling the other, with only the occasional moment when the misfortunes are just too cruel to be funny. The cast, led by Oh and Heche, is very strong, with Alicia Silverstone (Gods Behaving Badly) especially noteworthy as Lisa, Ashley's girlfriend. As a ruthless commentary on the world of today, Tukel's movie provides both thoughtful entertainment and visceral thrills. Now that's the kind of winning we can all applaud.
– Christopher Llewellyn Reed (@ChrisReedFilm)