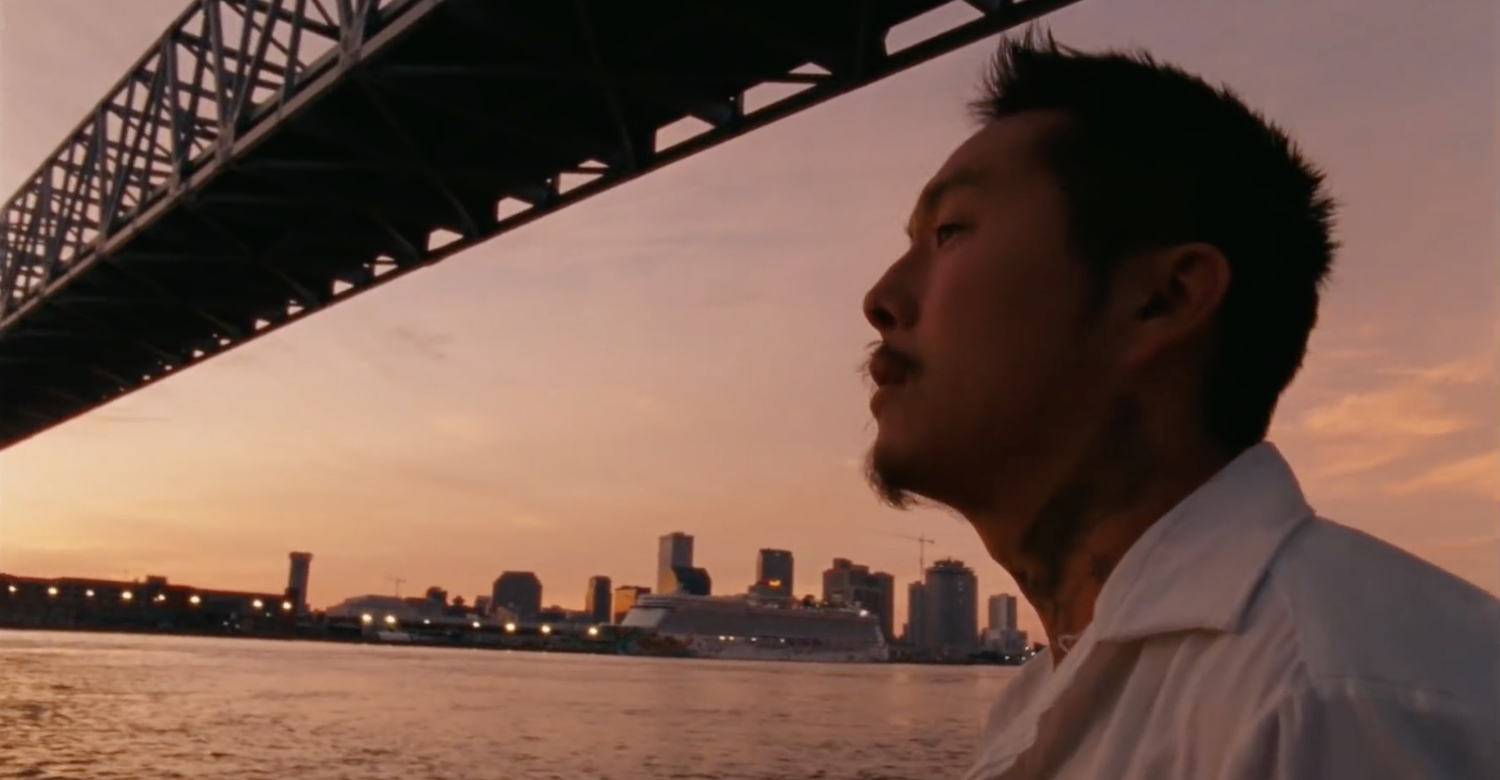 (Justin Chon's Blue Bayou is in theaters now via Focus Features. Like what you see here on Hammer to Nail? Why not give just $1.00 per month via Patreon to help keep us going?)
Wrapped inside the melodrama of much of Blue Bayou is a vital tale of trauma, healing, and redemption. Written and directed by Justin Chon (Coming Home Again), who also stars in the lead role, the film follows the tragedy of Antonio, a thirtysomething man born in Korea who was adopted — and later abandoned — by white Louisiana parents. After an early life of crime, he has finally settled down and started a family, only to find himself in danger of deportation. The fact that this is even possible, no matter his sins, comes as a surprise to not only Antonio and those around him, but to this reviewer, as well. How could someone officially adopted and brought to this country and then raised here not be a citizen or at least a permanent resident? That, indeed, is the question, and though the surrounding narrative sometimes devolves into maudlin extremes, the central conflict proves acutely moving.
Right at the start, Antonio is in trouble. Not initially of the legal kind, but he needs money. His job at a tattoo parlor is not enough, given that his wife, Kathy (Alicia Vikander, The Glorias), is pregnant with their child. She already has one daughter, the precocious Jessie, who adores her stepdad, and though they are kind of making ends meet, Antonio is worried about the future. These concerns eventually lead to a relatively mild argument in a supermarket, which draws the attention of two cops, one of whom is Kathy's ex, Ace (Mark O'Brien, Hammer). Ace's volatile partner ends up in an altercation with Antonio, and before long the latter is in ICE custody and scheduled for a hearing. His past record of felony theft does not help matters.
As the cause-and-effect loop escalates, we gradually learn more about Antonio's past, which includes years of being physically abused while in the foster system, and watch as Kathy's love for her husband is tested. Along the way, Antonio meets a Vietnamese immigrant, Parker (Linh Dan Pham, The Very Private Life of Mister Sim), suffering from cancer, whose large family overwhelms him when he visits their reunion, with Kathy and Jessie in tow (where Kathy also sings the titular song). Parker is no romantic partner for Antonio, but rather someone who shows him not only the pleasures of resilience, but also the possibilities that someone who looks like him can enjoy. Until then, he has never thought of himself as worthy of respect.
Slowly, the situation spirals out of control, Antonio returning to past bad habits, and forces beyond his control further contributing to his downfall. It's never clear until the end how things will go, which is part of what keeps us watching. We also can't look away from the performances — of Chon, Pham, and Vikander, especially — which take a script that too often chooses the path of emotional excess and ground the sentiment in naturalistic, if also poignant, behavior. Chon, as director, photographs the film beautifully, delivering images that speak much more loudly than the dialogue or sometimes-intrusive musical score. 
The result is a solid work of cinematic fiction, shedding light on real-world problems that normally get far too little attention. Chon even concludes with documentary images of repatriated adoptees, reminding us of the actual stakes here. It's too bad that he doesn't trust the material to sell the tale without unnecessary aesthetic embellishments, but his movie still does what it sets out to do. Blue Bayou pulls us into the drama with skill, and only releases us after its profound truths have taken root in our soul.
– Christopher Llewellyn Reed (@ChrisReedFilm)