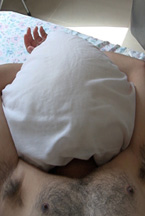 (***WINNER OF HTN's FALL '14 SHORT FILM CONTEST*** You can watch more of Ahmed Khawaja's work right here.)
Since graduating from Boston University several years ago, Ahmed Khawaja has been making first-person docu-diary films of the warts-and-all variety. Anyone familiar with Khawaja's work—particularly his feature Kwak Attack!, made in collaboration with Andre Puca (watch a newly edited version in its entirety on Vimeo)—is by now accustomed to a steady stream of confessional video essays that contain a truly distinct voice. Yet even while factoring all of that previous work into the equation, Best Friends stands as Khawaja's finest one-third-of-an-hour yet. A slice-of-daily-life home movie that triumphs on multiple levels, Best Friends is a laugh-out-loud funny, piercingly honest, and touching depiction of 20-something creative frustration.
The opening shot sets the perfect visual tone: a shirtless male lies on his back in bed, a pillow draped over his head. This is Ahmed Khawaja, who lives with his parents and cat in Abu Dhabi. Ahmed's daily routine consists of waking up and taking a dip in the family pool, which certainly doesn't sound like a burdensome existence. But when your mother is there to ask endless questions and constantly state the obvious, the submerging of oneself in the pool out back attains increasingly heavy meaning. On this day, Ahmed is heading into the city to connect with a friend and go out to dinner, where he vents and fumes at his decision to attend a four-year university to learn the filmmaking trade, wasting so much valuable time on useless elective courses that meant nothing to him beyond passing that semester's final. After dinner, he returns home in the baking Abu Dhabi night, only to wake up the next morning with the same plan of attack as the day before—which is to say, pretty much nothing.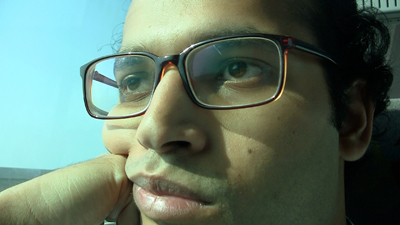 While this might not sound like a recipe for entertaining and illuminating cinema, here, it somehow is. Khawaja's been practicing this formal milieu trade for long enough to make something that feels more elevated than most: he understands how long to hold a static shot, he knows when to employ an unexpected edit that can turn reality into poetry, and he has become such an engaging on-screen presence that it's impossible to tell if he's "performing" or simply filming himself existing. Part of me is convinced it took multiple attempts for Khawaja to nail the perfect timing in so many of these scenes, for there are way too many rewindable moments to attribute it to mere luck—yet at the same time, I can't imagine him doing multiple takes with an actual cabbie as if he's shooting a narrative short. While this accumulation of tiny, seemingly off-the-cuff moments makes Best Friends worth watching alone, it's the deeper element of sadness that catapults it from the inwardly pointing personal to the outwardly affecting universal.
As someone who felt similarly suffocated by the world during those brutally oppressive post-collegiate years, Best Friends struck a particularly deep chord within me. It's strange, though. It wasn't until it ended that I realized and embraced the irony of this particular situation: by producing this excellent personal expression of creative oppression, Khawaja had conquered that same creative oppression! The film's unexpectedly triumphant climax—in which Khawaja feeds water to his thirsty cat from his hand and then defiantly holds that hand up to the window for the unresponsive world to see—is a perfect encapsulation of this growing artist's voice: comical and silly on the surface, while flooding with tenderness and emotion underneath.
— Michael Tully