BERMUDA INTERNATIONAL FILM FESTIVAL CHECK-IN: THE SHORTS
After seven days of events and screenings, most of them held at the Hamilton, Bermuda, City Hall – imagine a small-town film society with state-of-the-art picture and sound – the Bermuda International Film Festival winds down tomorrow evening. Now in its 20th year, BIFF might be small in scale but it's anything but in scope. Boasting a thoughtfully curated program of international features, documentaries and short films – among them I's 2015 palm d'or winner Dheepan, Terence Davies' radiant Grassic Gibbons' adaptation Sunset Song and Michael Moore's timely satirical salvo Where To Invade Next, it achieves a broad celebration of diverse artistic vision without being intimidatingly huge: just three or four films a night and one charming venue, invariably packed with eager locals. The sunshine, island setting and perfect beaches are hard to beat, too.
At the heart of the festival – and not simply because it presents an opportunity for a lame joke – is the Global Shorts competition. An Oscar-qualifying event, it attracts hundreds of entries from around the world and, since only fifteen are selected, the quality is exemplary. Screened over three nights, with films grouped roughly according to theme, Program #1 featured a trio of relationship comedies: Matthew Irving Epstein's Cuddle Party; Dutch filmmaker Marthijs Geijskes' Stuck; and, a clear stand-out, Matt Winn's We Are Happy, a spiky character piece in which a couple of young(ish) London urbanites' suffer a fatal moment of doubt when their best friends cheerfully announce their divorce.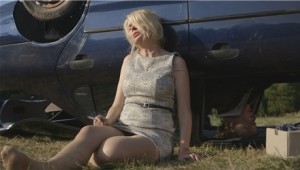 Rounding out the program was Helen O'Hanlon's wonderful, visually imaginative How To Be A Villain, a gothicky black-and-white adaptation of Neil Zawacki's 2003 guide to becoming your evil alter ego and a loving tribute to the classic Universal horrors of the 30s.
Program #2 the following night coursed with teen angst and adolescent sexuality. Best of the bunch here, beating out competition from Guillaume Renusson's All Cats Are Pink In The Dark; Jan and Raf Roosens' Buddy; Eva Sigurdardottir's Rainbow Party; and Pippa Bianco's Share, was writer-director Toby Fell-Holden's Balcony, featuring a mesmerizing performance from Brit actor Charlotte Beaumont as a troubled teen falling for an Afghani refugee amid the deprivation and racial tensions of a London housing project.
Clear favorite from Program #3 was Jonathan Stein's USA/Ghana co-production (executive produced by Brian Singer) Out Of The Village in which two orphaned children escape a West African Ebola treatment center in a desperate bid to return to their village, devastated by the disease, to bury their parents. Beautifully shot by Stein, it's distinguished by outstanding performances from Beasts Of No Nation's Abraham Attah and his little sister Hannah.
Also screened were Patrick Vollrath's oscar-nominated Everything Will Be Okay; Sonejuhi Sinha's Love Comes Later; Ali Asgari's The Pain; Keola Racela's Two Sisters (runner up to Village in this correspondent's book); and Yang Qiu's Under The Sun.
Honorable mention should also go to Bermudian filmmaker Marq Rodriguez for his existentialist examination of human nature and the search for inner beauty – no mean feat in only eight minutes – Confessions: Complexions. It was not part of the competition but screened in the "From The Onion Patch" section, a showcase for local talent.
The winner of the Global Shorts Competition will be announced at the festival's closing ceremony on Friday 11 March.