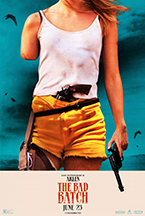 (Ana Lily Amirpour's The Bad Batch is available now in theaters and on most VOD platforms via Neon.)
The most frightening thing about The Bad Batch is just how close the United States circa 2017 is from the bleak dystopian world of Ana Lily Amirpour's sophomore film. Although it is apparent that Amirpour intended The Bad Batch as an allegory for people who do not conform to mainstream society's conventions, the film ended up becoming a near-literal interpretation of Trump's America.
In Amirpour's film, the United States freely exiles people (regardless of their citizenship) to a bone-dry wasteland somewhere in Texas. Arlen (Suki Waterhouse) is one of these societal outcasts, "the bad batch," sent into the desert with a bag of clothes, gallon of water, and a hamburger. Her only instruction is that she will no longer be "acknowledged, recognized, or governed by the laws of the United States."
Arlen wanders aimlessly across the scorched earth. Fate soon takes over and delivers Arlen into the hands of a cannibalistic bodybuilder community with a propensity for drugging their prey while hacking off appendages for dinner. So, not only was Arlen kicked out of her country of origin, but now fellow human beings are ripping her apart to quench their hunger in a world where food supplies are practically nonexistent.
Because Arlen is the protagonist of The Bad Batch, we can be fairly confident that the cannibals won't kill her. The experience costs her an arm and leg, but Arlen eventually does escape, only to be whisked off in a shopping cart by a hermit (Jim Carrey). This happens time and time again, Arlen is dragged from one place to another with no control over the next scenario that she'll face. Arlen ping-pongs between the finely-tuned cannibals and the comfortably-numbed population of Comfort, all the while she is driven by a seemingly maternal desire to protect a young girl and a longing infatuation for a presumed bad guy.
A hallucinatory odyssey that plays out like a fever dream, The Bad Batch reflects a world of outcasts who struggle for survival upon being cast away from the tyrannical conformity of mainstream society. This is a tale about people who just don't fit in, who never really feel accepted as one of the gang. Whether they are cast away or figuratively ripped apart by haters, their sense of unacceptance is utterly disorienting. They might dream about finding comfort, but sometimes what seems comfortable on the surface has a nightmarish underbelly.
Amirpour's transcendentally sublime cinematic debut, A Girl Walks Home Alone at Night, served as a calling card for her propensity for telling stories visually, and The Bad Batch continues with Amirpour's preference for memorable images over talking, as she plays with symbols, specifically regarding the human image. Cinematographer Lyle Vincent's meticulous framing deconstructs the human form like a cinematic carnivore ogling body parts, accentuating Amirpour's fixation on the human makeup. The repeated appearance of photographs, paintings, drawings, and mirrors highlight that despite their desolate surroundings, the population of The Bad Batch still care about their appearance. Although it is not so much that they care about what other people think, but the outcasts are fixated on their perception of themselves. They may have lost practically everything else, but their ego is still intact. That might just be what keeps them going in this horrible world.