OVERSIMPLIFICATION OF HER BEAUTY, AN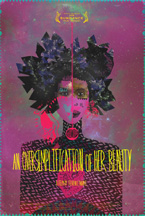 (An Oversimplification of Her Beauty is now available on DVD
through Cinema Guild. It opened theatrically in NYC on Friday, April 26, 2013. It world premiered in the New Frontier section of the 2012 Sundance Film Festival. Visit the film's official website to learn about more upcoming screenings, and be sure to read Paul Sbrizzi's A Conversation With Terence Nance. NOTE: This review was first published on January 23, 2012, in conjunction with the film's appearance at Sundance and Rotterdam.)
Movies about young love are a dime a dozen and sometimes, regardless of how underwhelming they are or how obnoxious the people responsible for them, they win Sundance (see last year!), even when most of the denizens of Festival Land damn well know better. Alas, within the rough weeds of Sundance's art world oriented, experimentally minded New Frontier section is an utterly original film about these all too well traversed themes. A fast paced iteration of young male infatuation, obsession, and yes, the oh so overused L word, Terence Nance's An Oversimplification of Her Beauty throws the kitchen sink at the problems of modern cinema. It seems to be inventing its own cinematic language from the ground up. From claymation to direct address, it's in here. It's no surprise then that Mr. Nance, whose film is marching to the beat of its own drum from its sensational opening credit sequence onward, is a visual and audio artist first, a filmmaker second.
The feature consists of a series of short experimental films that radically deconstruct Nance's romantic foibles. Nance, a prototypical blipster with a wavy fro, an overwhelmingly goofy smile and the occasional bow tie, explains in an insistent voice-over that informs the visuals for much of the movie, how he came to meet and become too encumbered by infatuation with Namik Minter, who earns a "starring and inspired by" credit in this madcap, multi-format evocation of and meditation on the director's obsessive love for her.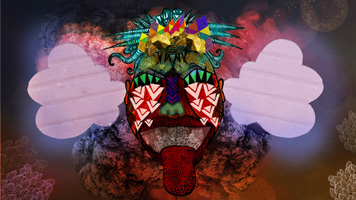 An Oversimplification of Her Beauty is truly artisanal filmmaking in the mode of the New American Cinema. Part stop-motion, part traditional animation, part reenacted narrative, part awkwardly filmed interviews with the "subject," it is a lovely and deranged summation of the director's not quite but almost unrequited and purely platonic love.
I'll admit, I normally have a personal prejudice against this sort of thing; I'm with Gena Rowland's Minnie Moore from John Cassavetes' Minnie and Moskowitz (sorry but I must quote in full, its just too brilliant of a monologue not to):
"You know, I think that movies are a conspiracy… because they set you up… They set you up from the time you're a little kid. They set you up to believe in everything… in ideals and strength and good guys and romance—and, of course, love… So… you go out, you start looking. Doesn't happen, you keep looking. You get a job… and you spend a lot of time fixing up things—your apartment and jazz. And you learn how to be feminine—you know, quotes: 'feminine'? You learn how to cook… But there's no Charles Boyer in my life. I never even met a Charles Boyer. I never met Clark Gable. I never met Humphrey Bogart… I mean, they don't exist—that's the truth. But the movies set you up and no matter how bright you are, you believe it."
This is why An Oversimplification of Her Beauty is such a fine, rare bird: Nance's strategy for detailing this strange courtship—his poverty and idiosyncratic nature, Minter's ongoing, problematic relationship with another woman and their differing points within the constellation of their black-Brooklyn-bohemian milieu—is so winning and otherworldly, I was won over before I even knew what the fuck was going on. That's the brilliant part though and the thing that separates Nance's long-in-the-making feature from so much other experimental work that will unspool this week in Utah and next week in Holland, before some inevitable Anthology Film Archives screening that will be half full; Nance's film, regardless of its aesthetic pyrotechnics and self-reflexivity, is wholly, fully, truly accessible to everyone. If Hollis Frampton and Nina Paley had somehow, through the force of magic realism, had a black love child, it would have grown up to direct something like this. Instead, we have Terence Nance. Be thankful that we do.
— Brandon Harris