ABACUS: SMALL ENOUGH TO JAIL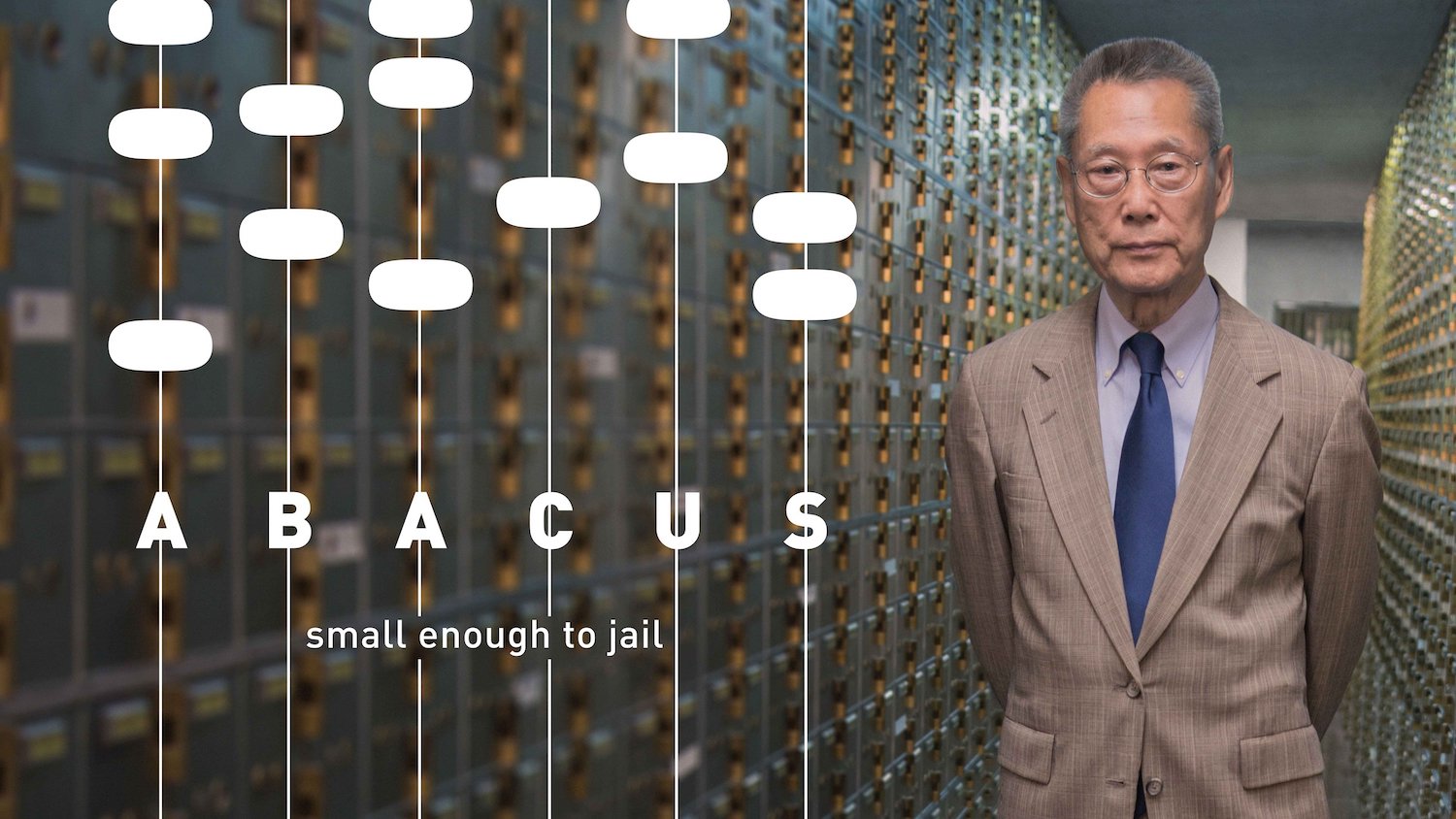 (Documentary legend Steve James' latest film Abacus: Small Enough to Jail is in select theaters now and will broadcast soon on PBS.)
As you may recall, the world suffered a major financial crisis in 2008, mostly because of speculative (read: fraudulent) mortgage loans issued by large multinational banks. News flash: not a single bank was ever prosecuted for malfeasance. The argument went that these august institutions were simply "too big to fail," and that shutting them down – or jailing their administrators – would further crash the global markets. Wait. Scratch that. One bank was, in fact, prosecuted, and an important one at that. That's right, folks, the office of The Honorable Cyrus R. Vance, Jr., District Attorney for New York County, decided to go after Abacus Federal Savings Bank, our country's 2,651st largest bank (according to a title card in the film, though I have seen a slightly different number elsewhere), to show its dedication to financial justice. As this movie, the latest from esteemed documentarian Steve James (Life Itself), makes abundantly clear, this absurd act of prosecutorial overreach – misguided, at best – not only wasted taxpayer money going after the wrong target, but was perhaps motivated by racial and anti-immigrant condescension (giving Vance and his team the benefit of the doubt, we shall avoid the word "animus").
We start with the Sungs, a prosperous family of first- and second-generation Chinese-Americans. After a career as a successful lawyer, patriarch Thomas Sung decided to found Abacus – choosing the beloved, ancient computational device, historically important to China, as his symbol – after seeing how much the small businesses of Chinatown in Manhattan could benefit from having a bank that served their interests, rather than those of larger, more predatory institutions. As the film begins, Thomas and his wife, Hwei Lin, sit in their living room watching It's a Wonderful Life, the classic Frank Capra movie in which George Bailey (James Stewart) serves the immigrant and working-class community of Bedford Falls, protecting them from the evil Mr. Potter. That's how Thomas saw – and still sees – himself and his bank. Today, Abacus is managed by two of his four daughters, but remains ever close to his heart and sense of self.
For 5 years, beginning in 2009, the Sungs find themselves in the glare of Vance's spotlight. The ordeal starts when daughter Jill Sung – President & CEO – discovers that one of her loan officers has been issuing fraudulent loans and accepting bribes from the grantees in exchange for falsifying paperwork. Jill immediately fires the man and reports the crimes to the appropriate authorities. Unfortunately, the subsequent investigation reveals to said authorities several disturbing discrepancies in the bank's official paperwork, and soon Vance's office launches a full-blown probe. Along the way, the police arrest and handcuff some of the bank employees – something that has not happened to any officers of the banks that actually caused the 2008 crisis – to parade them in front of cameras at the courthouse. One can only assume that the prosecution team felt they had easy targets, something which proved demonstrably false. Not only is Thomas Sung a respected attorney, but so are two of his daughters, one of whom, Chanterelle, was working for Vance's office when this case was launched (she promptly resigned). Goliath picked the wrong David.
For the rest of the film, we watch various legal experts – including the lawyers defending the Sungs, as well as Vance and members of his team – debate the merits of the case (which was concluded in 2015). Director James does an excellent job allowing voices from all sides of the argument to be heard, including those of two of the jurors. Not surprisingly, Vance rejects any notion that this was about anything other than protecting our financial systems. The other side begs to differ. And though James, himself, is clearly on the side of the Sungs, he does allow some criticism of their method of record-keeping into the story (mistakes which have since been corrected). It's a truly fascinating film, rich in text and subtext, that will make you scratch your head in wonder that this was the only prosecutorial response to the financial misdeeds of the last decade. Scapegoating minorities and immigrants may have defined the 2016 election – and its aftermath – but in this case, it did not work. Go team Abacus!
– Christopher Llewellyn Reed (@ChrisReedFilm)