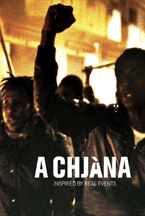 (***Winner of the Hammer To Nail Short Film Contest: April 2012!*** A Chjàna world premiered at the 68th Venice International Film Festival, where it won the Controcampo Italiano Award. It has recently screened at SXSW and New Directors/New Films, and will be appearing on the Wholphin 16 DVD release in July. Visit the film's official website to learn more.)
"Before we left for Italy, Chico's father told us, 'If you wait for tomorrow, tomorrow comes. And if you don't wait for tomorrow, tomorrow comes."
Based on real events that erupted in the Reggio di Calabria Province of Rosarno, Italy, in 2010, Jonas Carpignano's A Chjàna has the gravity and gusto of a Cannes-award-winning feature. That it's made by a young Italian-American director and tells its story in just under 20 minutes makes it altogether more remarkable. It might seem sacreligious to mention a short film in the same breath as docudrama touchstones like The Battle of Algiers and Bloody Sunday, but in the case of A Chjàna, it's not. This is extraordinarily accomplished filmmaking, no matter the run time.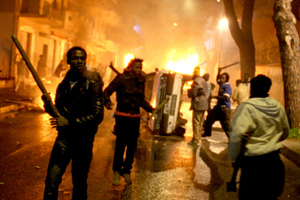 Back in 2010, over 1,500 African immigrants had found illegal employment in Rosarno, picking fruits and vegetables. Being that the local mafia controlled the labor market, these men were forced to live and work in shabby makeshift industrial camps. Making matters worse, they were scorned by the town's local residents. After a near riot in 2008, the shooting of two immigrants in 2010 ignited literal flames of fury. A Chjàna picks up in the midst of that first riotous night.
Best friends Ayiva (Koudous Seihon) and Chico (Cheik "Chico" Kane) know that they have to get out of town pronto, yet Ayiva refuses to leave before returning money that he borrowed from a kindly Italian woman, Mamma Africa (Norina "Mamma Africa" Ventre). Before separating, Ayiva tells Chico to meet him first thing the next morning at the train station, where they will relocate north to Foggia until the smoke clears. The next morning, Chico doesn't show up. Ayiva is forced to escape on his own, where he reunites with some fellow Africans. However, he's too worried about his friend to fully celebrate. Though Chico isn't answering his phone, Ayiva returns to the train station the next day with the hopes of reuniting with his best friend.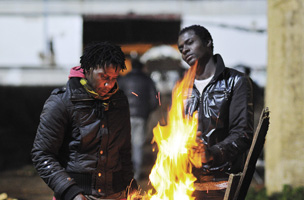 Although Carpignano opens his film with a startling bang, recreating the riot as if incorporating newsreel footage from the actual 2010 uprising, he quickly downshifts gears to reveal his true agenda. As overwhelmingly impressive as that footage is—it alone makes this film a must-see—Carpignano is more focused on presenting an honest depiction of both decent human behavior and male friendship. In the midst of the surrounding chaos and violence, Ayiva's goodness shines even more brightly. And in a world where male directors tend to up the macho ante in situations such as these, Carpignano's devotion to morality and tenderness deserves a big old-fashioned hug.
Shot on Super-16mm with handheld urgency by Maura Morales Bergmann and sharply edited by Sarah-Violet Bliss and Carpignano, A Chjàna (The Plain) marks the arrival of an extremely confident director. Rumor has it that Carpignano is developing a feature based on this story. If he can retain the rare blend of action and heart that he has so impressively brought to the screen here, he might have a literal Cannes winner on his hands.
***WATCH THE TRAILER NOW***
— Michael Tully