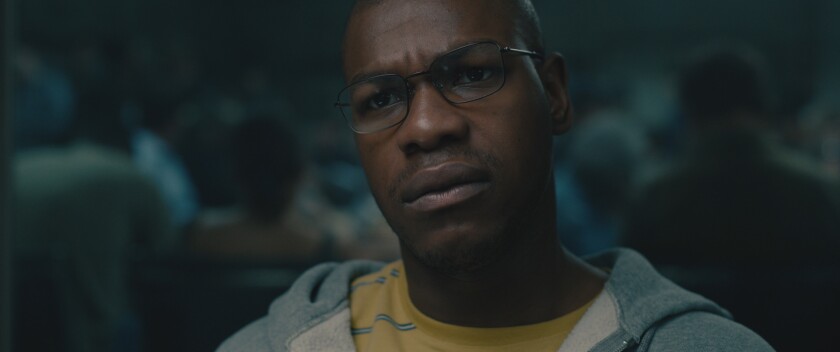 (The 2022 Sundance Film Festival runs January 20-30 all virtually. Check out Bears Rebecca Fonté's movie review of 892. Like what you see here on Hammer to Nail? Why not pay just $1.00 per month via Patreon to help keep us going?)
Every year there seems to be one film at Sundance that just brings me to uncontrollable tears. Last year that film was Mass, which ended up being one of my favorite films of the year despite it's terrible title and the difficulty it is to sell to anyone (it's about the parents of a school shooting victim talking to the parents of a school shooter, considering we're living in a world where that's a regular occurrence do we really want to watch a movie about it – trust me you do?). This year that film is 892 which I went into like Mass, completely blind.
John Boyega plays Brian Brown-Easley, the U.S. Marine veteran in Atlanta estranged from his wife and child. He walks into a bank, allows all the customers to leave, and then tells the two remaining employees that he has a bomb and intends to blow up the building if his demands are not met. The most heartbreaking thing about the film 892 may just be the demands – he feels that he is owed $892 from the VA which has deducted his disability check in a way that even the clerk at the VA will later admit it's a bit of a bait and switch. $892 is such a small amount of money to feel like you have no other options, and one of the bank tellers even offers to just give him the money. But Brown-Easley doesn't want the bank's money, he wants the money that is owed to him by the VA, he wants the VA to have to pay. When the cops give him the runaround about talking to a negotiator, he calls into a television station to get his story out, reaching Lisa Larson (Connie Britton), a career producer who just happens to be the one who picks up the phone and who becomes a receptive ear. On the ground, Michael K Williams, in his final screen role, goes around his superior's back to start a conversation and become the de facto negotiator, all the while the swat team is moving into place.
It's a delicate dance around Brown-Easley who feels like he has no alternatives and just wants to talk to his daughter one last time. The waterworks started for me when I realized that the title of the movie referred to what he was asking for and continued till the end of the film when I realized it was based on a true story (so I'm sorry if I just ruined the surprises of this for you) but the performance that Boyega turns in the lead role is so heartrending and almost tragically Shakespearean. First time feature director and screenwriter Abi Damaris Corbin gets top notch performances from a stellar cast (not surprising since apparently she was already in college by age 14). The film dives into the action with just about 10 minutes to set up the character and then we are in the midst of a hostage situation, leaving us in a similar position as the authorities, trying to figure out what is going on. The result is a thriller that pulls you to the front of your seat immediately and forces you to stay there. While you are there, you will probably think about just how unfair this system is and get just as outraged as Brian is. I think we're all intrinsically on the side of the veterans which makes this film extra frustrating when you learn it's based on a true story.
The other film I kept thinking about while watching 892 is the little remembered Denzel Washington hit John Q. about a man who takes a hospital hostage because his insurance will not cover a transplant for his son. Where is that film sort of pounded you over the head with its message, 892 exists at such a simple level, the performances drive it to be a very human story about one man singular fight. Whereas John Q.'s story ends with a bit of unrealistic miracle of manipulative screenwriting, even letting Denzel watch his son's operation before he's carted off to jail and starting a national debate on health care (as if anything could influence that discussion), 892 ends intentionally without satisfaction. In fact, if I had to find one thing to be critical about with this film it's that the third act is ridiculously short. Obviously when you are basing a film off history there's only so much you can and should do with shaping your story but the film sort of ends about 15 minutes before you're ready for it to end. But then again maybe that's the point.
892 played in the US Dramatic Competition at Sundance 2022.
– Bears Rebecca Fonté (@BearsFonte)
Sundance 2022; 892 movie review; Abi Damaris Corbin