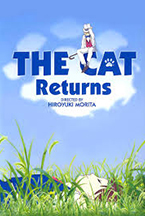 (Rounding out our week of classic and brilliant Japanese animation we take a look at The Cat Returns by Hiroyuki Morita who is one of the artists many think can successfully carry the torch onward after Hayao Miyazaki. It's available now for the first time on Blu-Ray.
Like many of Studio Ghibli's films, The Cat Returns is an Alice in Wonderland-esque story in which a young girl is pulled into a fantasy world and must find her way back to reality while learning a few things along the way. However, this one wasn't directed by Hayao Miyazaki, so it often gets pushed aside in favor of the powerhouse filmmaker's major works. That's a shame since it's a good film that showcases the talents of Hiroyuki Morita, who is one of the people primed to eventually succeed Miyazaki and carry on his legacy.
The Cat Returns is the story of a high school girl named Haru who saves a cat from being hit by a truck and discovers that she has the ability to speak feline. It turns out the cat she saved is a prince, and representatives from the Cat Kingdom offer her gifts of catnip and mice, as well as a chance to marry the prince. She is taken aback, which is interpreted as an agreement, and she and a large white cat named Muta, who is trying to help her, end up being taken to the Cat Kingdom by force.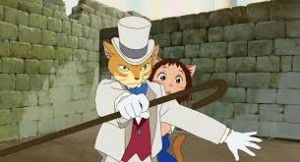 Meanwhile, a helpful cat known as the Baron, who comes to life from a figurine, and a raven named Toto, who was previously made of stone, follow Haru and Muta to the Cat Kingdom. At a feast with the king and prince, Haru begins to turn into a cat, and the Baron slips into the festivities to tell her that she needs to find her true self or risk being lost in the Cat Kingdom forever. A servant cat named Yuki helps the Baron and Haru as they try to escape from the Cat Kingdom, whose king is more than a little unhinged.
The Cat Returns may not be as powerful as Miyazaki's works, but it's still a solid freshman effort, although Morita has only directed one movie since this 2002 release, so perhaps the changing of the guard at Studio Ghibli will still take some time. Pixar's John Lasseter, who usually does enthusiastic introductions to Miyazaki's films on home video, doesn't show up on this Blu-ray disc, which I suppose says something.
The bonus features on this high-def platter include the obligatory "Behind the Microphone" featurette, which covers the casting and recording of the English language track, with such stars as Cary Elwes and Elliott Gould. There's also a making-of special from Japanese TV that should be of interest to Studio Ghibli fans. The original Japanese storyboards, as well as the original Japanese trailers and TV spots, round out this release.
There's also a DVD that includes just the movie.
– Brad Cook (@BradCWriter)