THE CURBSIDE CRITERION: ONE-EYED JACKS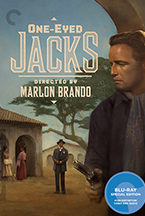 (We here at Hammer to Nail are all about true independent cinema. But we also have to tip our hat to the great films of yesteryear that continue to inspire filmmakers and cinephiles alike. This week, our "The Curbside Criterion" continues where HtN staff can trot out thoughts on the finest films ever made. Today HtN Lead Critic Chris Reed digs deep into the new Blu-Ray release of One-Eyed Jacks, the first and only film directed by Marlon Brando.)
Actor Marlon Brando's only directorial outing, One-Eyed Jacks has long existed in video editions of extremely poor quality, ever since falling into the public domain in the 1990s. Shot on VistaVision, Paramount's proprietary widescreen format of the time, the film demands to be seen in as pristine a copy as possible, in order to do justice to the beautiful compositions by cinematographer Charles Lang Jr. (Some Like It Hot, The Magnificent Seven), who received one of his 18 Oscar nominations for his work here (he won only once, for the 1932 A Farewell to Arms). Beyond its gorgeous visuals, the movie is a compellingly odd amalgam of genres, worth watching as a harbinger of the revisionist Westerns soon to come throughout the 1960s. Brando (A Streetcar Named Desire) is, as always, riveting in the central performance, as is Karl Malden (On the Waterfront) as the villain, with many a strong supporting actor, including Katy Jurado (High Noon) and Pina Pellicer (Macario), to round out the ensemble cast. The story is based on Charles Neider's The Authentic Death of Hendry Jones, which itself is a retelling of the legend of Billy the Kid and Pat Garrett.
Brando plays Rio, who when the film starts is living the happy outlaw life down in Mexico, sharing the good times with his older partner Dad (Malden), who calls him "kid" (Oedipal themes abound). After one bank robbery too many, the two find themselves pursued by a posse that eventually surrounds them in the desert. Down to just a single worn-out horse, they make a deal that one will take off for fresh horses and come back for the other. Dad wins the draw (in a noble gesture, Rio loses on purpose), grabbing the gold and heading to a nearby outpost. Once there, he decides to abandon Rio and take the treasure for himself. Rio is captured and sentenced to hard labor. Flash forward five years, and we meet Rio as he escapes from prison, with one thought on his mind: to find Dad and kill him. Eventually, he tracks him down to Monterey, California, where Dad is now sheriff, comfortably married to a widow (Jurado), stepfather to her beautiful daughter (Pellicer). The stage is set for the ultimate act of revenge, but then certain complications arise – including a romance between said daughter and Rio – and that revenge must wait until the film's brutal climax. At 141 minutes, the film is overlong in many places (though not as long as it must have been in Brando's original five-hour cut), yet never not watchable. Oedipal? Try operatic!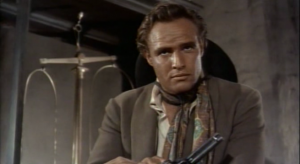 I first came to the film as a boy, watching it on TV with my father, one of whose favorite films this was. It holds up, despite its structural flaws, primarily because of the delicious tension between Brando and Malden. Friends in real life, they make terrific on-screen antagonists. Watching it again, I was struck by the strangeness of its setting in the second half, once we get to Monterey. The beach and waves (waiting for the perfect of which delayed the shoot by days, as we learn in this disc's extras) make for an unexpected backdrop for a Western, a genre most associated with mountain ranges and the dusty plains of the interior. Brando's hallmark brooding intensity makes for a different kind of gunfighter – a figure most often known for stoicism, rather than emotion (think Shane, High Noon, or any film starring John Wayne) – as well. And though many of the special features included here highlight Brando's inability to bring the film in on time and on budget – important requirements, for sure, to survive in the studio world – the fact remains that much of the raw power of the film comes from Brando's unconventional mise-en-scène. In the annals of Hollywood Westerns, this is truly one of the greats, cinematic warts and all.
Criterion's Blu-ray release, made from a 4K restoration, is stunning, showcasing Lang's work in all its glory. Colors are vibrant, beautiful in their VistaVision landscapes, and even more so in the actors' close-ups. The monaural soundtrack is crisp and clear. All technical aspects of the disc are impeccable. Along with the film, itself, we have the usual array of extras, which in the best Criterion tradition add to our understanding of the film's (in this case, troubled) production. What follows is a brief review of those special features.
SPECIAL FEATURES:
BOOKLET ESSAY: "Zen Nihilism," by Howard Hampton, author of Born in Flames: Termite Dreams, Dialectical Fairy Tales, and Pop Apocalypses: This is a fine bit of writing, illuminating how the film was made and the many production problems it encountered. Stanley Kubrick (Paths of Glory) was the original director, with Sam Peckinpah (The Wild Bunch) the original screenwriter, before Kubrick got rid of him. When Brando and Kubrick couldn't agree on an approach, Kubrick left, as well. As Hampton writes, though, "One-Eyed Jacks belongs to a line of conflicted, half-mad productions that appear doomed from the outset yet turn into more impactful film experiences than a barrel of cautiously wrought, fastidiously executed 'classics'." Indeed.
DISC:
There are five video extras:
Martin Scorsese introduction (2016) (2:55): Scorsese, a great lover of films of all kinds, repeats some of the information found in Hampton's essay, but adds his own touch, and gives full credit to the movie's restorers, including The Film Foundation and Steven Spielberg. It's a fitting opening tribute to the disc.
Marlon Brando – Recorded Audio, probably in 1958 (33:38): Brando recorded his thoughts about the production while Kubrick was still attached but Peckinpah had been replaced by Calder Willingham (Paths of Glory). It's a little like the great recent documentary Listen to Me Marlon, in a way, in which Brando narrates his own life. Here, we hear him think out loud about how 7 different scenes in the movie should go, after first watching the final version of each scene as it was eventually filmed. Fascinating.
A Million Feet of Film – video essay by 1950s westerns blogger Toby Roan (23:09): Roan has been gathering material on the film since 1978, and here gives us a great production history. A lot of the information is a repetition from what is included in Hampton's piece, but there is a much that is new. It's densely packed with many a fascinating tidbit, and well worth watching.
I Ain't Hung Yet: Marlon Brando's 'One-Eyed Jacks' – video essay by film historian/critic David Cairns (24:02): This offers a very fine analysis of the aesthetics of the film, as opposed to the production history of Roan's piece. It's a smart move by Criterion to include them both.
Trailer (4:40): This is a very long trailer – and could possibly be multiple trailers elided as one (there is no accompanying explanation) – made up of a strange combination of stills and clips. It's not the most compelling advertisement for the movie, but a good historical document.
That's all! It's a comprehensive package. Enjoy!
– Christopher Llewellyn Reed (@ChrisReedFilm)