A Conversation with Gabriel Silverman & Jamie Coughlin (TRANSMILITARY)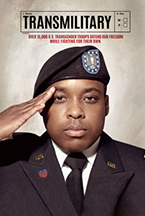 I met with director/writer Gabriel Silverman and producer/writer Jamie Coughlin on Sunday, March 24, 2019, at the 2019 Annapolis Film Festival to discuss TransMilitary, their documentary-feature debut (which I also reviewed). Co-director Fiona Dawson did not attend the festival. The film follows four transgender members of the United States Armed Forces as they navigate the professional and personal perils of service in organizations that consider them problematic at best, illegal at worst. There is hope for them, however, in the late days of the Obama administration, as Secretary of Defense Ash Carter announces a lifting of the trans ban. Sadly, our 45th President has since tried to reverse that decision, but as TransMilitary makes abundantly clear, there is no logical rationale for a ban, given the exemplary performance of most trans people in the military. This is an inspiring look at the bravery of men and women giving of their best to those who would wish them into nonexistence if they could. Here is a condensed digest of our conversation, edited for length and clarity.
Hammer to Nail: Gabe, tell me how the story came to you.
Gabriel Silverman: Jamie and I come from the world of news. I used to work at The Washington Post and Jamie was at USA Today, and in 2015 we left our newsroom jobs to start our own production company. Early in the process, we got a call from The New York Times editorial board, looking for DC-based journalists to work with an activist named Fiona Dawson who had been capturing some footage of trans service members, one who at the time was deployed in Afghanistan, and they wanted to tell a story, originally as one of their Op-Docs, that was supposed to be about 3 to 5 minutes. So, we were new to the subject and approached it with our similar journalistic approach, which was: we had an open mind but healthy dose of journalistic skepticism. We started researching the topic and then we got to meet [subjects] Logan and Laila, and that ended up turning into a 12-minute Op-Doc that was nominated for an Emmy and it kind of hit a nerve that we weren't expecting.
The day that the Op-Doc dropped, the Pentagon elevated discharge levels from Commander level in the Air Force all the way up to the Pentagon. There was a working group that was started. Logan and Laila were invited to the White House to meet President Obama. So, we knew we had hit a nerve with the country, so we thought that it was important for us to follow the story to its completion. We thought we were either going to have a story that ends with the ban being lifted or not being lifted, but we had access to the service members who were going in and talking to the service chiefs, so we thought this is an important story to tell and we have access.
HtN: That explains how you met Logan Ireland and Laila Villanueva, through Fiona, but how about El Cook and Jenn Peace, your two other subjects?
GS: What happened was there was a main group called SPART*A. It's a group of active duty transgender service members from all branches who were taking the lead in trying to introduce top brass to this topic. We were able to film that group, and through them we met a number of exceptional service members. But we were really trying to get a diversity of experience, geographically. We ended up having two people who are white, two people of color, two trans men, two trans women, and we wanted to find diversity of experience. And when we started meeting with the group, it was clear that First Lieutenant Cook and Captain Peace really were amazing people that we needed to follow, whose story we needed to tell.
HtN: You shot the film, Gabe. How was it managing double duty as director of photography and director?
GS: First, I would like to say that we've had a number of amazing cinematographers that were able to help us. This wasn't a well-funded film at first, so we had some really great volunteers. One, Aiden [Korotkin] helped early on. We also had Rhys Harper. And since we didn't have access to Afghanistan, we also had to get creative with shooting in the field. Some of Logan's friends who had personal DSLRs and GoPros helped us film, as well. This really all comes from the tradition of backpack journalism. The three of us, Fiona, Jamie, and I really were a team in making this. But I just happened to have the experience of being the backpack journalist who had to shoot, had to produce all their own stories. It was really amazing to get to work with Jamie and Fiona in this space, because they were such amazing storytellers and it was nice to collaborate with them.
HtN: Did one of them do sound as you were on camera?
Jamie Coughlin: Yeah, I did a lot of the sound while we were interviewing and just kind of going about. I mean, Gabe and I are used to the two of us doing everything, so it's not …we're doing that right now in development of our two new projects. It's not hard for us.
HtN: What did you shoot much of the film on? Which camera?
GS: We started off with a [Canon] C100 and then by the end of the film, because it took us about three years to get to market, we were filming with the [Sony] FS7, so that was what shot the beautiful opening and some of the closing shots.
JC: We used a C100, used an FS7. We probably used the [Sony] a7SII at times. It was a lot of different mixed media, shooting for about two years.
GS: Yeah, I think that it's a good lesson. We don't come from the world of film school. We come from the world of journalism. So for us, it's always just about getting the content first, no matter what, and that's the most critical part of the story. I think the film reflects it, too, that as we went along, the style emerged from that filming, that we were able to be more deliberate as we went on.
HtN: Sure. The most important thing when you're making a documentary is to get the footage as it's happening, not necessarily how gorgeous it looks.
GS: Exactly.
HtN: Can you talk particularly about Logan's story and getting the footage of him in Afghanistan? I was really wowed by that footage.
JC: The thing about filming a marginalized population like trans people in the military before the ban was lifted is that if Logan were to stand up and say, "Hey, I've got these journalists who'd like to come in and bed with us in Afghanistan so they could follow me," he would've been kicked out of the military.
GS: They'd say, "Why?" And he'd say, "Oh, it's because I'm a trans service man." It's like, "Oh, great. You're out of here."
JC: Exactly. So, we had to get really creative on how we were going to capture that footage, so that's where the prosumer DSLR footage comes in, that's where the GoPro footage comes in. You see footage of Logan in…what is his truck called again? His big tank truck?
GS: Susan is what he…
JC: He calls her Susan, right? He drove this big truck and we never would've been able to get that footage. I think it really also reflects that they're people who grew up with the Internet and are used to communicating across borders. We see them Skype back and forth. We used a lot of Skype footage of them to show their real communications, their fiancés living half a world apart. And I think it really reflects the time and actual communication and how people are able to tell stories to each other while they're far away.
HtN: So, we're sort of in a better place than we were when you started, but were there any other people that you approached to film who didn't want to be a part of the movie because of concerns about revealing themselves as trans?
GS: This is where I give a lot of credit to Fiona. She was an activist in this space, so she had developed relationships early on and there was a level of trust because they understood her voice. When journalists and activists work together, there's a natural tension, right? That's a healthy tension. And I think what was helpful was Fiona had been in bed with the community for a few years before we all started filming this documentary. So, she had built up the initial trust. But I think that once we came to the project, Logan and Laila knew the consequences. Because before this larger film came out, they were going to come out on The New York Times website as transgender in the military. And we prepped them. We said, "Look, this could potentially jeopardize your career."
But for them, they saw that it was impossible to live inauthentically in the military. They were either going to get kicked out because they came out in the near future or eventually be pushed out by commanders who maybe didn't understand the issue. What ended up happening, though, was because they're such honorable service members, I think the film actually gave them some cover, because Logan and Laila and Jenn and El are the type of service members you want in your military. They always exceed expectations. And so coming out and saying, "This is who I am. This is what I've done for the military. Do you really want to kick me out?" was an important first step in protecting them.
And I also think that a lot of these marginalized communities, when they experience the media…and we know this because we were journalists and when people swoop in to tell your story, they don't spend a lot of time with you because that's just the nature of journalism most of the time…so, being able to say to them, "Listen, we're gonna spend years with you and tell an authentic story that spans a significant amount of time and looks at this in a nuanced way," I think gave them a lot more confidence that we'd treat their story with respect.
HtN: Did you try to get interviews with any top military brass to include their points of view? And what was the reaction or pushback to that request?
JC: We did. We have one military official who appears in the film, Colonel Eisenhower. He was Jenn's commanding officer. And he felt so strongly about Jenn's exemplary service that he wanted to appear for her, but this was after the ban was lifted and before President Trump tried tweeting it back into existence. So, it was a time where it was also safer for them to come out. While the ban was not lifted, we made requests that were denied and after the ban was lifted, we also made requests that were denied in the Pentagon.
HtN: You said you made this for about three years, so, when you started filming, did you have one particular ending in mind for your film that then got completely flipped based on the election of Trump and then that awful tweet where he tried to, as Jamie said, tweet the ban back into existence?
GS: We thought when we started this project there were going to be two endings. One ending is that the ban is lifted and we have an ending. And Logan and Laila were planning on getting married, and so we thought, "Okay, this is gonna be a beautiful symbolic ending, anyways." If the ban was lifted, everything's all good, right? They got married in a fairy tale wedding in Hawaii because she's from Hawaii. Or the ban wasn't going to be lifted and we'd tell the story of how it failed to be lifted and give a more honest and nuanced perspective about what this actually looks like. Never did we think that we were going to have an ending and then have to go back into production and then go back into post-production. Yeah. We thought there were two outcomes and never thought there was this third outcome.
HtN: Right. I think you handled that well in the film so it feels organic to the story. Are you in touch with your subjects now? What is their status now? You leave us at the end with some stats in terms of the fact that the ban is not actually going through for now, since it's being appealed. How are they doing, the four of them?
GS: Laila was pushed out. But the other three subjects in the film stayed in and all of them thrived. Once the ban was lifted, they thrived even more. They were all promoted. Jenn was made Company Commander. Logan went from Senior Airman to Staff Sergeant. And First Lieutenant Cook became Captain Cook. And they're all thriving because they're really good at their jobs. Like all the other trans troops, they just want to be judged by the merit of their work and nothing else. Currently Jenn – Captain Peace – is now at the DIA.
HtN: What is the DIA?
GS: Defense Intelligence Agency. And she just was put up for Major. Logan is still in Colorado with his wife, Laila. And Captain Cook is thriving up in the Pacific Northwest. The problem with this new iteration of the ban is that this goes back to where it was before, where there's uncertainty. The military thrives on certainty, so what's happened is that the president injected this level of uncertainty again, and this is a big bureaucracy we're talking about. You have to train everybody all the way from the top brass through middle management and all the way down. And so, injecting another level of uncertainty after it's been studied for a year, after figuring out how to implement it for a year, after it had been open service for now over two years. We're now going back to this place of uncertainty.
So, even though three of our main subjects might be grandfathered in and protected in their space, you have to zoom out and look at the broader landscape where you have thousands of service members who have families that they support through their job, their careers in the military, who now have to say, "Do I have to get my résumé ready? What's happening?" In addition to that, you've got hundreds of service members who want to join the military who don't know if they can join anymore. There was this really unfortunate case at West Point where a trans woman had gone through all four years of college during this transition period of implementing the new policy, where because of the new administration, they told her she couldn't graduate. They came up with a compromise that she could walk across the stage and then they would have to kick her out of the military.
This is someone who was top in her class. She's a brilliant mathematician, and she was being placed in a unit that was directly…the unit that was charged with shooting down ICBMs coming from North Korea. That's the kind of people we need in the military. Now she's in the private sector using her talents elsewhere. This is the kind of insanity that's been injected because of some person's vanity issue, not because of real sound policy made through a deliberative process.
HtN: And that perfectly encapsulates the Trump presidency. Thank you both so much for making this film and for sitting down with me to talk.
GS/JC: Thank you!
– Christopher Llewellyn Reed (@ChrisReedFilm)
Like what you see here on Hammer to Nail? Why not pay just $1.00 per month via Patreon to help keep us going?