KAT CANDLER CHATS UP HER NEW SHORT "THE RUSTED"
(Earlier this year, Canon partnered with Ron Howard and Josh Hutcherson to launch the latest "Project Imagination" in which filmmakers create a film trailer based on their personal lives. A winning trailer is then selected and is fleshed out into a short film directed by an up and comer. This year's result was The Rusted and was directed by our old pal Kat Candler. Christopher Llewellyn Reed got to chat with Candler about the project and the result is this interview about the short which explores the malevolence of memory among other things.)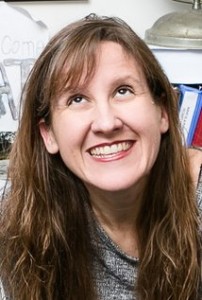 Water drips from a hose. A German Shepherd barks menacingly, his voice distorted through slow motion. A young man drags a heavy, unknown bundle (a body?) from a house. There's something off in an otherwise idyllic rural setting. The young man's sister pulls up in a pickup, and together they enter the house, where soon they argue about shared childhood experiences and the meaning of memory.
Wednesday, October 21, 2015, was Back to the Future day. Did you celebrate? Did you wonder at the enduring appeal of a 30-year-old movie franchise? If so, then clearly you do not suffer form the condition that plagues the majority of the human race: the nostalgia for things past. We hold on to memories, even if they're haunted. The malevolent spirit in the house is not an actual ghost; it's the oppressive weight of time.
The young man is played by Josh Hutcherson (The Kids Are All Right and The Hunger Games series). His sister is played by Jena Malone (Into the Wild and The Hunger Games, as well, starting with Catching Fire). The director is Kat Candler, whose brilliant short films Black Metaland Hellion showed great promise, a promise on which she delivered with her first feature, also entitled Hellion, adapted from the short. Those movies got her noticed by the folks over at Canon's "Project Imagination," a film competition now in its third year.
For the 2015 edition of the contest, presented by Ron Howard, aspiring filmmakers uploaded trailers, made using Canon's online trailer-editing software, and then Howard and producer/star Hutcherson chose the submission they thought had the best potential for expansion into a short film. The winner was Tainted Water, by Mark Mukherjee.
The contest over, Howard and Hutcherson turned the idea over to Candler – a director they had selected from a short list of rising talent – who wrote her own script based on the trailer, and then shot and edited her twenty-minute movie over this past summer. It premiered last night in New York, and now everyone can watch both the film, itself, and the trailer that inspired it, on the "Project Imagination" site. I had the great pleasure of interviewing Ms. Candler yesterday afternoon, and what follows is a (somewhat) condensed and edited version of that interview. In the interest of full disclosure, I let you know that I had already met Kat Candler before, as she was our Fall 2014 Artist-in-Residence at Stevenson University, where I am Chair of the Film & Moving Image Department.
HtN: Hi, Kat. Loved the film. Watched it twice. So how did you get involved with "Project Imagination?"
Candler: Well, I knew about "Project Imagination" from having seen photos of its first iteration on display at SXSW – the photos submitted for the first year's contest. After that, I read about it in the trades when they did it for the second time, with Jamie Foxx, and James Murphy, and Eva Longoria and a few others. And then I got an email from Kevin Chinoy, one of the producers, last spring about being on a list of potential folks to write and direct this year's film. I think Trevor [Groth, director of programming at Sundance] had given Kevin a couple of names of writer-directors who might be a good match, and fortunately I was one of those, and really blessed to have them put my name out there. So, they called, I had an interview, I guess they liked [my feature] Hellion, and brought me on board.
HtN: So I watched the original trailer, as well, and I am fascinated by how you got from it to your film, which you wrote on your own. In the trailer, Mark Mukherjee has this malevolent spirit in the water, and you took this idea of malevolence in the water and pushed into subtext, and I really like how you did that. In your film, the water could just be rusty water, or it could be the [brother's and sister's] mother's spirit. Tell me how you got there.
Candler: Well, I watched his trailer a bunch of times, and what I really responded to was the tone and atmosphere and just that kind of horror/suspense aspect of it. I had never done a horror film before, and really wanted to test the waters – no pun intended – in that vein, and so that was really exciting to me to kind of take that strange, weird atmospheric quality of that trailer and then this idea of corrupted, contaminated water and then just kind of expand my own version of that. And, yeah, I love that whole idea of the past sort of manifesting into the water … you know, these things in our past continuing to haunt us into present day and into adulthood. That was really fascinating to me to try and explore. And then, again, this idea of trying to make this horror … I guess it's more of a horror-drama, you know, I can't help trying to put in the human drama aspect … but that was really fun, doing my take on the horror space.
HtN: How long did it take you, after seeing the trailer and being brought on the project, to develop the script?
Candler: We were kind of on a fast track, so once I saw the trailer and scribbled down a lot of ideas, I came up with three different stories – three different treatments – and then came together with the producers and we kind of honed in on the one that ended up being developed into the short, and then I probably wrote at least 6, or 7, maybe 8 or 9 drafts. I wasn't teaching at the time, so I was just churning out draft after draft after draft and creating big character outlines and histories. So I would probably say about a month, when all is said and done, but continuously writing throughout. I signed on in May and then we shot in July.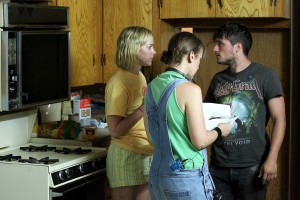 HtN: Were there any guidelines given to you by Canon concerning things that could or could not go in the script?
Candler: Not really. I think … I want to say that it had to be PG-13. Josh had to star in it. It had to be an interpretation of the trailer. But other than that, they were amazingly hands-off and let us go creatively wherever our weirdo little creative minds took us. So in that respect they were amazing to just let us do our thing, which was great.
HtN: Obviously, you had to shoot on a Canon camera.
Candler: We used the C500. It was an amazing camera to work with. What I loved about it was just the vibrancy of the color and being able to capture so much with its great latitude. And then being able to push the color so much in the image. I enjoyed the post-production very much with that camera, with what we could create.
HtN: So you were involved, in terms of color grading, and choices like that?
Candler: Oh, yeah, for at least a week, with me and my colorist – with whom I've worked now on 3 or 4 projects. You know, with each project you feel like you get better and better, and on this project I feel like I developed just such a great language with which to communicate with my colorist. It was just wonderful to play with the composition and image produced by the camera, like painting. You could just sit there for an hour or two, just painting a picture.
HtN: What I was impressed with was its performance in low light, with those scenes at dusk. And it was shot by Andrew Droz Palermo, who shot 6 Years and your short Black Metal.
Candler: Yes. So it was so nice to re-team with him this summer. He's just a dear friend, and I think he's so incredibly talented and he's just a great partner in crime to have on set. I've been really fortunate in that respect in having just amazing DPs [directors of photography] who are just really fun to work with and incredibly talented.
HtN: So were you, then, allowed to pick your own DP? I mean, he has a whole body of work behind him, but were you solicited for that choice? How did that work?
Candler: Yes! Again, they were very hands-off. They definitely approved of Andrew, seeing his body of work – the films he had at Sundance – but yeah, they kind of just let me and the producers take the reigns in saying, "This is who we want for our creative team." They just really trusted us.
It was my first time shooting out of Texas, really. My first time shooting in Los Angeles – actually in Valencia, where Magic Mountain is. My first time shooting with a crew of mostly people that I had never worked with before, outside of maybe three people. But it was a really solid crew, very talented, and it was really fun to go to set every day.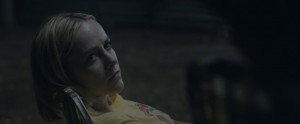 HtN: Well, I like dogs, so of course I'm going to focus first on the dog in your film. How did you cast the German Shepherd?
Candler: I would get photos – as with actors – and descriptions of the dogs, and it was just me looking at one of the photos of one of the dogs and saying "that one." His name was Jesse, and he was such a sweet dog. A huge, huge head! But such a sweetheart. And, you know, you're trying to make him seem more threatening or upset on screen, but in real life he was just a sweet dog. And really, a great trainer, as well. I hadn't worked with animal trainers before. It was actually two trainers, who were speaking to the dog through the scenes, and then would have long sticks with a ball, or treats on the end, you know, just really directing him. And, you know, making sure the dog had breaks, was focused. It was definitely a challenge, but a great learning experience for me, working with an animal for the first time.
HtN: And you brought a kid in at the end, and you're never supposed to work with animals or children …
Candler: Well, as we know, I always work with kids. She [the little girl] was awesome. She was a laugh riot. I think she had everyone on set rolling on the ground, because she was just such a sweet, hilarious little kid.
HtN: So how much say did you have in casting the other parts. Was Jena Malone a fait accompli? Did you have any say in that? And what about the guy who plays her husband, and the kid?
Candler: Yeah! So, clearly Josh was involved from the beginning and was always going to star in it, and then he suggested Jena, and it was just sort of a no-brainer. I saw her name and I said, "Yes, please!" She was just one of those actors I have admired for many, many years, and she was just such a complete badass on screen. So, yeah, she came on board after Josh and then we just had normal casting calls for Will, who plays her husband, and Julia, who plays her daughter. I worked with the same casting director that I worked with on Hellion, so we share the same sensibility over the kinds of actors that I look for. And in the end, it just makes your life so much easier on set if you just hire incredibly talented actors with a great sense of craft.
HtN: Now, I see that you also worked with an editor whose last credit was something I saw at this year's SXSW: A Brave Heart: The Lizzie Velasquez Story. That's Christopher Roldan.
Candler: Chris, I actually met a few months prior. He had reached out to me to go grab a coffee and sort of get to know each other. He also teaches at UT [University of Texas, Austin], where I teach. We just met up, and I told him about the project, and he was really excited and interested. And he had done, before the Lizzie Velasquez doc … he had worked with Terrence Malick for years, on Tree of Life and To the Wonder. So he's been around Austin for a long time. And he's fantastic. You want an editor, first and foremost, who understands story, backwards and forwards. And he really does. Especially working with Malick, where you have all that footage and have to craft a narrative. He was awesome.
HtN: And I see you worked with the same composer you've worked with before: Curtis Heath.
Candler: Yeah! So this is like the fourth project that I've done with Curtis.
HtN: That's right, because you used his music in Black Metal, and then he composed the soundtracks for both the short and feature versions of Hellion.
Candler: That's right. He's a great collaborator and just a great human being.
HtN: Well thank you, Kat, and congratulation on the film!
Candler: Such a treat to talk to you! Thanks!
– Christopher Llewellyn Reed (@ChrisReedFilm)