A Conversation with Jeremiah Zagar (WE THE ANIMALS)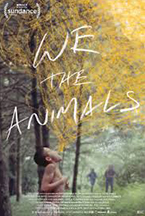 On Monday, December 18, I interviewed director Jeremiah Zagar by phone to discuss his debut narrative feature (after years of documentary work) We the Animals, which I also reviewed. The film (which is available now via various VOD platforms) is an adaptation of writer Justin Torres's first, semi-autobiographical novel of the same name, which follows a biracial family living in upstate New York and the coming-of-age of the three pre-teen boys. The youngest, Jonah, is our main protagonist, and we watch as he navigates the tricky world of his parents' mercurial relationship, along with his blossoming creativity and growing awareness of his homosexuality. Beautifully shot and edited, and with strong performances all around, We the Animals is a lovely exploration of the challenges of childhood faced by an especially sensitive soul. Here is a condensed digest of our conversation, edited for length and clarity.
Hammer to Nail: What originally drew you to Justin Torres's novel – actually, it's really more of a novella – in the first place?
Jeremiah Zagar: I'd just gotten back from editing a documentary called The Square, about the Egyptian revolution, and I was in a bookstore and I was a little bit confused about what the next thing would be in my life. The bookstore is in SoHo and it's called McNally Jackson. They have this little "we recommend" table and I picked up We the Animals off that table. I read the first page and I was blown away by the first page. So, I just went to the café, and I read the rest of it and it really felt like kismet, like one of those things that happens at the right moment, at the right time.
HtN: So, you were the editor on Jehane Noujaim's documentary The Square?
JZ: There were a lot of editors, and I was the editor early, early on. I cut about the first 10 minutes of that movie.
HtN: It's a great documentary! How interesting. So, you read the book and then you just knew you had to make it. But your work prior to this film was almost exclusively documentary in nature, correct?
JZ: Yeah. I do shorts and commercials, too, but yeah, all my feature work was documentary.
HtN: So, this is your debut narrative feature. Once you read the book and it really spoke to you, what were the steps in setting up its cinematic adaptation?
JZ: Well I always wanted to make narrative films. I think even before I realized that I wanted to make documentaries, the narrative films are the ones I was in love with. It was when I saw Errol Morris' Mr. Death that I felt, for the first time, like I could make documentaries, too. So I've been dreaming about this process for a long time, and what I really love about filmmaking is process. It's a multi-step process.
So, the first thing I did was meet with Justin and we agreed that it would be a good idea for me to adapt the book. He loved my film In a Dream and we really got along. We're still really close friends. And then the next thing was just marking up the book. You should see my copy of the book, it has a bazillion tiny notes. I must have read it 20 or 30 times. And then I brought on Dan Kitrosser, who was my co-writer. I am not a queer man and Dan is, and I think it was really important to have that perspective, but also Dan's a better writer than me. He's a playwright and we would go through this process of going over to his apartment twice a week, three times a week, and talking through the chapters. And then he would do a pass and I would edit that pass, and then we'd talk through it again and start literally translating the book into screenplay format, trying to figure out how to make some of the scenes more visual or some of the moments more cinematic. The book is written in sort of these vignette chapters, so we wanted to connect those vignette chapters with good transitions.
And then we submitted to the Sundance Labs…well, first we submitted to the IFP Labs, and the IFP Labs took it and they were wonderful. And then we submitted to the Sundance Screenwriters Lab, and the Screenwriters Lab took us. And then we went through Sundance's Directors Lab and Producers Labs, and then [production company] Cinereach came on board. And when Cinereach came on board, we expressed to them that we wanted to do a lengthy casting process because we wanted the young people in the movie to be non-actors or young people who hadn't acted before. So we spent about a year-and-a-half casting the film and working with this wonderful acting coach Noelle Gentile, who taught our three young men. We saw about a thousand young men, and she taught them the ins and outs of acting.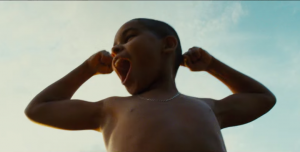 And then not long after that we brought on Raúl [Castillo], and that summer we brought on Sheila [Vand], and they also were instrumental in showing these young people what it means to be a professional actor. And so they sort of became that. And, in addition, we storyboarded the entire movie. We storyboarded it frame by frame. It's all storyboarded with pen and paper. It's not computer…the same way the movie is completely tangible, so are the storyboards.
HtN: I really like your cast and all the boys – Evan Rosado, Josiah Gabriel, and Isaiah Kristian – are great. Evan Rosado, as lead character Jonah, is really quite moving; he has such expressive eyes. Was it Cinereach who reached out and suggested Sheila Vand and Raúl Castillo? How did you end up getting your two adult leads?
JZ: We had seen Raúl in HBO's Looking, Justin and I, and when he came in to audition, he really just felt right, right away. We loved his work on Looking, and Justin was a big fan. Justin was involved in every part of the process, and he was there in the casting room. And we watched the tapes and I had a meeting with Raúl and we kind of just knew right then that he was going to be Paps. We had to postpone a year because we hadn't found Jonah yet. And so later that summer, we found Evan and Evan was amazing, but Evan had never acted before and he had trouble emoting. So, little by little, Dan and…Dan also works with kid…so Dan and Noelle worked on getting Evan there.
And then once we had Evan, we started the process of looking for Ma. We saw a lot of actresses for that role. And Sheila really had this incredible charisma with Raúl, and then also with Jonah. I was really reticent to bring in a Ma until we found one that I felt I could definitely introduce to Evan. So Sheila was the first and only person that auditioned with Evan, and she was so incredible in that audition that we knew she was the right one.
HtN: She is a very charismatic actor whom many of us admire from A Girl Walks Home Alone at Night.
JZ: That was exciting for us, too, like Raúl would be playing someone that we'd never seen him play before, and that Sheila would be playing somebody that we'd never seen her play before. And I think both of them did such unbelievably beautiful jobs. I think Sheila doesn't get enough credit for how credible she is in the movie.
HtN: So, we're talking about the cast, but I also really like your collaborators on the production and post-production sides. Your cinematographer, Zak Mulligan, does a wonderful job photographing the film, and I particularly like the amount of close-ups on eyes, particularly of Evan's eyes. Could you talk about working with Zak and coming up with your aesthetic plan for the film with him?
JZ: Zak and I have been working together for years, since we made a movie called Always a Fire together. It's a short documentary about a football player. I love working with Zak. He's incredibly intuitive and he operates the camera himself. He's also old-school and he had shot on film many times before and it was very important to me that this movie be shot on actual film. So I think Zak and I started talking about him being the DP [Director of Photography] long before we were green-lit. He actually came to the Sundance Labs with me and shot the scenes. So, we started to develop a language together there. And then we had an interesting process on set because I storyboarded the whole movie, but Zak doesn't like to look at storyboards. So it was this great thing where I was able to be very buttoned-up and Zak was able to be very free and fluid. Some of the boards really represent what we shot and some of them are just really fluid and really about his hands and his work and his ideas.
HtN: So, you say it was important to you that the film be shot on film, but I believe there are also some shots, like the nighttime scenes, done on a RED.
JZ: That's right.
HtN: And you also did some on the Sony a7S, right?
JZ: There are a couple, yeah. The birth of my son is on the Sony. But even the digital stuff is re-photographed on film.
HtN: Interesting.
JZ: The digital stuff was shot on film, and then we did passes of the grain layers of the actual stocks that we shot, and then Seth and I had to build…Seth is my colorist, Seth Ricart…we built palettes and ways to use that grain to augment the digital. And there are programs where you can just overlay the grain, but what film action does is the grain structure gets tighter in the highlights and looser in the blacks. You can't just sort of build this, so for every single shot Seth had to build it out, and it was incredibly arduous. Next time I'm just going to shoot film. I'm not going to mix and match like this. (laughs)
HtN: (laughs) So, you mentioned the birth of your son. Are you using your son in the film?
JZ: Yeah, so one of the first things we shot for the movie was the birth of my son, and I told my wife I wanted to do it and she was on board. She loves me. She catered the movie, too. (laughs) And so Jeremy [Yaches], my producer, and Christina [King], who also produced the film, went out and bought an a7S…no, no, they had the a7S, but they went out and bought a recording device so that we could shoot in 4K for the birth on the day of. So they came while my wife was in labor and I made everybody in the room turn off the lights so it was only a spotlight that was lighting my wife, and we went ahead and shot it.
HtN: Indeed, she must really love you then. That's amazing.
JZ: She loves me so deeply and we have this wonderful document. And actually, what's lovely about the a7S is it's so tiny that I was able to be very close to her during the entire process. In a way, it made me a much more supportive husband because I was able to shield myself with the camera and be close to her.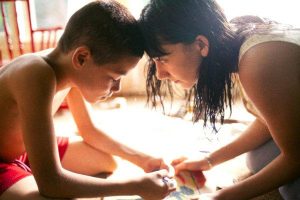 HtN: That's an amazing production story. How about on the post-production side? You've got these great editors, Keiko Deguchi and Brian Kates. Had you worked with them before? I really love how the film is cut as well.
JZ: Oh, thank you. Yeah, Keiko and I have worked together on every single film that I've done. She is like the backbone of my work in many ways: Jeremy and her. And she had to leave for a couple of months and Brian came in and did some wonderful work. He was an advisor for us at the Sundance Labs and loved the script and is just a very, very sweet person. But the primary editor on the film was Keiko. And she came up and she cut in Utica with us, and then we came back. I'm an editor by trade so I don't like not having any editorial control. So I would cut scenes and send them to her and she would send things to me and I'd cut them and send them back. It's a very wonderfully collaborative process. And we cut things very quick and then very slow. That's what I loved about Justin's book, too, was the staccato rhythm of the writing really felt in tune with the kind of editorial work that Keiko and I love to do.
HtN: Sure. And then how about the animator that you worked with for the animations of words and images – the drawings that Jonah does – Mark Samsonovich?
JZ: Mark is a great guy. He had never animated before. I'd done a lot of animation in my shorts and in college and in some of the documentary work that we do, but Mark was this wonderful illustrator that we really felt embodied the voice of Jonah. So, when I brought up the idea of him animating, because he's an amazing young man and artist, he was like, "Yeah, let's do it." It's not complicated to teach somebody the process of cel animation, but what was interesting is we wanted to do it in a way that I'd never seen done before. We wanted to do it using the paper, the physical paper, as the cel, so that you could actually see the grain of the paper move. We did a test and I showed it to Justin and I showed it to our producers and they loved it. And then I told Mark it would take him a couple of months and it took him a year. (laughs)
 HtN: Well, the entire assembly of the film from start to finish is just a real work of art, and I really enjoyed watching it. Thank you so much, Jeremiah, for making the film and for agreeing to talk to me.
JZ: Thank you so much.
– Christopher Llewellyn Reed (@ChrisReedFilm)
Like what you see here on Hammer to Nail? Why not pay just $1.00 per month via Patreon to help keep us going?