A Conversation with Jeff Malmberg (SPETTACOLO)
I spoke by phone with filmmaker Jeff Malmberg, co-director of Spettacolo, on Thursday, June 8, 2017, the week before his film was slated to play at AFI DOCS 2017 in Washington, DC. I reviewed the film – a documentary about how the population of a small Tuscan town, Montichiello, writes and produces an annual theater "spettacolo" (spectacle, or show) about whatever issues are foremost on their minds that year – at the 2017 SXSW festival. For those of you New Yorkers reading this, the movie will open at the Quad Cinema on Wednesday, September 6 (distributed by Grasshopper Film). Beyond the topic of how we as humans strive to tell our own personal stories, over time, the movie tackles themes of modernization, memory and loss, set against the backdrop of an Italy in economic recession. Malmberg made the film with his wife Chris Shellen, both of whom were getting ready to travel to Bologna to present the film there, which is why they will miss AFI DOCS. Here is a condensed digest of our chat, edited for brevity and clarity.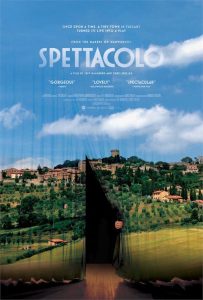 Hammer to Nail: So, since you are not coming to AFI DOCS, please tell us where you are going, instead.
Jeff Malmberg: We will be in Bologna at a festival called Biografilm, and we're going to have some of the townspeople with us, watching the film with an audience, which in my mind was always sort of the last stage or event I wanted to have happen in this process. It's a chance for them to see how others see them.
HtN: So, these residents of Montichiello who will be attending the screening, will they have seen the film before?
JM: Yes! In fact, they were the first audience for the rough cuts. Chris and I wanted to try and mimic the process of the theater, that you see in the film, where they are passionately discussing their ideas, and we thought, "Well, if we can make the making of the documentary somewhat like that, maybe that will work well." And it did. One thing we both really underestimated was what good note-givers they were going to be. Because I think when you show films to subjects, and it's a really important thing to do, you don't usually think of them as great critical note-givers, but of course that's what they've been doing their whole lives, with this theater. So, they gave us great notes on early cuts of the film, and they've seen several versions of it, but this will be the first time that they see the finished film with an audience.
HtN: That's fascinating. Let's go back to the beginning, then. How did you find Montichiello and decide to make this film?
JM: My wife and co-director, Chris Shellen, and I were wandering around Italy, as tourists, and having a wonderful Tuscan vacation, like a lot of the people you see in the film, and we ended up in this little hill town, and it seemed a little different than most hill towns. There wasn't this sort of normal commerce; there wasn't this touristification of the town; people actually seemed to live there. And there was this one open door, and we walked in and there was this man scribbling at a desk, and it turned out to be our eventual main character, Andrea Cresti, the director of the theater. And that was sort of our entry into the story.
We found out that these people have been playing themselves on stage for 50 years, and we just kind of came back with questions and just started from there. We started to learn Italian, and began to ask them about the idea of maybe doing a story about them, and, you know, you don't, obviously, know what you're in for…(laughs). And this whole thing kind of became this interesting sort of rack focus from being tourists to trying to understand what tourism meant to them, trying to approach it from the inside. Because we couldn't have been more outside when we started. I mean, we were just American tourists in Tuscany. So that was the first real decision, to move there, live there for 6 months, learnt the language and hang out with them every day, and try to get to know them.
HtN: Given the horrors of life in Tuscany, that must have been a really tough decision, Jeff…
JM: (laughs) It was really hard. I mean…the amount of ribbing we took from other documentary filmmakers we know who were embedded in other parts of the world…it was probably fair.
HtN: (laughs) Well, that doesn't mean that your film is any less profound than a film shot in a war zone, though, right?
JM: (laughs) Let's hope! I'd like to think I would have been interested in these people no matter where they lived. I mean, it wasn't like I wanted to tell this Tuscan story. These people have spent the last 50 years telling the story of their lives, so it doesn't matter where they are. Of course, it didn't hurt the experience that it was in this beautiful part of the world.
HtN: Sure! And let's talk about that beautiful part of the world some more. I love how you feature so many picture-postcard style shots in the film, of the beautiful Tuscan countryside, that you then subvert by revealing how Tuscany is not what it once was, but in some places merely a pretty facade. Do you think there is any hope for a normal, non-tourist-based existence for folks like the residents of Montichiello, who spend a lot of the film complaining about how difficult their life is?
JM: You know, you look at Tuscan hill towns, and you have one of two situations, at this point: you either have ghost towns, or you have towns that have been Disneyfied with wine and cheese shops, but no one actually lives there. Montichiello is different. You have 136 people living there who are a community, and that is a direct result of this theater and this art that they've decided to make the center of their lives. One of the things that Andrea wants to do is to take the show to other hill towns throughout Tuscany and show it to them as an example of the kinds of things that they can do to remain a community despite this lingering commercial monster that surrounds them.
HtN: That sounds likes a great idea, because, as we see in the film, a population of 136 inhabitants is not necessarily enough to sustain this over time, particularly as the young people decide not to do it, and you have the same generation doing this over and over again. Maybe the solution is, indeed, to reach beyond that particular community and collaborate with other towns.
JM: Yeah, absolutely! And they've been talking about that. I'm very happy that they've been using the film to show other towns what their situation is. I'd like to think it's an honest portrait of where they are at this moment. It's definitely a crossroads, because of the issues that you mention. To me, the crossroads centers around how they keep it going. Everybody talks about traditions, and it's always said in such a positive way, but 50 years on, in a tradition, what is it? And that was something that we really learned a lot, in the making of this film. You need new life to those traditions, or it's just going to go back to what it was before, which was costume drama.
And that's the wonderful thing about documentaries, which is that you can have all these suppositions about what you're doing, but it's always going to surprise you, and hopefully be way more interesting than you supposed. You're not out to prove anything, in the beginning, and you might learn something, you know? One of the things we learned was that it's a beautiful theater, but they are at a kind of sunset point where they need to re-evaluate, in order to keep going. Like Andrea says, he'd rather have the theater close if the greatest meaning of the theater no longer exists.
HtN: Have there been any further "spettacolos" since the one you profile in your film?
JM: Yes! It's a year-by-year thing, as you know, and they're doing it again this year, and one thing that I really like is that two of the people that you see in the film – Chiara, the director's assistant, and Gianpiero, who is the one who does that speech about Citibank – who are in their thirties, have kind of taken the lead in the theater this year, in terms of helping out creatively. As someone says in the film, "You can't put Andrea in a glass jar." He's a genius, but in order for the theater to continue, they're going to have to find a new direction.
HtN: And a new director. In the course of the film, we see one of the old generation die, so it's inevitable…
 JM: And it wasn't just that man – I mean that man was sort of closest to the theater's heart – but I think 4 people died the summer that we filmed. And I appreciate that they … they found the film really sad when they saw it, but they also said that it was really true. There was something to think about. So, I'm glad that I got to hang out with the kind of people who appreciate a portrait like that, that's bittersweet.
HtN: So, a lot of times, I wonder, watching a documentary, what kind of difficulties there perhaps were in convincing people to be on camera, but it sounds like you didn't really have that problem here.
JM: No…they agreed. I think their big question was, "Why are they here for six months?" (laughs) They'd had occasional little two-hour shoots, for TV, about their theater, so…(laughs)…why couldn't we just do it all in two hours? So, what I did was I translated my last film, Marwencol, into Italian, and showed it to them. And at that point they kind of got it: they're here to tell a story. And from then on, things went a little more smoothly.
HtN: I know your background is as an editor. You were there for six months. What was the ultimate shooting ratio? How many hours of footage did you ultimately capture and then have to whittle down to 90 minutes?
JM: I think it was about 300 hours.
HtN: That seems about par for the course, I would imagine, for a lot of documentaries.
JM: Yeah. The real bear of this was that there was so much vérité, and it's all in Italian, and our translator had to leave us after a few weeks. So we were kind of on our own. So, on both a shooting level and an editorial level, it was a huge challenge for me, just with the language and the subtlety and the details of it.
HtN: Because you didn't speak Italian, really, before moving to Tuscany.
JM: Not particularly well.
HtN: Well, that's impressive! I mean, that would really add to the labor of it all, I can imagine.
JM: Completely. I had no idea. I would hope that I would never – I mean, you see a story, and you can't help it – but gosh, I hope the next thing that I have to do is in English. (laughs) Because that was a huge level of difficulty.
HtN: So, you co-directed this film with your wife, Chris Shellen, with whom you've worked before, but I think this is her first time officially directing. She's been your producer before. What was that like, to co-direct a film with your actual life partner?
JM: On Marwencol, she was practically, by the end, my guest director. I mean, I shoot and direct and edit, mostly by myself. And I really needed someone on Marwencol to be my collaborator. So her credit, in my mind, always went beyond producer, and with this film, we had so enjoyed that process of working together that we wanted to make it official and explore the idea of collaborating. And then it was interesting that we found a subject where it was about collaboration. And it was both wonderful and challenging. We always held on this Chris Hegedus quote about when she and her husband D.A. Pennebaker worked together: on every shoot they get married, and in every edit session they get divorced. (laughs) That totally kept us sane, that she said that, because it felt that way for us. Especially with this film, so much of it, early on, was so tenuous, in terms of what we were doing, and whether it was going to work, so it was a real challenge. But also wonderful. And I'd like to think that we both became better collaborators by doing it.
HtN: Well, I'm glad that the film was such a wonderfully creative collaboration. And you can tell, and it is, indeed, a perfect metaphor for the subject, itself. So congrats on the film. I hope you have a great time in Bologna.
JM: Thanks, man! And thank you so much for your review. I loved your review, at Hammer to Nail. Really great.
HtN: Aw, thanks, Jeff!
JM: I really appreciate it.