A Conversation with David Shapiro (UNTITLED PIZZA MOVIE)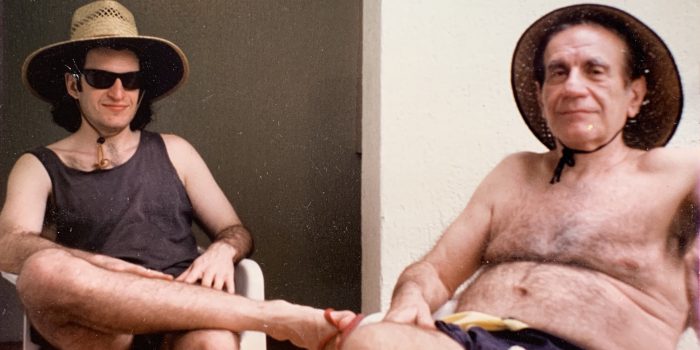 "I would try to turn memories into touchstones, a pizza movie into a madeleine": David Shapiro on Untitled Pizza Movie
Veteran doc-maker David Shapiro (Missing People, Keep the River on Your Right, Finishing Heaven) is an Independent Spirit Award winner whose work has been Emmy-nominated and Oscar-shortlisted. The born and bred New Yorker is also a visual artist, having exhibited at both the Brooklyn Museum and MoMA. Which is why a seven-part "pizzamentary" might seem an odd project for such an acclaimed filmmaker to pursue. Then again, Untitled Pizza Movie – the first three episodes of which debuted at last year's Sundance, and is virtually playing in full at NYC's Metrograph February 26 to March 14 – can perhaps more accurately be described as a stunningly crafted and heartbreakingly poignant love letter to a bygone city (and best friend), with pizza served up as red herring.
Shot over 30 years, across three continents, and with a whopping 4000 objects compiled for filming (those displayed with an asterisk further explained in the footnotes at the end of each episode), the docuseries utilizes, in a meta twist, Hi8 archival footage from Shapiro's own early 90s TV series Eat to Win. Eat to Win itself was less a television series that failed to ever air than an excuse for two best friends to hang out, eat free pizza, and document a pre-millennium NYC that would soon disappear as the analog days – along with their friendship – came to an irreversible close.
With Untitled Pizza Movie Shapiro not only revisits his younger self, but sets out on a search for the remnants of that best friend, Leeds Atkinson. And also Andrew Bellucci, onetime proprietor of the famed Lombardi's Pizzeria, who the Eat to Win duo (as well as the New York Times's Eric Asimov who likewise appears in the series) had heralded for his unrivaled pie artistry. What ultimately emerges is a time traveling, mind-bending trip that explores life and death, love and loss, the pain of regret and the hope for redemption. And of course, the Sisyphean quest for the perfect slice.
Hammer to Nail was fortunate enough to catch up with the unconventional filmmaker and pizza connoisseur just prior to the docuseries' virtual premiere.
Hammer to Nail: Considering how many elements (ingredients?) went into making this series, I'm very curious to hear how you actually shaped the work. Did the archival footage serve as your foundation? Did you focus on the three main characters as a bedrock?
David Shapiro: I began with a casserole, an assortment of wursts, slow-baked in a bed of sauerkraut and caraway seeds. When my old friend Leeds died in 2014 I started unpacking our decades-long friendship. It was odd, but I began thinking about that casserole, the first lunch we ate together, that his mother had prepared in 1973. But I had glazed fiction over fact. As it plays out in part one of Untitled Pizza Movie, that lunch had ugly origins.
On the first day of fourth grade a boy named Leeds had called me a "kike." After lunch Leeds and I became lifelong friends – that is, until we weren't. Forty years later, when Leeds died, I set out to make a film about how you remember somebody in a disposable world.
I really wanted to see that casserole again – on a sensory level. I wanted to relive that memory. In clinical fashion I set about recreating it. I bought wursts from the same German butcher Mrs. Atkinson frequented on the Upper East Side. (Schaller & Weber is still in business.) I sourced a vintage 1973 Pyrex dish on eBay as best as I could remember it. I baked it. When it came out of the oven I knew my first shot of the film.
Then there was the archival footage shot in the 1990's – a "pizzamentary" of sorts – which was featured in a hypothetical show called Eat to Win that never existed in the first place. I knew I would eventually return to these Hi8 tapes, to pan the footage for intentional and unintentional documents of a lost city and a lost friend. But I didn't want that to be the first leg of the stool; so let's call that the second.
The last leg, or third form I employed, was to pick a person from our past who we had met once in life. This was someone who lived in the same city, in the same world, at the same time in 1990's New York. I would find out what happened to him. That person was Andrew Bellucci, the pieman featured in Eat to Win.
I've been making biographies for thirty years. I'm bored of the Ken Burns effect. With UPM I wanted to make a different kind of documentary, one that was JPEG free. I would try to turn memories into touchstones, a pizza movie into a madeleine. And paint a triple portrait, tracing the lives of three men and three families across class and time.
HtN: The series is jam-packed with unconventional images of storage locker nostalgia, eBay memorabilia, placed on turntables and conveyor belts and framed with loving care. There's even footnotes at the end of each episode providing almost an anthropological context for many of these "sacred" objects. So in addition to being "a meditation on mortality and gentrification," were you trying to create a sort of documentary container for the physical, pre-digital world?
DS: I wanted UPM to be the mothership – the outer Russian stacking doll – where I could tell stories, house different types of documentaries, and employ different forms. A series of biographies, even footnotes – different ways of relaying information. If you look and listen closely there are a series of biographies, autobiographies and histories embedded in the work. Some take place across the seven parts; others in 45 seconds.
There is you could say a "pizzamentary." There is another documentary, perhaps, about changing technology, as relayed through the various ways image and sound were captured and assembled over the course of the work. There is a document of a lost New York, and a dying class in the throngs of gentrification. And there is a movie about how our notions of time and the means to stop it have radically changed in the last 25 years. To your point, that sense of analog time is long gone. It used to be, "I'll meet you on the corner of 14th and 3rd at six o'clock," and if you were on time you had to wait for your late friend. You checked your watch and the clocks on buildings. Now of course, with instant messaging and 5G bandwidth we're never off-duty.
My amazing producers, Brendan Doyle and Pete Sillen of C41 Media, challenged the completist in me. They noted how we had used every format but one. We had material on Mini DV's, Beta tapes, VHS tapes and contemporary memory cards – but not on actual film. So they bought a few roles of Super 16, Pete broke out his Bolex, and we ended up shooting the pizza footnote countdown on film.
It knew it would be hard to weave together the tapestry, but I wanted to make a generous work that could absorb all these forms and their means of making. UPM is a work in which drone shots of St Malo's ancient walls, and a cheap souvenir of the city, are equally woven into the storytelling.
I wanted objects to unlock the work and vice-versa. I hoped that by the time a viewer sees them again at the end of each part. – in the credits or qualified in the footnotes – they are like old friends, or at least recent memories. And that then one could remember them. Almost like a game of Concentration: "Look. it's that yellow phone. Where did I see that? Oh, now I remember."
(Footnote *: While getting the work ready for the Metrograph screenings I realized something about pizzerias of the last century – most of them had telephones.)
HtN: The sound design – and especially the use of music – is startlingly original. (Perhaps it's because I'm a former 90s NYC club kid, but the short discordant scene set to "Bela Lugosi's Dead" had me especially riveted.) How did you decide on the audio aspect of the series?
DS: I wanted Untitled Pizza Movie to sound like milk crates of records. It makes me happy that "Bela Lugosi's Dead" lives near the Islamic call to prayer, with bars of the two interweaving. That reflects not only the spirit of the work, but it is an essential element of the form. I tried to use sound design in UPM not just to hear a fun track, but more so, to help answer the foundational question I asked myself (and the viewer) in part two: How do you re-present all the books someone has read, all the films they've seen, all the music they've listened to?
I love music. Leeds loved music. We collected records and absorbed what was on them. We stole his brother's records. (Sorry, Peter.) For a young person that is a decision, a mark of self-possession. "Music is important to me and I'm going to educate myself." In other words, I'm going to listen. That's a powerful verb we all need to practice.
Leeds and I grew up in New York of the 1970s, which was a vibrant time and place to see and listen to new musical movements as they were being forged, from no wave to salsa. And then too, a little later, out of necessity and invention – in the age of "champagne wishes and caviar dreams" – joint compound bucket drummers began performing for pizza money. I wanted the soundtrack of UPM to absorb all of that – from punk to poems, from African drums to joint compound buckets.
A lifetime of listening is an education one carries. Like you, I was here in the '90s too. (I guess I really never left. Ha!) Anyway, that was another renaissance of rock 'n' roll, and the chronological backdrop for Eat to Win. Leeds formed great bands then – like The Ken Firpo Rent Explosion, named after a Brooklyn realtor. The sound design of UPM reflects that moment too – the last gasp of analog.
HtN: What was it like to place both your past and current selves in the series? Was it a self-conscious act? One of liberation?
DS: If I look at myself now, as a character then, the first thing that comes to mind is, "What the hell was I thinking?" The second is, "Now there's a guy with little promise." (Ha ha.) I mean, you know, the ponytail and the shirts with butterfly collars. I thought it was interesting to try and put different versions of the same person in the same work. That it would make for a compelling conversation about self-invention across time.
I am intrigued by the idea that over time we are named, or name ourselves, as different people. I went from "Dave" to "Dave the Wave" to "David." I played Dave in Eat to Win. So I was Dave then, and I'm David now, at least to people I don't know well. Robert De Niro goes by Bobby I hear – although I wouldn't call him that without first asking. Andrew was Andy then. Leeds was always Leeds.
As far as liberation, well, maybe in a middle-aged way. You don't give a shit. I don't give a shit, and I mean that in a good way. You're already pretty far down the road, and it's cool. I'm comfortable in my skin, owning mistakes, living with the good, bad and ugly. I dwell on the regrets and celebrate moments of joy and love, like any other. At a certain stage, when life passes you the bong, you can wave it off and say, "I'm good."
HtN: I was also quite surprised – and touched – by the male vulnerability that is presented throughout the series. So many men trying – and often failing – to connect. Was this a theme that you were consciously attempting to explore, or was it something that just occurred organically during the filmmaking process?
DS: These are all great questions, but you saved your best for last. Men are a mess. They always have been, and probably always will be. Mostly it's our fault, but of course other factors are involved – it's the old nature versus nurture debate. For a broad swath of half the human race, we are taught to never cry, communicate emotion, show fear – let alone vulnerability.
We're all heirs to expectations and strange family traits. Leeds and I had strong mothers and strange fathers. Surely my history colors my opinion, but I find women more generous and courageous overall. I grew up with strong women – my grandmother, my mother, my aunts, my sister. I happily married a "strong woman." She's lovely and brilliant and sweet – and formidable. I like that.
We have a daughter. I'm proud that she's self-possessed. Don't get me wrong, I loved my father and I love my son just as much. And I hope for my son to be better than me, as the old syntax goes, but I don't mean more money and status (though that would be fine). Sure I hope he's happy and has success, but also that he can live in a world where he can be strong and vulnerable, and that that's measured as the mark of a good man.
I found Bellucci to be refreshingly honest – and his performance in UPM refreshingly honest. He was not afraid to talk about his demons, or boast of his charms. As a social actor he showed his vulnerability with remarkable transparency – talking about eating disorders, darkest days, homesickness and broken dreams. And he owned the free spins of his moral compass. He aired his self-doubt, his talent and lack thereof, his limitations and his boundless possibilities. I think he also revealed fortitude and perseverance in moments of kindness and vulnerability. Bellucci is arrogant and insecure in equal measure – like all men.
Leeds and I were friends long enough to share decades of experience, and to develop a semaphore, like family. We connected though books, humor, music, movies, and of course, exploring and sharing a great city – our city. But that's all gone. Our friendship. Leeds. That city. In that absence and loss, though, I believe his brothers and I have connected though the memory of Leeds. And that's nice.
– Lauren Wissot