A Conversation With Ricardo Martensen and Felipe Tomazelli (CINE SÃO PAOLO)
I met with Brazilian documentary filmmakers Ricardo Martensen and Felipe Tomazelli, on Saturday, June 17, 2017, after the international premiere, at AFI DOCS 2017, of their feature debut, Cine São Paolo (which I also reviewed). The film profiles the attempts by a dedicated septuagenarian to restore and re-open the movie theater that first his father, then he, ran for many years. Located a few hundred kilometers outside the bustling metropolis of São Paolo, the provincial town of Dois Corrégos, where the movie takes place, is hardly a hotbed of cinematic culture. Yet Chico, our protagonist, soldiers on. Cine São Paolo becomes, as a result, a loving testament to the power of obsession and the magic of the movies. Here is a condensed digest of our conversation, with the directors' (otherwise fine) English occasionally tweaked for idiomatic smoothness, which I recorded immediately after watching the film (I usually have more time – days, sometimes – to devise questions).
Hammer to Nail: So, what first drew you to your subject?
Ricardo Martensen: I met Dom Chico, and saw his Cine São Paolo, in the small town of Dois Corrégos, in 2011. I was working on a project where every single day I was in a different town, making a short movie about culture. I would arrive in the place in the morning and ask people, "What do you do for culture here?" I would start to develop this subject wherever I was, and see where it would lead. Depending on the town, I would have completely different films. And once I got to Dois Corrégos, the first time, everybody said, "If you want to talk about culture in this town, you must go to Cine São Paolo. That's the place." And then I met Dom Chico. We say "Seu Chico" in the film, but we translated as Dom, which is like the Spanish Don, and easier for English speakers.
HtN: And "Seu" is like the Spanish "Señor."
RM: Yes, it means "Señor." Exactly. But it wouldn't make sense if you don't speak Portuguese, so we translate it as "Dom."
HtN: In the subtitles.
RM: In the subtitles, yes.
HtN: But everyone in the film is saying "Seu Chico."
RM: Yes, Seu Chico. Which is "Señor Chico."
HtN: Understood.
RM: And so I met this fantastic character, in this fantastic venue, and that was really fascinating, but at that time, the movie theater was in use as a cultural center in the town, and everything there was OK, although it had some problems. It had been somewhat abandoned, but it was working. And then, in 2015, we were both discussing new possibilities for a documentary – new subjects, new ideas – and we decided to call him. And once we called him, he just told us, "Oh, it's good you are calling me, because the movie theater has been shut down. I have managed to get some money, and next week, I am going to start refurbishing." So we then decided to follow that process, and see what would happen. That's how it started.
Felipe Tomazelli: Ever since Ricardo had first met Dom Chico, we had been trying to imagine a way to tell his story, but had never been able to find a narrative that could work, and we called him, we realized that now we had a plot.
HtN: Now you had the dramatic arc.
RM: Exactly! We had a character and a place, but we hadn't had a plot.
HtN: And even better, you didn't know how it was going to end.
 RM/FT: Yes! Exactly!
HtN: It was perfect.
 RM: Perfect for documentary!
FT: So, it was a journey for him, and for us, as well. Because during the time that we were shooting, we really didn't know what was going to happen next. So it was very interesting.
HtN: And where is Dois Corrégos? In what part of Brazil?
 RM: São Paolo city, where we live, is the capital of São Paolo state. And it's in São Paolo state, which is in the southeast of the country. Not deep south, but southeast. And it's a small town in the countryside of the state of São Paolo.
HtN: And what its approximate population?
FT: 25,000 people.
HtN: Got it. So, this is not your first time working together, but it is your first feature, correct?
RM/FT: Yes.
HtN: How did you two meet, and how did you start working together?
FT: We are college friends. We studied journalism together. And at that time, in Brazil, most of our colleagues in journalism school were not that involved in the documentary scene. But we were. So we became close, because we were almost the only people who liked to do video reporting. So our friendship grew out of this mutual interest in documentaries.
HtN: So, Felipe, you do sound – at least on this film – and Ricardo, you're on camera. Has that always been the nature of your partnership?
RM: We did some shorts where we had a DP [Director of Photography] and a sound recordist, and we were both producing and directing, but with a crew. What happened here were two things. One, it was a completely independent film, self-financed, and we almost bankrupted ourselves during the film [Felipe laughs], and it took us 8 months, and it's an almost 300-kilometer journey, so to get there and to get back would cost us a lot, to have a crew. We didn't have this money. So those are the economic reasons. And also, we did two days of shooting with a DP and a sound man, but things didn't happen – we felt it was a bit cold – and we realized that it would be better with only the two of us. We went down there, with just the camera – but we didn't use it – to get more comfortable with him and stuff like that, and we felt like we could have deeper conversations with our character with only the two of us. So, we got more intimacy, and also, we could afford it.
FT: And the thing is, when you're trying to follow a refurbishing going on, a lot of the time you don't have anything to do. You have to wait. And this allowed us, sometimes, to get closer to Dom Chico's mood, with the more intimate setting.
HtN: So it was a two-person film crew. Ricardo, since you're the DP, tell me, please, what you shot on.
 RM: It's a Canon 5D Mark III.
HtN: Wow! Well, I love all those close-up inserts of the film projector's machinery. That was all you?
RM: Yeah.
HtN: It was beautiful. I appreciate that kind of coverage and those details of what we're seeing in that world. The intensity of those close-ups was quite nice. Did you have an additional lighting package, or were you just working with what was there?
RM: No, although we had some small light panels for two or three moments for when he was saying some stuff, sitting down in darker areas. Because the projection booth, before the refurbishing – after which it got whiter, and less nice – was the perfect location. You had some lights, hidden in different places, giving some back lights. So we used the original settings as our lighting design. It was really nice.
HtN: And you, Felipe, were just recording sound using a little Tascam DR-40 like the one I am using now?
FT: Yes.
HtN: It's a nice, trusty thing! And while we're talking about your shot choices, you show no exterior shots of the theater, but you are obsessed with looking out through the theater's entrance doorway. That's a constant, recurring visual motif. Explain, please.
 FT: We realized that the movie had to stay inside the cinema. And we realized that it could be a place where Dom Chico feels free but also imprisoned, as well. As we realized that he was kind of alone in this project, we tried to manage and build the space to reflect that, and just shot inside the cinema, to make this prison and portray his solitude.
RM: Yeah, we tried to develop this concept of the movie theater, for our main character, being at the same a prison and a window to the exterior world. It's through the memories of the movies … the only we way get out is when we watch those movie clips, and then you go to Rome, to wherever you can. That's the magic of cinema, as well. The only way he leaves this trap is when he goes to watch Ben-Hur, or in the middle of a dessert in a Hitchcock film, or whatever. So that's the idea. He's trapped, and can never leave.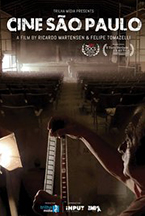 HtN: It's a good metaphor! That makes sense to me. So, speaking of those movies, while we don't have that many clips, we do have some. Did you have any trouble getting the rights to include them in your film?
FT: That's an issue, to this day. As we have a pretty self-financed movie – we spent, I think, about $15,000 to make it – we reached out to all the rights holders for these other movies, and we are trying to negotiate with those persons now. During the festival career of the movie, right now, we are trying to reach those people to see if we cannot, going forward, use those clips in a commercial way. But if we cannot work it out, we will have to do another cut of the film, for sales.
HtN: Well, all the while recognizing that there are rights issues for good reason – we have to protect copyright – I cannot imagine people would object to how use that footage. It only enhances those movies. You're not doing anything that detracts from the property, which would be the legal argument, right? If anything, you make people want to go watch those movies. I want to go watch Ben-Hur again, now!
 FT: We are paying tribute to the history of cinema.
RM: The problem is that we don't have access. One of the reasons for us coming here is to try to find someone who could help us with this. Because we have sent emails from Brazil, saying, "We are these independent filmmakers, and blah, blah, blah." We even sent links, with the scenes, and we can see that they didn't even watch them. It's just someone in an office, who doesn't know what this film is about, who just says, "OK. $12,000 a minute." [he and Felipe both laugh]
FT: So, we are trying to get close to people who may help us with connections to the rights owners, or who can fund us to pay this bill. [laughs]
HtN: I wish I had asked this question in the Q&A just now, because there might have been some entertainment attorneys in the audience. Where are you going next, with the film? Are you heading out to L.A. at all? Because there, you will surely find entertainment attorneys.
RM: Yeah, we still don't know what is next in the U.S. There are still some requests from festivals, but we don't yet know what kind of American career it will have. We are studying. We are next getting ready for a European premiere, and we premiered in Brazil, already, but all the commercial stuff is on standby, because of the…
FT:…legal rights.
HtN: Understood. I wish you luck with that. So at one point in the film, Dom Chico gets angry with you during the fire inspection for the renovated theater, because he thinks you affected the mood of the inspector through your presence, with camera. Do you think you affected the inspection?
 FT: No! We really didn't, I think. As the work on the theater was getting close to being finished, Dom Chico was getting tired, and everyone became a possible enemy … [laughs] … a possible target. So, he was very…how do say it?
HtN: He was cranky!
FT: Yeah! He was cranky! He felt alone. And, since he had warned us, before the inspection, about his concerns, he then connected the dots and took it out on us afterwards. But we don't think we changed the outcome.
RM: But it's one of the points of the film, to raise this question and not answer it. Did we interfere, or not? I'm not completely sure, to be honest. Because we know people behave differently in front of the camera. So, I think we didn't, but I'm not sure.
HtN: And even if you did, maybe you saved lives. Because now the theater is safer! [laughs, along with Ricardo and Felipe] So look at it that way!
 FT: The point that we were hoping to make in the movie is that this renovation would be totally different without the camera. There is a reality, on camera, and another reality, off camera. That's why we kept this moment in the final cut.
RM: And that was why we decided to put ourselves – or our filmmaking process – in the film, for that reason. Because it shows how making a documentary is a process and a journey with someone. We are exchanging experiences. But at the end of the day, he's got one goal, and we have another one, as Dom Chico says: "We're doing this together, but if you don't respect my goals, then we are not working together." So it's a very … [consults in Portuguese with Felipe] … meta moment.
FT: [laughs] Yes, meta.
HtN: Well, gentlemen, thank you very much. I really enjoyed the film. Glad I got to chat with you. Congrats, and I wish you luck with those movie rights.
RM/FT: Thanks!
– Christopher Llewellyn Reed (@ChrisReedFilm)