A Conversation with Annie Silverstein (BULL)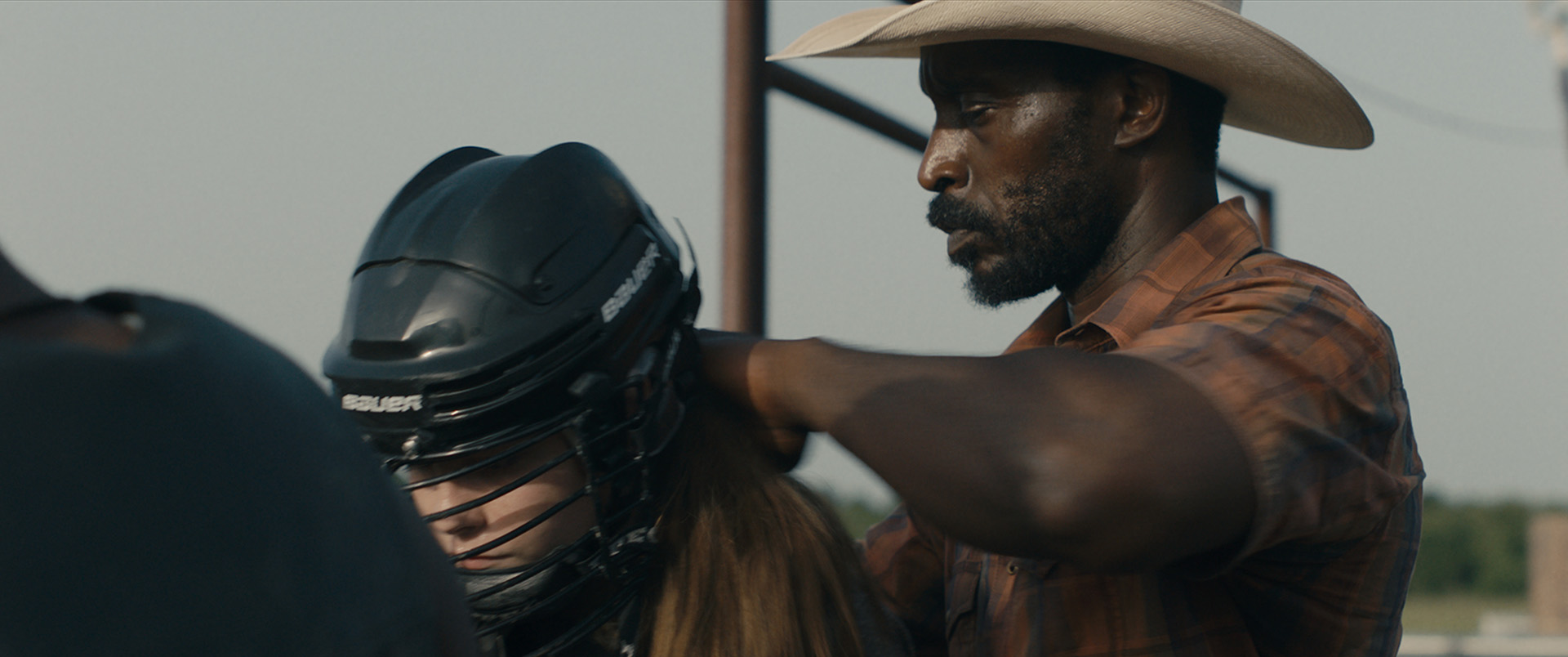 I recently spoke with director Annie Silverstein by phone about her debut feature, Bull (which I also reviewed), which premiered at the 2019 Cannes Film Festival and was set to also play at SXSW 2020, where I had hoped to meet Silverstein in person. We know how that turned out, given that the COVID-19 pandemic forced the cancellation of the festival. This lovely, gentle film tells the story of a slowly developing friendship (of sorts) between young teenage girl Kris (Amber Havard) and aging bull rider Abe (Rob Morgan, The Last Black Man in San Francisco), which begins after she breaks into his house and trashes it. Instead of pressing charges, he takes pity on her (mom is in prison and grandma is overwhelmed), offering her a chance to clean up and help out. Soon, she takes a genuine interest in his profession, which he may soon have to leave because of a lifetime of injuries. Could she become his protégé and take up the reins of the future? Maybe. Here is a condensed digest of our conversation, edited for length and clarity.
Hammer to Nail: So, I really liked the film. Where did the idea come from? Did you or your co-writer, Johnny McAllister, have a background in rodeo or in bull riding?
Annie Silverstein: Thank you. The background was that I was a youth worker and social worker before going to grad school for film. And so the personal experience was that I worked with teenagers, during that time, from rural and underrepresented communities, and poverty was a big issue and several had parents that were incarcerated. So I was definitely interested in exploring this character of Kris whose mom is locked up, who is struggling with her absence. I was already interested in that story, but when I moved to Texas, a state where there's more women locked up than any other state, and where four out of five women in state prison are mothers, I knew I wanted to develop a storyline about a character in those circumstances.
And so, initially, I was just trying to expand my short film, Skunk, into a feature, which is from the perspective of this 14-year-old white girl. And when I was location scouting for Skunk, I met a man who comes from a well-known black rodeo family, and he shared his family history with my creative producer, Monique Walton, and me. But we were in a rush because we were trying to lock a location for the shoot that we were in production for. So he shared this amazing background with us, and I really didn't know the history of black cowboys, so often left out of cinema depictions of the West and just history classes. And so, I didn't know much, but we were in a rush to finish this other film.
So it wasn't until I sat down to start writing this story that this man came back into my head, and I thought, "God, what a fascinating part of American history that I know so little about it. Now you're in Texas and here's an opportunity to explore this." And so I wrote the story and then partnered up with my writing partner and husband, Johnny McAllister, to really flesh it out. So we spent the next several years researching backyard rodeos, interviewing bullfighters, and this story of intersection between these two characters started to emerge. It was really from an unconscious place, I'd say, originally. I sat down to write another film, and this is the story that came out, instead. So it was much more a matter of looking back once the story was finished and kind of seeing where it came from.
HtN: You mentioned your short film Skunk, so this is not your first time working with animals, because that film's about a pit bull being kidnapped … or dognapped, rather.
AS: I know. (laughs) Literally. I'd have to make "Noah's Ark" next if I stay on this trajectory.
HtN: (laughs) Well, I wish you luck with that. What were the challenges? I mean, dogs are one thing, right? Dogs can be trained and so can, obviously, other kinds of animals. But what were the challenges of working in this film with these bulls? I'm really curious how you filmed some of the scenes. I assume a lot of it was done documentary style, where you were in that environment and just filmed what was happening, but you also placed your actors in direct contact with these large animals. So what were some of the challenges you faced, from a production standpoint, in regard to the animals?
AS: We never put Rob Morgan in the sand, never put Rob with an actual bull. We had stunt doubles. But you're exactly right, we did use a documentary kind of approach to filming every rodeo scene. And so it took us a while to figure it out, at first. We spent time during pre-production really trying to figure out how to accomplish the scenes and making it realistic. And what we came to is that we would always have three cameras running on rodeo days, so there'd be three cameras on every ride.
We had a couple of the bull riders, who actually had been our advisors through the year developing the script, as our stunt doubles. Most of the rodeos we shot at were just live rodeos who agreed to let us shoot during their rodeos. And so we would shoot the rodeo, shoot with our stunt double, and then as soon as the bull went into the catch pen and the other rider was preparing to get on the next bull, Rob would run on and we would have sometimes 10 seconds, sometimes a minute to try to capture footage of Rob and make it look like he had been the one on the bull and capture him in the in-between-ride interactions that happen before our stunt coordinator and cowboy who was helping us that day would yell, "Okay, get off the dirt." And then everyone would run off the dirt and then the next bull would come out. That's how we did it.
So, we had no control over what would happen with the bull rides and had to be very flexible. I had to be very flexible as a director. We had to be flexible as writers as far as what we imagined and then what was actually happening and be able to pivot and use whatever happened in the narrative.
HtN: Right. And I should point out, of course, that this film also does have a pit bull. So you didn't completely leave behind the pit bull. (laughs) And when I was watching the film, at first, not knowing where you were going, I was worried that something would happen to that pit bull. But, "plot spoiler," he's not the focus. (laughs) Anyway, speaking of Rob Morgan and your cast, let's start with the young actress Amber Havard, who plays Kris, the female protagonist. How did you cast your film?
AS: Sure. We worked with casting director Vicky Boone, who's based in Austin, and Chantel Johnson, and they had a tremendous team. We looked at over a thousand girls before giving the role to Amber. Vicky actually scouted Amber in a nearby middle school. She had been asking to have interviews with some of the different 14-year-olds she saw. And the funny story about Amber is that when Vicky started to make a video of her, she was just using her iPhone and asking questions like, "What do you like to do with your spare time? Who do you live with? Who's your best friend?"… that kind of thing. Once she went to record Amber something happened and the iPhone didn't record, and then she pressed record when the interview was over. So actually, all I saw of Amber was Vicky doing the wrap-up. (laughs)
So, you just see Amber listening to Vicky say, "Thanks a lot for your time. If the director is interested in talking to you again, she'll get in touch with you." It was just like six or seven seconds. But in that time, what I saw of this kid was the way she listened and her eyes, and her eyes were darting all about. She was such an incredibly active listener. There was so much going on in her head, and I just wanted access to it, and that really resonated with the character for me. And I said, "I'd love to see this girl again and I'd love to hear what it sounds like when she talks."
And that actually turned out to be who we cast. I think so much of great acting is in how actors listen to each other, and it was her presence and the presence she brings to the film, which was so clear in just those first six seconds that I saw her. So, kind of an amazing story, I think, in the sense that it turned out to be her. And then it was three months or so of working together before I offered her the role, because she'd never acted before and I wanted to make sure that she knew what she was getting herself into. So it wasn't just like, "Hey, do you want to be in a movie?" But she really understood how much work it is and how exhausting it can be. And there's mature content in this film, so I just wanted to make sure that she felt comfortable with it.
And so, we worked together for several months. We'd meet at the skate park where she hangs out with her friends and sometimes, we'd just talk about our lives and sometimes we would do little skits where we would just practice doing a skit about a scenario. And then I'd say, "Okay, now we're going to look for a different kind of performance. This is what I'm looking for now." Just teaching the bare bones of what it would be like on set. And that's how we developed our language to work together.
Then, Rob Morgan, we knew from the beginning we wanted to offer him the role. We wanted it to be played by a seasoned actor but also somebody who had a lot of rawness and authenticity about them. And that was Rob, and we felt that he could bring this character to life in such a realistic way and one that would feel very seamless among all the non-actors he was going to be working with who are from the actual world.
HtN: I think he's a wonderful choice. I've liked him in everything he's done; he has a long history of delivering fine performances. I did really like Amber Havard, as well. In particular, she has face without much expression, at first. Part of that is by design, because she's a very young, unformed person, but she obviously changes and grows and develops as the film goes on. But I thought she was a wonderful choice because she seems like such a blank slate in the beginning.
AS: I think of it as like she's containing so much in the beginning. I guess I think of it a little differently. And then, as the story goes on, she's within herself and she has this connection. It's almost like she's able to show her emotions more.
HtN: Well, she certainly has a lot to keep her contained, given what we see has happened to her. I also really like how your film handles issues of race without really talking about them overtly. I mean, you have this whole family and extended network of, as you've said, black cowboys. And then Amber is obviously white, as are her friends, but they blend together in a way as the film goes on. Or not so much blend, but they get along while remaining separate in a way that I don't think we often see in film, and sort of the ease of the back and forth. And they're all from the same social class, so why wouldn't they? I liked the way your film handled that.
AS: Thank you.
HtN: How much did your actors, even though you were keeping Rob away from the bulls, actually have to study the art of rodeo riding in order to get into their characters?
AS: Well, both spent a lot of time ahead of production on research trips with us. Rob Morgan took two trips here to Texas where he was coached by Ezekiel Mitchell and Wayne Rogers. Wayne Rogers ended up playing his stunt double in the film. They chased him around with a wheelbarrow on several occasions to teach him just how to move, so that when he was running in circles on the dirt in between bull rides, it would cut with the footage of the stunt double that we would later capture. And they also just spent a lot of time sharing stories. So, he did a lot of observing rodeos before playing the character, and spent a lot of time with these bullfighters who really are advisors on the project.
And both Amber and I had the chance to actually get on a bull when it was in the pen, in the chute, to feel comfortable with that. We even had Amber get on a horse at some point, just because she had never been on a horse before and it was all kind of part of getting to know the community and the people she'd be working with and making sure she felt comfortable. So yeah, they both spent a lot of time in the community before our shoot started.
HtN: Where did the idea of the white cow at the end come from? It's an interesting visual where the white cow kneels in Abe's backyard. Is it real? Is it a vision of sorts? How did you intend that to be taken?
AS: For me, well, one of those things is when you put something like that in a film, you're very curious how other people interpret it more than your own inspiration, you know?
HtN: Right.
AS: For me, it was a letting go for him. It's a vision. It's a dream.
HtN: Understood. Well, I really enjoyed the film, and wish you all good things with it.
AS: Thank you so much.
– Christopher Llewellyn Reed (@ChrisReedFilm)