A Roundtable Discussion With Errol Morris (TABLOID)
In 1977, a former Miss Wyoming named Joyce McKinney traveled to London in search of the love of her life. The object of her affection was Kirk Anderson, a young Mormon performing his missionary service abroad. What happened once she found him is still in dispute. McKinney claims that Kirk agreed to be "rescued" by her; the reunited couple fled to a cottage in Devon, but the Mormon Church's conditioning proved to be too strong, and Anderson was spirited away from Joyce forever. Court documents give an alternate version: McKinney kidnapped Anderson and forced him to have sex, until he was able to make his getaway and press charges. Once word of this bizarre incident reached the news, McKinney became a tabloid sensation. From there, McKinney's life story only gets weirder: intercontinental escapes, multiple disguises, alleged prostitution, and a several-years-later chapter involving a cloning laboratory in South Korea. The tale cried out for a fuller documentary treatment that would untangle its multiple threads and sort out the facts. What it got instead was Errol Morris, whose "anti-documentary" (his term) films often begin as factual investigations but end as inquiries into the greater mysteries of motive and behavior.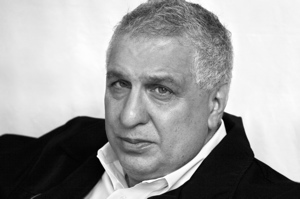 Morris began his career with Gates of Heaven (1978), a deadpan depiction of a California pet cemetery, of which Roger Ebert wrote, "I have seen this film perhaps 30 times, and am still not anywhere near the bottom of it." The director's mainstream breakthrough came with his true-crime masterpiece The Thin Blue Line (1988); that movie's findings helped win the release from prison of Randall Dale Adams, a Texan wrongly convicted of killing a police officer. (It also led to innumerable lesser docs that aped its stylistic innovations.) Other career highlights include Fast, Cheap & Out of Control (1997)—an unclassifiable work even by Morris's standards, a group portrait of four seemingly unrelated obsessives—and the Academy Award-winning The Fog of War (2003), his feature-length interview with Robert McNamara. Fog was faulted by some for letting McNamara duck the tough questions about his responsibility for the Vietnam War, but it's probably better understood as a continuation of Morris's decades-long examination of the self-justifications that give order and meaning to our lives.
Tabloid is classic Morris: hypnotically entertaining on first viewing, increasingly mysterious and thought-provoking upon further analysis. A present-day interview with Joyce McKinney takes up most of the running time, but Morris layers the film with archival material and testimonies from supporting characters—notably, two journalists from warring British tabloids—that sometimes question or flatly contradict McKinney's version of events. What actually went on in the Devon "love cottage"? What were and are Kirk Anderson's real feelings about Joyce? Is there any truth to the tabloid reports that Joyce sold her body for money? Morris doesn't claim to have all the answers, as he explained during a roundtable interview with a group of journalists in a SoHo hotel earlier this week: "There are aspects of this story that I believe I can know about, and then there are certain aspects of it that are elusive… When you have one event that's been described by three or four different people, yes, they tell different stories about it, but those differences help you to get a picture of what really happened. Far from preventing you from seeing what happened, they provide a guide into some underlying reality."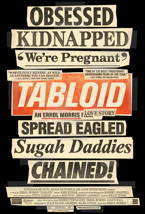 The challenge Morris faced in putting Tabloid together was that the few sources available to him for McKinney's story—McKinney herself very much included—were even more unreliable than the average flawed human animal. "You can't really trust either Kent Gavin or Peter Tory [the reporters working for the competing tabloids], I'm sorry. I mean they sort of tell you, in a way, they can't be trusted. Peter Tory says [in the film], 'I think it was ropes, but chains sounds better.' That's a way of, as far as I can see, telling me, I made this story up in order to sell newspapers." When asked about the recent phone-hacking scandal that led to the closing of Rupert Murdoch's News of the World, Morris responded with some thoughts on the evolution of tabloid journalism in our time: "Is it about tabloids per se, or is it about a certain kind of criminal, unscrupulous journalism that has really given up any kind of journalistic concern altogether? It's no longer about proof, it's no longer about the relationship between the story and reality. It's just about scandal-mongering, falsification of evidence, manipulation of the media and people who are influenced by the media, namely all of us. There are elements of that, to be sure, in the movie that I've made and in the story of Joyce McKinney, but it seems to have been taken to another level—a criminal level. There's a kind of good cheer, I don't know how better to describe it, to the journalists in Tabloid… Maybe I'm deluding myself, but the current story seems to be much worse."
Information overload contributes to the blurring of the boundary between perception and reality: "There's a kind of hall of mirrors where news just gets bounced back and forth between various sources; you no longer know where it comes from anymore. I often have a very limited idea of where the stuff that I've read has come from. I tweet occasionally, and I tweeted a couple of weeks ago that Randall Adams, who's the central figure in my film The Thin Blue Line, had died. And then I get all these calls from journalists who think that they're telling me he died, not knowing that they know that he died because I tweeted it! [laughs] Who knows where they read it? My joke is that when natural selection created our brain, there was a time I suppose when you could say to yourself, Well, I heard that story from Caveman X, or Cavewoman Y. Now there are a zillion different places where stories come from. Is there a compartment in your brain that tells you it came from Fox News, or from the National Enquirer or the New York Times or the Times Literary Supplement? You forget, especially when you're reading stuff on the Web, where you actually read it, what site you saw this, what site you saw that. It becomes this huge undifferentiated blob of information."
Throughout the film, Morris imitates the flashy, attention-grabbing style of scandal-sheet journalism (punchy graphics, speedy editing, sexual titillation), but with a crucial difference. Real tabloids don't just feed our appetite for gossip and our capacity for knee-jerk moral indignation; they also purport to give us a single, easily digestible version of any given situation, a narrative with no loose ends or rough edges. Tabloid leaves us no such firm ground on which to stand: "Most documentaries try to hide their traces, their tracks. I like preserving uncertainty, confusion—it's about a story, but it's also about how stories are told, it's also about what we don't or perhaps can't know about the story." Watching the film, we are perhaps brought no closer to the events as they actually happened, but we are brought closer to an understanding of how people attempt to make sense of what happened, and this provides its own kind of illumination.
McKinney herself has criticized Tabloid for spreading lies about her, although Morris notes that only last weekend she happily took part in a joint post-screening Q&A with him in Los Angeles. "She's responded to the film in so many odd and different ways. She's threatened lawsuits, and then she's nice, and then she's threatened lawsuits again." During the Q&A, according to Morris, McKinney said she wished the tabloid journalists didn't appear in the movie. "But I explained, 'Joyce, the tabloid journalists are not treated as oracles or purveyors of truth, they're suspect.' You couldn't leave them out of the story, that's the story!… She said that people were laughing at the movie, and I said, 'Joyce, you're one of the funniest people I've ever met. You are incredibly funny. When you say things like, "A woman can't rape a man, that'd be like trying to put a marshmallow in a parking meter"—you really think that's not funny?' And she laughed and said, 'Well, I'm just a Southern girl, and we have odd ways of talking.'"
Tabloid is book-ended with footage from the 1980s of McKinney reading passages from her never-completed memoir—passages that present her story as a great romantic quest, albeit one that doesn't end in romantic communion or fulfillment. And for all his movie's mocking irony, Morris is at least in part inclined to share this view: "Joyce is a great romantic. It's a great romance. A doomed romance, but a romance. Some of the best romances are doomed—it seems to be one of the ingredients." A sad tale, then, despite the humor and the hi-jinks? "Incredibly sad, I would say even tragic. And one of the sad things for me is that she seems to predict all of it in advance! There she is reading her fairy tale at age 30-something, and it all comes true. She ends up isolated, alone—what a story! What an amazing little fable."
— Nelson Kim