A Conversation With Jarred Alterman (CONVENTO)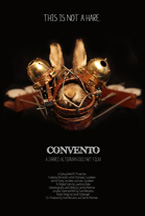 In my Pick of the Week review at the Filmmaker blog for Jarred Alterman's Convento—in conjunction with its screening at Rooftop Films last summer—I had this to say about it:
Jarred Alterman's Convento is a multi-fold achievement. It's an inspiring tribute to a well-adjusted family, it's a reverent document of a very special place, and it's perhaps most distinguishable as a stunning showcase for Christiaan Zwanikken's artwork. As described in the film's press notes, Christiaan is a "kinetic artist who reanimates skeletal parts and deceased wildlife with servomotors and robotics." These creatures would be awesome (and by 'awesome' I mean the original definition of that term) in any environment, yet here, they become something altogether more indelible. They're like wandering, leftover figures from some extinct futuristic planet. That said, it isn't just the artwork itself that brings Convento to such rich life. In the way that Christiaan thrillingly fuses the natural world with mechanics in his work, director/cinematographer/editor Alterman delivers a similarly perfect marriage of form and content.
Convento is indeed a generous, gorgeous achievement. And now, thanks to Alterman's distributor Factory 25, the film is getting a one-week theatrical run at the reRun Gastropub in NYC starting on Friday, March 9, 2012. Typically, a legitimate theatrical release like this results in the special perk of said film receiving a New York Times review, yet in this case, the 54-minute run time of Alterman's film has apparently posed a problem for the powers-that-be at the Times. While at the True/False Film Festival in Columbia, Missouri, I sat down with Alterman to discuss the genesis of his film and try to wrap our brains around why the Times would exclude one of 2012's most striking theatrical releases from even being part of the discussion.
Hammer to Nail: Even removing the recent unfortunate news from the equation, which we will get to in a bit, I do think your film's potentially awkward run time of 54 minutes is worth discussing for a variety of reasons. First and foremost, it makes me wonder about your initial vision for the project itself, since the final run time implies that you weren't beholden to outside forces in making the film you wanted to make.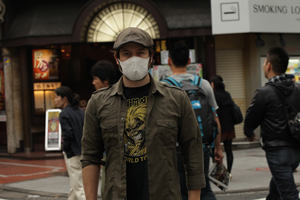 Jarred Alterman: At any point during the edit it could have been any movie. I always tell people during Q&As, it could have been that other movie with the talking heads. I'm very transparent during Q&As. I experimented with that cut, and it was longer, it had more structure to it, and it answered all those questions that one person at every Q&A asks: "When did they get there?" "How do they make money?" That's a totally different movie. And when I look back at my early cut, the cut that I felt was spoon-feeding all this information, I was like, "Congratulations, Jarred, you just cut the most boring f**king movie ever." [H2N laughs] "Congratulations, you just wasted three months of your life because you were thinking about HBO and PBS and all these people." And this was my film, this was my money, and I know these people. And I kept thinking, I don't wanna disappoint them. I don't wanna disappoint myself by creating this thing to fit into a nice cozy genre. And I literally started over. I began to make the film that I wanted to make.
H2N: What's so great about it is that it feels like it was informed more by the location and the family and not filmmaking boundaries in a more generic sense.

JA: I had one goal in making this film: to transport you there. I wanted you to feel, as an audience, what my camera was feeling, floating down, observing, watching routines, watching the art and choreography of routines. Basically, that was it. All that other stuff, the exposition—"who is Geraldine?" or "did Christian go to art school?" or "how do they make money?"—I wasn't interested in that stuff. That wasn't the primary focus. So, the 54-minute cut reinforced that style. When I was cutting it, I was first thinking that it was leaning towards a television cut. But I wasn't thinking, "I'm going to make a 52-minute cut." It just wound up being like that. I just wanted to create the perfect movie, which for me was 53/54 minutes. That was it.
H2N: It sounds like you're having these discussions with yourself, but was this reinforced any step of the way with test screenings?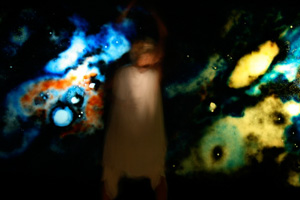 JA: Originally, this is how the film started: "I'm gonna make a art documentary. I'm gonna transport people there. It's gonna be visual, it's gonna be poetic." About six weeks into the edit, I had a f**kin' panic attack and I was like, I'm gonna lose everyone. I'm gonna lose the audience, we spent all this money… let me start over and create that nice, longer 70-minute cut, whatever that is. So I started taking all these sit-down interviews that I did, that were just really throwaway when I was shooting, I was thinking voice-over, and I showed it to my co-producer [Evan Meszaros] and was like, "What do you think?" I didn't hear from him for a few days, and then I got this really long email, and I needed this email. It was like, "Look, you made something, but this is not the movie we set out to make. I will respect whatever you want to do, if this is how you wanna take this, but I want you to think about why you're making this film." All we talked about during all this was, if there's one or two people in the audience that get it, that feel transported, then we did our job. That's all I wanted to do. We're not thinking about everyone in the audience. We're not gonna please everybody. So, it was f**kin' hard to get that email, 'cause I'd worked a long time on that cut.
H2N: How long did that sting last before you could swallow your pride and readjust and realize that what he was saying was right?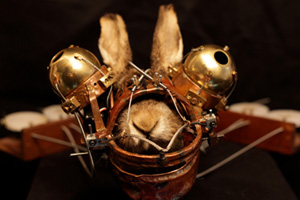 JA: Yeah, well, first I ignored him for about a week. [both laugh] And I was like, "You're a f**kin' asshole, man. You don't get me. You're wrong. This is my film and you should be supporting me." It took a few weeks for me to be like, "You're absolutely right." And I have to tell ya, do you know how liberating that is? To look at an edit and there's your timeline and you can see, there it is, poem-poem-poem, and then, like, information. I just took all that information, and raised it up on the top layer of video and got f**kin' rid of it, and condensed all the poetic stuff together and I was like, "Jesus, this is it!" This was exactly what it was supposed to be, this cine-poem or whatever you want to call it. Actually, that process made it even better. I started stretching some scenes out. There's an opening scene with these two goat skulls banging heads. Everyone I showed it to said, "Alright, well, I know you love the piece but it should be 30 seconds." I made it a minute-and-a-half, because there's a story to his artwork. It's not about the two things banging heads. It becomes a sort of Punch and Judy show. They introduce themselves, they bang heads, they look at the camera… I wanted to respect the art. So I wound up being counter-intuitive with a lot of the scenes.
H2N: Okay, so you have a great festival run, where you're considered a feature. And now you have this upcoming one-week run at the reRun thanks to Aaron Hillis, who has taken the place of what Ray Privett was doing with the Pioneer Theater a few years back, which is enabling smaller films to get a NYTimes review, since the Times mandates that as long as a film gets a one-week release in New York City, they will review it. Only in this case, they said no because… why exactly???
JA: Even taking a step back, when I sent it to Janet Pierson at SXSW I got an email that said, "I love this movie, and the length may be challenging, but I want to put this in a feature-length category. I want to put this in a competition category, because I believe in it, and even though we would love this to be 70 minutes, I'm gonna take a risk."
H2N: But isn't over 40 or 50 minutes considered a feature?
JA: There used to be a mid-length doc category, which seems to be now phased out. IDFA used to have it. Up until 2010, they had a mid-length category: 45-60. Over 60? Feature. Under 40? Short. I submitted and they said they were done with the mid-length category. So now, basically, features have been bumped up to 50 minutes or more, I think.
H2N: I'm personally so pissed off about this because I do think so many movies are cut to abide by that artificial concept of "90 minutes means it's a *real feature film*," at the expense of making the movie that should have actually been made, which is a much shorter one. It's gotten to the point where I'm suspect when I see a run time of 90 minutes. It's like, really? The exact movie that you wanted to make just so happened to land at the 90-minute mark exactly?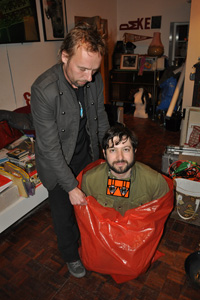 JA: Look, I'm not gonna be safe about it. Most documentaries that I watch, I'm bored for 20 minutes of that movie. Practically every movie I see. I want to be left wanting more, not going, "I was a little bored during that 15-minute/20-minute mark," when if you get rid of that you've got a perfect movie. And I'm not blaming the filmmakers. I think it's the system. I think they have been convinced, like you said, to adhere to this, whatever, 90-minute thing, and they're not thinking about their audience. They're not thinking about the film. They're thinking about the after-life of the film. And I just couldn't f**kin' do that.
H2N: But now you're getting punished when you should be rewarded for making a 54-minute film that is as rich and satisfying and fulfilling as if you had padded it to 70 or 80 or 90 minutes.
JA: Even more punished because I spent a year on the festival trail, at almost 20 festivals, in the feature-length category. It got great reviews, I got great responses, this was like a dream. And then to get distributed and finally get this week-long run, which I would have never imagined… why am I not being considered for a review in the Times? I spent a year where it was being acknowledged as one thing, and then suddenly it goes to this entity that says, "No, it's not that. This is not considered a feature length." Are you watching the same film? Are you not watching the trajectory of the film all year long? Did you take a gaze at any reviews? Did you watch the screener? And the information I got was that they didn't even take the time to watch the screener…
H2N: This has nothing to do with the movie itself, because if they did watch the movie they would be celebrating you for making the movie that you made—one of those Times reviewers would be totally smitten with it, I am convinced of that. So the reality is that they are simply looking at the submitted run time and making their decision based on that, which just doesn't make any sense to me! I mean, Aaron has programmed under-70-minute films that have gotten Times reviews…
JA: Kentucker Audley's film was 66 [Open Five], and that was reviewed. If it's a matter of twelve minutes? I mean, tell me it's twelve minutes. Not to mention the fact that we created a program that does run for 66 minutes.
H2N: But that has nothing to do with it. Maybe you should have taken the sham approach like they did with Wes Craven's Red Eye and made the closing credits go on for nearly 10 minutes.
JA: In a day and age when all you hear at every panel is "everyone can be a filmmaker now, everyone can buy a camera, everyone has a 5D," the market has become over-saturated. Festival programmers have to sit through eight thousand submissions. Like you said, shouldn't I be rewarded for not making you sit through a 75- or 80-minute esoteric cine-poem? I said, "Here's 54 minutes, and you're gonna love it. You're gonna walk away going, 'Wow, I really wish that was a little longer.'"
H2N: When is the last time you've said that and meant it? Actually, the short we just watched, Meaning of Robots, did have me thinking that I would have loved to been stuck in that guy's cave for another 15 or 20 minutes, but when has that happened with a feature?
JA: That was genius. Most people, the trajectory of their career is like, "Yeah, man, the next one, after this 54-minute I'm gonna make that 90-minute feature." No, f**k that. My next movie's gonna be 35 minutes. [both laugh] I'm done, I'm going backwards! I'm devolving.
H2N: You should write a "Mid-Length Manifesto": All films will have a run time of between 32 and 47 minutes or they will not be taken seriously.
JA: I don't wanna be that guy that's complaining or whining to the Times. It's not about that at all.
H2N: I don't think you're coming off that way. I have nothing invested in this and I feel like complaining and whining about it! It's just disappointing.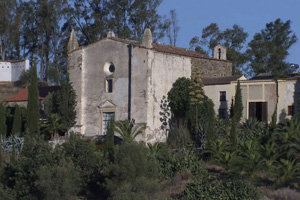 JA: I just don't quite understand. What is the goal? To be honest with you, I don't know if it's twelve minutes, I don't know if it's fifteen minutes, I don't know what it is. I actually haven't gotten a real answer. If they're willing to engage in a discussion about it, I think they've already lost. I don't think they really want to talk to me about it.
H2N: We do need to hear from someone at the Times as to what their rule is. And if they say 70 or 72 minutes, well, they are guilty based on Kentucker's review, and if they say 60 minutes then they can at least stand behind that but really? Then it becomes a question of six minutes. It's arbitrary and silly either way, but I'm just so upset because I feel like Manohla or A.O. Scott would really dig the sh*t out of your film—much more so than a lot of the limited run indies that are coming out.
JA: Look, I'd be lying if I told you I didn't read their reviews and respect them. I was really hoping that they would watch the film. I find that it's really uplifting, and it's about taking chances. In some ways, what I was doing as a filmmaker I was learning from my subjects. You know, Geraldine was at the height of her career as a dancer and all of her critics were like, "Why are you leaving Amsterdam?" She's like, "I don't know, I just feel like it's time to go and buy this old monastery." They said, "Yeah, but you're removing yourself from the dance world at the peak of your career!" She said, "Yeah, this is the time to go." All of their motivation, everything was contrary, and it paid off. God, man, they're so much better people for it.
H2N: You met Christian doing video stuff?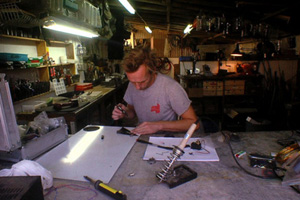 JA: I was just traveling. My intentions were not to make a film. I was just traveling with friends and we heard about this monastery, this converted artist's retreat from a little paragraph in Lonely Planet. We contacted them, and I thought we were gonna be there for a day but I stayed there for almost two weeks. And then, yeah, we started collaborating. We became good friends. It wasn't until two years later that I said, "I want to make a documentary with your permission. I want to make it a collaboration." I wasn't the asshole that showed up with a camera and was like, "I'm gonna document everything that you guys are doing! You guys are incredible!" I went back and I took my time with it.
H2N: And at that point enough trust was established that you didn't have to do any awkward 'convincing.'
JA: Our discussions were like, "We don't want to talk too much. Make us look cool." [H2N laughs] "Don't follow me around. If I'm brushing my teeth or I go to the bathroom, I don't need to be filmed." It was thoughtful. We had discussions about the shots the night before. The movie is all these slow tracking shots, I mean, that didn't happen by accident. That was blocking the scene, carrying this CamTramSystem, watching her work in the garden for three days and going, "Okay, I got it. This is the shot."
H2N: When did you decide that this was the visual approach you were going to take?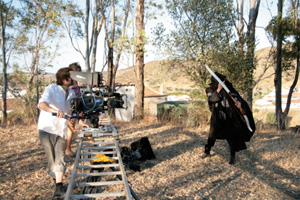 JA: Well, I came from the world of dance for the past ten years, filming beautiful modern choreography, and I wanted to film the choreography of daily routines. That was sort of the goal of the movie. I love camera movement, and I just thought this story needed visual elegance. I mean, if you're going to transport someone somewhere, handheld cameras and jump-cuts are not gonna be able to do it. The camera's got to be able to flow into the scene and out of the scene. I was just looking for the dance. Films like Rivers and Tides, that was really inspiring. I hate director/DP filmmakers that deliver watered down versions of both. It's like, "I'm a director, I'm a shooter," but commit to a style. I'm a cinematographer that directed a film. That's what I do for a living, so it had to be reinforced with the shooting, it had to start there. And my direction had to take a backseat. It had to always fit into the frame.
H2N: That sounds deep and all, but you have to remember that you didn't even make a "real" movie after all. I mean, 54 minutes, what is that?

JA: Yeah, this NYTimes thing is disheartening because it's my theatrical premiere, and when am I gonna have another opportunity to get reviewed in the Times. At this point, I'm gonna make a film every five years. Victor Kossakovsky, who made The Belovs, said something incredible. He said, "Why make a good film every year when you can make an exceptional film every five years." I f**king got exactly what he was talking about. That's it. Don't be greedy. Don't go in there like it's a f**kin' buffet table and just shoot every f**kin' year and keep cranking out movies. No one gives a sh*t. Who cares. Make something exceptional. Did I do that? Whatever. I made a 54-minute film.
H2N: In all seriousness, do you think this unfortunate Times situation is going to have an actual impact on how you assemble films in the future?
JA: To be honest with you, it already has. I've started thinking about Convento now, and I'm thinking, "Well, maybe that minute shot can be 90 seconds, and maybe that three-and-a-half minute scene can be five minutes." And it started this domino effect in my head where I created a 70-minute film. The f**kin' New York Times has completely f**ked up my vision as a filmmaker.
H2N: The worst part is that you had to go through that when you were submitting to fests in the first place. Like you said, Janet acknowledged it, but she helped to re-frame it so that people could treat it accordingly moving forward. But now, because of all that good fortune, this has only made it sting more.
JA: Man, my distributor [Matt Grady, Factory 25] has f**kin' balls. In our first meeting, we talked about box cover art. We talked about the perfect silkscreen title on a DVD. Did he ever mention the length? We had a three-hour meeting over coffee and pie, and right as he was getting on his bike, I said to him, "Matt, you're the only one, of all these meetings I've had with distributors, that didn't mention the length." He's like, "Yeah, yeah, I know about that, but we'll work it out, don't worry about it." I'm like, dude, I'm f**kin' home.
— Michael Tully