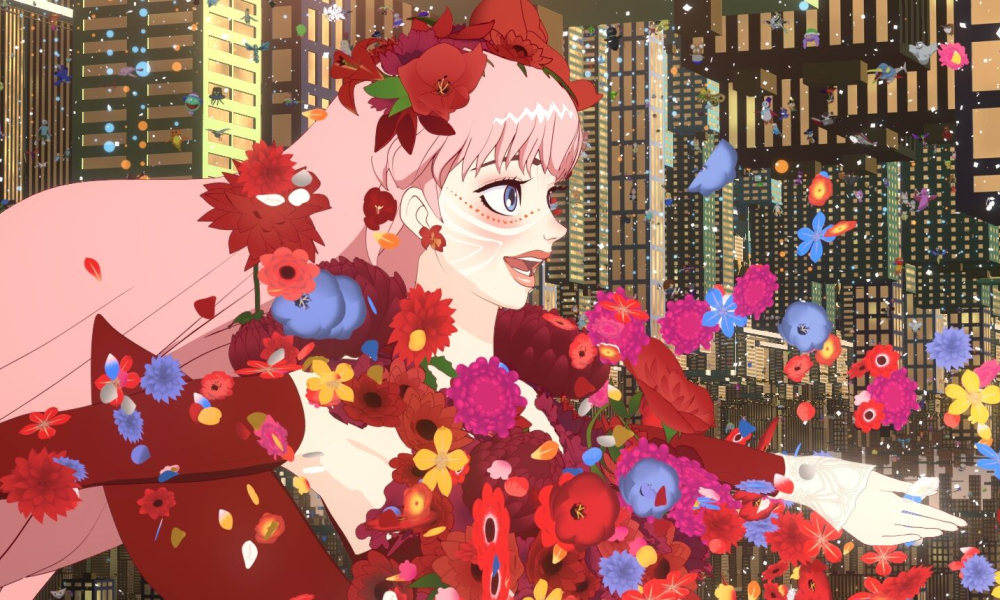 (Mamoru Hosoda's Belle is in theaters now via GKIDS Films so check out Jack Schenker's movie review of Belle . Like what you see here on Hammer to Nail? Why not give just $1.00 per month via Patreon to help keep us going?)
Belle, the latest animated feature from director Mamoru Hosoda, is equal parts fun and profound. Through eye-popping animation, Hosoda recreates Beauty and the Beast in a virtual reality dubbed "U." Walking into the theater, I wondered whether I was in for a kids film or a film for adults. To my pleasant surprise, while this film is suitable for children, it is ultimately an adult animation. There are emotional notes akin to Hayao Miyazaki, but children's attention will be captured by the explosive animation and "cuteness." The film dabbles in a variety of genres; action, comedy, drama, romance. I have no choice but to respect Hosoda's ambition. The film weaves in and out of real and virtual worlds, submerging the audience in a new dimension where reality hardly matters. This film has range: one concert sequence contains the explosive energy found in Annette's stadium sequence while other moments contain the subtle drama of Drive My Car. Belle ventures into a world we have never seen before, yet, it remains constantly relatable for viewers of all ages.
The film follows Suzu (Kaho Nakaumra), a shy girl living in the pristine countryside with her father. Her mother died when she was young and she is still grieving the loss. She used to sing songs with her mother as a child but stopped in the wake of her death. When she joins "U", she leaves her body and enters into the world as "Belle," a gorgeous, pink-haired woman. In this body, she finds her voice and becomes a sensation. Though the film is not a musical, music is at its core. When searching for the actress to play Belle, Hosoda committed to finding someone who could sing. He selected Nakamura, who gives a terrific performance. She emotes through an animated character, evoking deep emotions with just her voice.
Belle has something for all types of anime fans. For those into the relentless action of Attack on Titan, there is just as much for you as there is for those who enjoy the childlike wonder of films such as Ponyo. 2021 featured some genre-bending masterpieces like Malignant, but none encompassed more genres than Belle. If anything, go see this movie to witness the unrestrained creativity of a madman filmmaker. Watching around 150 new releases over the past two years, I have seen a lot of films that feel focus-grouped. Belle makes no attempt to please the audience at the expense of Hosoda's vision. I truly appreciated his self-assuredness, a rarity in the industry today.
Even in its quiet moments, like the simple interactions between Suzu and her father, the film maintains its momentum. It is hard to be bored with such stimulating plot and imagery. If anything, I wanted the film to last longer so I could spend more time studying the intricate images. It was sensory overload, which reminded me of how I felt watching the Wachowski's Speed Racer. I was most taken by the brilliant editing and the unique mix of 2D and 3D animation. Shigeru Nishiyama, who served as the editor for Hosoda's last film Mirai, seamlessly blends the two opposing worlds. In a film that is very loud and in your face, the silences stand out. Hosoda and Nishiyama designed the sound to compliment the imagery. When silence comes in during one of Belle's performances, you feel it more than any of the explosions. My favorite moment was the last two minutes, its beautiful simplicity almost brought a tear to my eye.
Hosoda's commentary on the internet age is not entirely original. Films such as Free Guy and Ready Player One have tackled similar subjects. What makes this film better is its unique presentation. If you are someone who is visually inclined, this is a must-watch. There is no bigger explosion of color in 2021. If "U" was real, I would go to all of the Belle concerts.
– Jack Schenker (@YUNGOCUPOTIS)
Mamoru Hosoda; Belle film review