THE CHILDHOOD OF A LEADER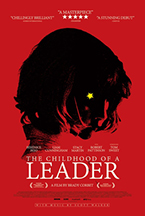 (Actor Brady Corbet makes his directorial debut with the eerie The Childhood of a Leader. The film opens Thursday, July 22 in NYC as well as on VOD and the following week in LA via IFC.
What's most impressive about 27 year-old Brady Corbet's debut feature, The Childhood of a Leader is the world the filmmaker creates. A string of recent independent feature debuts such as Robert Eggers' The Witch and Zachary Treitz's Men Go To Battle similarly reconstruct historical times with a painstaking authenticity that in some ways surpasses that of studio productions. It is not always the great battles themselves but the small moments in the war room behind closed doors that ring most true.
This story takes place in France towards the end of the First World War. To recreate this setting, Corbet shot for 20-odd days in mostly one location in Hungary. The grandiose mansion they chose is a large part of the film's success. It serves as a temporary outpost for one of President Woodrow Wilson's top advisors (Liam Cunningham), his wife (Berenice Bejo) and their nine year-old boy (Tom Sweet). We follow the boy through the grounds in a series of long tracking shots as he manipulates the adults in his own peculiar way. Corbet breaks the story up into three 'tantrums' that become increasingly troublesome and build to a gasp-inducing climax.
The dialogue is a bit wooden, but I wonder if that was intended to maintain the realism of the story. For the most part the actors do a wonderful job embodying their parts, with extra kudos to Stacy Martin who acts as the boy's French teacher, and is one of the few characters (along with the maid) that adds sweetness to the astringent proceedings. I could have done without Robert Pattinson whose opening scene adds little to the narrative and was clearly cast to boost international appeal.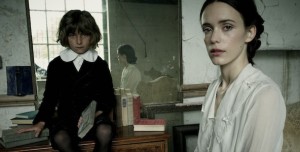 Another strength is the gorgeous cinematography by Lol Crawley (45 Years) that paints scenes with golden hues and rich blacks that could only be captured on 35mm and gives the film a fittingly austere feel. This look is accentuated by the dapper costume design by Andrea Flesch who dresses the boy in somewhat feminine outfits that play into a running joke of him being mistaken as a girl— no doubt affecting his psychological development.
The terror derived in Childhood of a Leader is not supernatural as the Goodnight Mommy-like poster suggests. It is a more complex evil than that of The Exorcist or The Omen. Sowing the seeds of a sociopath can be as equally terrifying as demonic possession, perhaps more so if you don't believe in ghosts.
– Matthew Delman (@ItsTheRealDel)