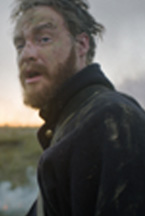 (Men Go To Battle world premieres in the Narrative Competition at the 2015 Tribeca Film Festival.)
A micro-budget Civil War drama premiering in the year 2015 sounds like a recipe for disaster, but in the hands of Zachary Treitz it becomes a compelling lesson in how to bring the distant past to convincing life. For those viewers brainwashed by Hollywood spectacle storytelling, Men Go To Battle might seem too understated for its own good, but to mine eyes that's its greatest asset. Treitz and his co-writer Kate Lyn Sheil (who also co-stars) have chosen to present a different side of Civil War America than audiences are used to seeing. Think of this movie as an actual soldier's letter home, in which the horrors of battle are suppressed in favor of a wry recounting of wartime's downtime.
That isn't to say there isn't action to be found in this refreshingly funny drama. One scene in particular feels borderline impossible in its scale and impact (it turns out it was craftily filmed during an actual reenactment for the 150th anniversary of the Battle of Perryville). But ultimately that evocative depiction of battle is there to serve the film's greater purpose: to chart the relationship between two brothers who are just trying to get by.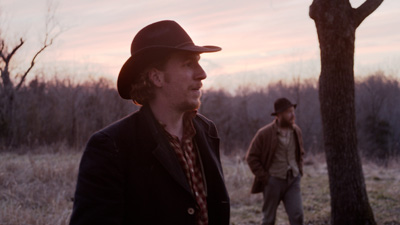 Francis (David Maloney) and Henry (Tim Morton) live on a farm in rural Kentucky. Times are tight and no one knows when the war is going to end. Though the brothers are sitting on a lot of acreage, the land itself is depleted and even the town's wealthiest man, Mr. Small (Steve Coulter), is unable to help them out. The only flicker of excitement to be found is in the fetching presence of Betsy Small (Rachel Korine), but her social status has her hovering just outside of Francis and Henry's reach.
There's certainly more to the story than that, but at the same time, Men Who Go To Battle isn't really about that. For me, it's a filmmaking manifesto, the kind of ambitious low-budget fiction cinema that I yearn to encounter, in which atmosphere and texture are as prized as story and plot. Treitz and his collaborators—cinematographer Brett Jutkiewitz and his present tense celluloid imagery might take the prize, but production designer Jacob Heustis carries an equally heavy load—have produced a work that feels honest every step of the way.
If this all sounds a bit pretentious, it's not, as Treitz and Sheil's script goes to great lengths to inject a naturalistic jolt of humor to the proceedings. Morton and Maloney have a bumbling naturalism that gets funnier even as their characters' situations get sadder. Beyond that, there are two scenes in this movie—1) Henry and Betsy discussing the weather, and 2) Betsy being courted by a young blonde boy (the absolutely divine Daniel Johnson)—that are two of the genuinely funniest exchanges I have encountered in quite some time.
Everyone has their own preferences and predilections when it comes to the type of movies they like to watch. It cannot be denied that Men Go To Battle was made for someone like me. It has a scrappy, homegrown spirit, features striking celluloid imagery, and though it may technically qualify as a drama, it's funnier than most recent comedies I've seen. It's my kind of gem.
— Michael Tully