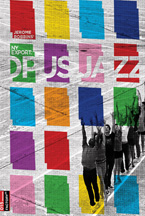 (NY Export: Opus Jazz is now available on DVD through Factory 25. Winner of the Audience Award in the Emerging Visions section at SXSW, it opened for a one-week theatrical run on Friday, November 5, 2010, at the reRun Gastropub in NYC. NOTE: This review was first published in conjunction with the film's television premiere on PBS as part of their Great Performances series on Wednesday, March 23, 2010, at 8pm. Be sure to read Lena Dunham's set dispatch from last summer, as well as visit the film's official website, to learn more.)
I know it's only March, but with Sundance and SXSW in the can, I am ready to declare that the finest new American film of 2010 is actually a 45-minute filmed adaptation of an experimental 1958 ballet. What's that, you say? That's not possible? I'm just being a pretentious snob? Okay, try this: tune in to PBS at 8pm tonight and watch NY Export: Opus Jazz. Then tell me I'm wrong. Go ahead. I dare you.
The brainchild of New York City Ballet dancers Ellen Bar and Sean Suozzi, NY Export: Opus Jazz is a dazzling modern retelling of acclaimed choreographer Jerome Robbins's 1958 ballet—moodily scored by Robert Prince—which stands as a more boldly abstract companion piece to Robbins's more widely heralded, and narrative driven, West Side Story. In updating Robbins's "ballet in sneakers" for modern dancers in modern times, Bar and Suozzi have transposed this spectacle to the streets of New York City. By doing this, not only have they made a convincing argument for their increasingly marginalized art form; more impressively, they have paid tribute to their source master by proving that, fifty years later, his work is as vital and robust as ever.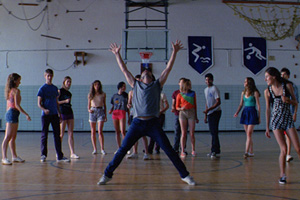 As realized by co-directors Henry Joost and Jody Lee Lipes (and overseen by Bar, Suozzi, and producers Kyle Martin and Melody Roscher), NY Export: Opus Jazz is an exquisite, exhilarating, sumptuous feast for the senses. Robbins's piece, which, unlike West Side Story, expresses itself exclusively through dance, is broken into five distinct movements. To set the film firmly in the present but to honor the past, the filmmakers found striking, obscure locations in the New York City area in which to set each piece (a pre-rejuvenated High Line, McCarren Park Pool, a silent movie theater in Jersey City, and a gym and warehouse in Brooklyn). The result is a work that has a throbbing modern heart with a classic, timeless soul.
Lipes—who, let's not mince words here, is the best cinematographer of his generation—shoots on vibrant Anamorphic 35mm, which lifts the film into another stratosphere. Without calling attention to itself, each movement is photographed with a different camera technique (tripod, Steadicam, crane/jib, dolly, all-of-the-above). While a more casual viewer might not notice these variations, they nonetheless keep each new sequence feeling fresh and alive. This, combined with Zac Stuart-Pontier's seamlessly snappy editing, makes for quite a cinematic spectacle. Give me NY Export: Opus Jazz over a big-budget 3D action picture every single day of the week.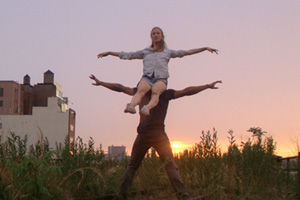 One small, but major, way in which the filmmakers branch out from their source material is in establishing their characters at home in a quick, yet poignant, prologue, as they venture out into the summer day. Between movements, we catch brief glimpses of the dancers in repose and transit, brief little bits that capture their youthful yearning for something they can only achieve through the release of performance. Yet it is the film's coda that transforms NY Export: Opus Jazz into something altogether more triumphant. Lipes and Joost take their cameras even deeper into the city streets to show bicyclists and skateboarders pirouetting on ramps, lifeguards lounging on beaches, aging buddies playing a pickup softball game, adolescents in uniforms at football practice, two friends walking down the street, a little girl asleep on her father's shoulder, as well as the architecture of New York City itself. Up until this point, NY Export: Opus Jazz has performed the noble task of awakening viewers to the power of dance, but in its closing moments, it forces us to fully embrace the natural ballet that is New York City in the summer. It's a stellar achievement.
(Note: In most cases, the feature film is followed by a 15-minute documentary directed by Matt Wolf and Anna Farrell that sheds further insight into both Robbins's legacy and how this ambitious production came to be. Be sure to stick around for it.)
— Michael Tully